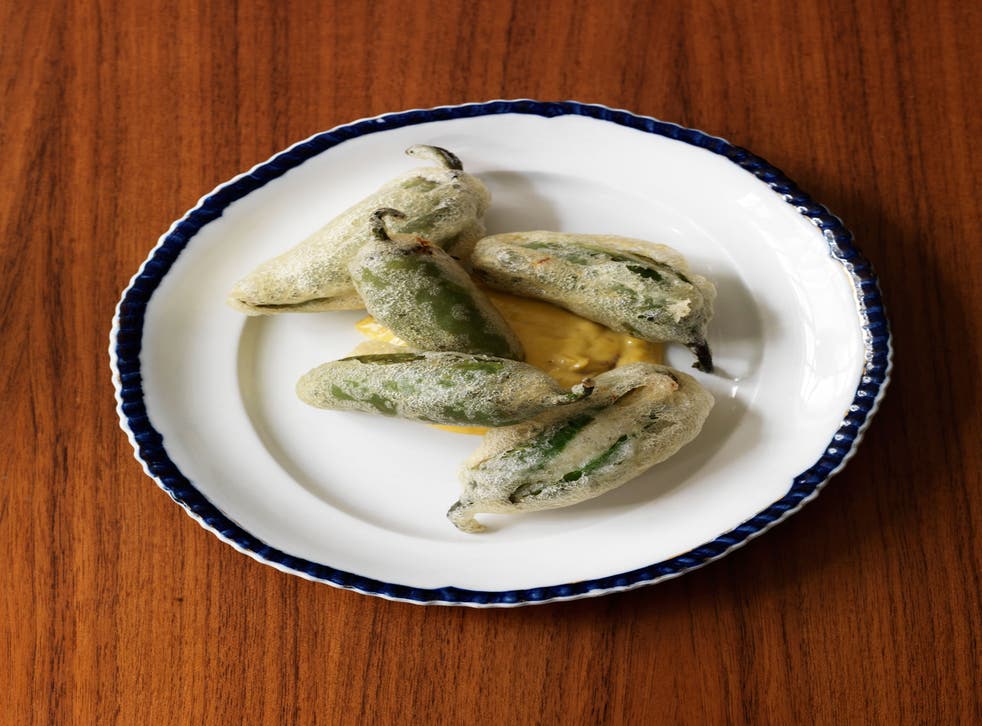 Crab-stuffed chilli peppers
For this, you need to find the large green chilli peppers that aren't too hot – such as jalapeño. You could use a couple of small dressed crabs, as they have both the brown and white meat – with a large crab, I find there is maybe too much meat.
16 or so large green chilli peppers
The brown and white meat from a small cooked crab, or a couple of dressed crabs
1tbsp good-quality mayonnaise
Half a lemon
50g gluten-free, self-raising flour or tempura flour, plus a little extra for dusting
Salt and freshly ground black pepper
Vegetable or corn oil for deep frying
Bring a pan of water to the boil and blanch the chilli for 10 seconds, then drain and leave to cool. Make a slit in the chillies down one side without cutting through to the other side, keeping them intact. Season the white crab and stuff as much as you can into the chillies without breaking them.
Mix the brown crab and mayonnaise together with a whisk, getting it as smooth as possible – or you could use a mini food processor, if you wish – and add lemon to taste.
Mix the flour with enough cold water to form a thin but coatable batter and season lightly. Preheat about 8cm of oil to 160-180C in a large, thick-bottomed saucepan or electric deep-fat fryer.
Carefully coat the stuffed chillies in flour, shaking off the excess, then dip them in the batter 6-8 at a time, depending on the size of your fryer.
Fry for a few minutes, turning them until they are golden. Remove from the hot fat with a slotted spoon and drain on some kitchen paper. Serve on a dish with the mayonnaise in a dipping pot.
Join our new commenting forum
Join thought-provoking conversations, follow other Independent readers and see their replies