Dauphinoise potatoes
Serves 6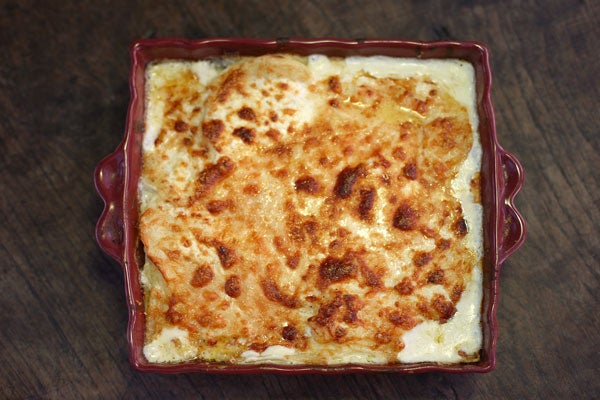 The best potatoes to use in gratins are desiree. Waxy rather than floury, they keep their shape and absorb the flavours with which they are cooked.
11/2kg/3lb desiree potatoes, peeled and cut into slices that are eighth of an inch thick
900ml/11/2 pints whole milk
750ml/11/4 pints double cream
Plenty of freshly grated nutmeg
3 cloves of garlic, peeled and finely chopped
Salt and pepper
150g/5oz grated Gruyère
Put the sliced potatoes in a large saucepan and pour over the milk. Season with a good pinch of salt and place over a medium heat. Once the milk has begun to simmer, immediately turn down the heat to low and cook for 15 minutes. The potatoes should just be starting to become tender. Drain and discard the milk.
Heat the oven to 180C/350F/Gas4. Place the warm potatoes in an ovenproof bowl large enough to hold all the ingredients and pour over the cream. Grate in the nutmeg, add the garlic and season with salt and pepper. Scatter over the Gruyère. Bake on the middle shelf of the oven for 40 minutes, or until the top is golden-brown and the cream oozing out over the sides. The potatoes should also be tender when pierced in the centre with a small, sharp knife. Serve alongside the beef with nothing more than a simple green salad.
Join our commenting forum
Join thought-provoking conversations, follow other Independent readers and see their replies