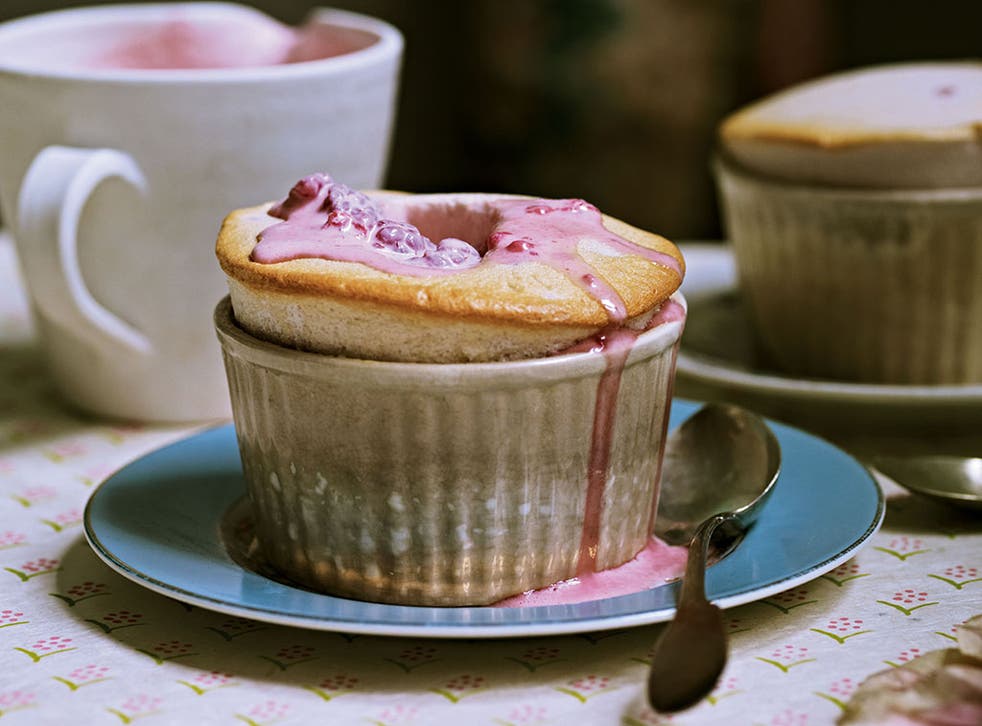 Happy Diwali 2014: Five sweet and delicious recipes
Celebrate the festival of lights with these easy treats to make at home
Pomegranate soufflé with rose and raspberry cream
This lovely recipe is inspired by Indian flavours and the country's love of floral notes. It is a soufflé but don't be afraid, it has never failed me and always rises to the occasion with the pomp and gravitas of a presiding maharaja.
It might seem like a long recipe of many stages, but it comes together quite easily. I like to eat the dish by making a dent in the middle of the soufflé and pouring in the cream, so every bite is an ethereal mix of cloud-like pomegranate, sweet-sour raspberries, fragrant rose and rich cream. My ramekins hold 150ml; try to stick to that volume, or the cooking times will be affected.
Ingredients (Makes 4, can be doubled)
For the soufflés
200ml pure pomegranate juice
2 slightly rounded tsp cornflour
30g caster sugar, plus 11/2 tbsp more for the meringue, plus more for the ramekins
soft unsalted butter, for the ramekins
2 egg whites
For the rose and raspberry cream
150g raspberries
120g double cream
20g caster sugar, or to taste
2 tsp rose water, or to taste
Method
Start with the soufflé. Whisk 25ml of the pomegranate juice into the cornflour. Bring the remaining juice to a boil and reduce to 125ml; it takes around four minutes and you will need to pour it back into the measuring jug to check (don't worry if it slightly over-reduces).
Add the 30g of sugar over the heat and, once it has dissolved, whisk in the cornflour slurry (it will thicken almost immediately). Return to a boil, whisking all the while, then boil for 1–11/2 minutes. Scrape into a container you can blend in (I use the same measuring jug and my stick blender). Set aside to cool.
Meanwhile, butter the ramekins well and dust with sugar, turnin the ramekins so they are all well coated and tapping out the excess.
Take 50g of the berries, mash well and push through a nylon sieve. Stir into the cream with the sugar and rose water. Fold in the whole raspberries, taste and adjust the sugar and rose water to taste.
Preheat the oven to 180C/350F/gas mark 4. Whisk the egg whites until they reach soft peaks, sprinkle in the extra 11/2 tbsp sugar and continue whisking until the meringue is glossy and firm.
Blend the pomegranate mixture until smooth once more. Place in a large bowl and whisk in around one-quarter of the egg white mix. Then, using a large spoon, carefully fold in the rest, trying to keep the lightness as you incorporate all the little lumps. Do not over-mix. Spoon equally into the ramekins and flatten the tops with a palette knife or other knife. Run the tip of your thumb around the inner rim of the ramekins and place on the middle shelf of the oven.
Bake for eight to nine minutes, or until well risen and slightly golden on top. Serve immediately with the rose and raspberry cream.
Sticky caramelised star anise pineapples on crispy pancakes
Hot sticky pineapple, crisp pancakes, cold cream and a hint of spice. Lovely. These are inspired by a very typical Indian dessert pancake, made in the cold months, that is deep-fried, then glazed in a sugar syrup and eaten with sweetened thickened milk. This is my quicker and easier version and works beautifully. Unfortunately the pancakes cannot be made in advance, but they don't take long to cook (the batter can be ready to go) and it all comes together quite quickly.
For the pineapple
3 tbsp caster sugar
4 x 1cm pineapple rings, skin, eyes and core removed (I sometimes slice these in half, and a bit of imperfection is a good here)
6 star anise
2–3 small knobs of unsalted butter
150g crème fraîche
3 tbsp desiccated coconut, lightly toasted until golden
For the crispy Pancakes
70g plain flour, sifted
55g caster sugar
1 brown cardamom pod, seeds pounded in a mortar and pestle (or a pinch of ground cardamom)
pinch of salt
2 tbsp ground almonds
30g unsalted butter, melted
100–120ml whole milk
4 tbsp ghee or vegetable oil, for frying
Method (Enough for 6, can be doubled)
Place the sugar in a large frying pan and allow to melt and caramelise until golden. Add 4 tbsp of boiling water; it will bubble and seize but keep stirring and the caramel will melt back in. Add the pineapple and star anise and cook over a moderate flame, turning the pineapple in the caramel often and moving around the pan if there are obvious hot spots. Once the fruit is lightly golden and glazed, which takes four to five minutes, add two small knobs of butter and shake them in. You can add a spoon of hot water at any time if the caramel looks like it is becoming too dark. Keep cooking the pineapple, turning in the sticky caramel, until the rings have a lovely golden colour and are well glazed. Set aside. These can be made in advance and reheated when you are ready to eat, I add the extra knob of butter as I do so.
Make the pancakes. Mix together the flour, sugar, cardamom, salt and ground almonds. Add the butter and milk and whisk until homogenous, it should have the consistency of thick cream.
Heat half the ghee in a large non-stick frying pan until quite hot and drop around 1½–2 tbsp of batter in for each pancake. You should be able to make three at a time, each about 10cm in diameter (help them spread with a spoon). Reduce the heat to medium-low and cook until golden on both sides and slightly darker around the edges, a matter of one or two minutes. Lift out with a slotted spatula and place on kitchen paper. Repeat with the second batch.
Place a pancake on each plate and cover with the shards of pineapple.
Top with a spoon of crème fraîche and a star anise from the pan and sprinkle over the toasted coconut. Serve immediately, drizzling with any of the pineapple, caramelly juices from the pan.
Ginger chai tiramisu
For me, my daily drink of ginger chai is reviving, soothing and relaxing all at the same time. So combining my personal pick-me-up with the Italian classic, replacing the coffee with Indian tea, makes complete sense to me. This pudding is creamy and smooth with an underlying taste of cardamom and tea and an added zing from the ginger. I like to layer it up in individual glasses, just because it looks prettier.
Ingredients (Serves 4–5, can be doubled)
For the tea liquor
240ml whole milk
1 tsp black peppercorns
1⁄4 tsp ground cardamom
5cm cinnamon stick
10g root ginger, peeled weight, grated
11⁄2 tsp loose-leaf black tea, or 4 tea bags
For the mascarpone cream
2 egg yolks, plus 1 egg white
2 tbsp caster sugar
250g mascarpone
15g root ginger, peeled weight, grated
100ml double cream
1 tbsp ginger liqueur or dark rum (optional)
To assemble the tiramisu
100g savoiardi biscuits
30g good-quality dark chocolate
(I recommend Lindt Chilli chocolate, it is fantastic!)
Method
To make the tea liquor, heat the milk in a saucepan with 180ml of water, add the spices and simmer on the lowest possible heat for six to eight minutes. Add the tea and cook for three to five minutes, until it is a rich colour. Leave to cool.
For the mascarpone cream, whisk the yolks with 1 tbsp of the sugar until smooth and pale. Add the mascarpone and ginger and whisk until smooth. Separately, whisk the egg white with the remaining sugar until it holds its shape. Spoon this over the mascarpone mixture, but do not mix it in. In a clean bowl, whip the cream to soft, billowing peaks. Spoon it on to the whites, add the liqueur (if using) and gently fold the whole thing together until smooth.
Strain the chai into a shallow dish. Dip the biscuits, one by one, into the tea for one or two seconds per side. Place into serving glasses, lining the bases. Top with a generous layer of mascarpone cream. Repeat the layers, then cover each glass and place in the fridge to chill for at least one hour and up to a day.
Finely grate over a layer of chocolate just before serving.
Coconut French toast
A lovely weekend breakfast dish; easy but really special. Brioche is the best bread to use in my opinion, as the resulting toast is both buttery and soft on the inside and lightly crisp on the outside, but your everyday loaf of bread would be just fine, too. Desiccated coconut is one of my store cupboard staples and here it adds a lovely texture as well as its sun-drenched, coastal flavour. If I am making this for guests at a weekend brunch, I add fresh seasonal soft fruit on the side as well as a little Greek yogurt and a handful of Jaggery Caramelised Walnuts (see below).
Ingredients (Serves 4)
2 large eggs
200ml whole milk
3 tbsp sugar (use only 2 tbsp if you are going to serve these with syrup)
6 good tbsp desiccated coconut
2 tbsp vegetable oil couple of knobs of unsalted butter
4 slices of brioche, or everyday bread
Jaggery caramelised walnuts
Method
Whisk together the eggs, milk and sugar. Spread the desiccated coconut on a small plate.
Heat the oil and butter in a large non-stick frying pan over a medium flame. Dip one slice of bread in the batter for about 30–40 seconds, pressing lightly to help the bread absorb the custard. Transfer to the plate of desiccated coconut and press gently, turning to coat both sides. Place straight in the hot pan, and repeat with the other slices.
Cook over a moderate flame for about two minutes, or until golden, then carefully flip and brown the other side. Serve hot from the pan, or keep warm in a 180°C/350F/gas mark 4 oven while you cook the rest.
Jaggery caramelised walnuts (Makes a small batch)
I love these scattered over sweet breakfasts, or as a snack when I want something sweet but healthy. Jaggery is a completely unrefined sugar, sold in blocks and renowned for its healthy properties. It is full of iron and other minerals and believed to keep your lungs clean. The best quality is dark and hard, but larger supermarkets sell a softer jaggery which also works here.
Take 80g of jaggery and chop or pound it into smallish pieces. Place in a frying pan and cook over a medium-low flame, stirring often, until it melts and starts to get more glassy and less cloudy; this only takes a few minutes. Stir in 80g of walnuts, stir to coat well and cook for another minute. Pour out on to a sheet of baking parchment, or an oiled plate, and separate the walnuts. You have to work quickly as the jaggery will start to harden. (If so, return to the pan and heat a little to melt it again.) Allow to cool and harden. Store in an airtight container.
Saffron and rose poached apricot pavlova
Ingredients (Serves 6)
4 egg whites (medium-large)
250g caster sugar plus 1 tsp for cream
½ tsp. white wine vinegar
9 fresh apricots
Large pinch saffron
2 large pinches dried rose petals or rose essence to taste
1 cup sugar
2 cups water
300g double cream
4 tbs. proper Greek Yoghurt (it should be very thick)
6 tbs pistachios coarsely ground pistachios plus a good handful for garnish
Method
Preheat the oven to 200C. Place greaseproof paper on your baking tray. I like to put a little oil underneath so that it stays in place as you spoon the pavlova on to it.
Place the whites, with no traces of yolks, into a clean whisking bowl and whisk until the eggs reach soft peaks. Add the sugar all at once and continue whisking until the sugar has dissolved and the meringue is glossy and once settles on the surface of the meringues in ribbons once a spoonful is dropped over. Add the vinegar and after a few beats add the coarsely ground pistachios and stir it in by hand.
Form 6 equal sized small round meringues on the baking sheet. I like them rounded and quite natural looking. Place in the oven, turn the temperature right down to 120C and bake for 80 minutes and remove from the oven. Set aside. This can be made a day in advance.
Half the apricots and remove the stone.
Meanwhile, bring the water and sugar to boil in a medium-sized saucepan. Once the sugar has dissolved, add the saffron and rose petals. Simmer for a few minutes and add the apricots. Poach until they are soft, around 4-6 minutes. Take off the heat and leave to cool in the syrup.
When you are ready to eat, whisk the cream and extra sugar until it just holds its form. Stir in the yoghurt.
Spoon over the meringues and top each with three halves of the apricots and a little syrup over the top. Sprinkle over the remaining pistachios and serve.
Recipes taken from Anjum's Indian Vegetarian Feast by Anjum Anand, published by Quadrille Publishing, £19.99 (also available as an ebook, £10.99) and Anjum's Quick & Easy Indian, published by Quadrille (£18.99)
Join our new commenting forum
Join thought-provoking conversations, follow other Independent readers and see their replies