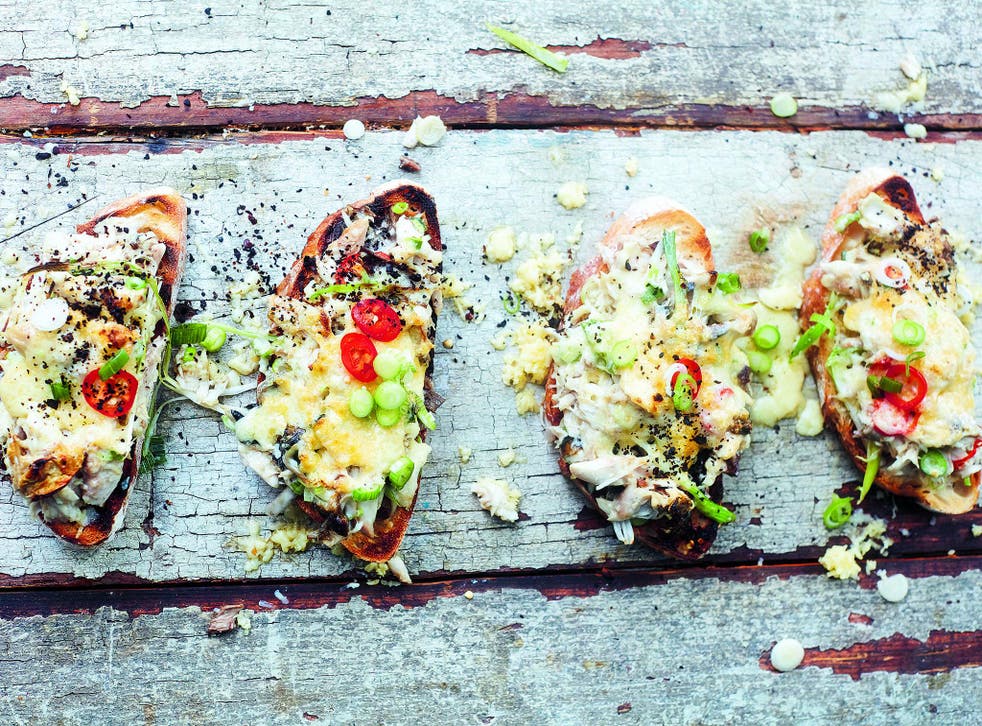 DJ BBQ recipes: From the ultimate cheeseburger to spicy mackerel melts
If you think its all sausages and chicken wings, then you've got a whole world of barbecuing to be introduced to, and DJ BBQ, aka Christian Stevenson is the man to do it
Spicy mackerel melt
My kids love a tuna melt and this is a spin on that classic recipe. Mackerel is a really healthy fish with lots of essential oils, plus it has a great texture and just loves live fire. Fish can sometimes be daunting to cook on a grill, but this is a fool-proof recipe that kids, adults and even dogs love. Plus, it's got cheese in it, which is always good. I usually use a freshly sliced sourdough loaf for that awesome crunch! If you can't get hold of one, a sliced loaf, baguette or paninis will be just as good.
Serves 4
BBQ set-up: Half and half technique (have hot coals on one side only of the bbq to create a medium heat). Seasoned wood chunks
2 large mackerel, gutted
4 slices sourdough bread
A bunch of spring onions, roughly chopped, plus a few extra, sliced, to garnish
2 heaped tsp mayonnaise
100g mature Cheddar cheese, grated (shredded)
Sea salt and black pepper
1 red chilli, sliced, to garnish
Thoroughly dry the mackerel skins with kitchen (paper) towel.
Lightly score the skin and season with salt and pepper. Gently place the fish on the grill over the direct heat. You are looking for a medium heat. After a couple of minutes, carefully turn the mackerel over, using a fish slice.
After another couple of minutes, move the fish to the indirect side and cover with the lid for another 2–4 minutes, until just cooked through. Remove and set aside to rest for 5 minutes.
Lightly toast one side of the sourdough slices on the grill and set aside. Once the fish has rested, remove the skin and flake the flesh into a large bowl, being very careful to remove the bones as you go. Gently fold in the spring onions and mayo.
Season with salt and pepper and spread on the toasted side of each slice of sourdough. Sprinkle the cheese over the top and place on the indirect side of the grill, with the lid on, until the cheese is melted. If you have a cloche, use that to cover the food for a quicker melt. You can easily cheat the melt by using a blow torch.
Garnish with the extra spring onion slices and chillies and enjoy your awesomeness. You just made a tasty dish that the kids will go mad for.
The Ultimate Cheeseburger
Serves 4
BBQ set up: Half and half technique. You will need a metal cloche
The DJ BBQ crew cook a lot of burgers. I reckon each summer we grill around 8,000 burgers over live fire. I've hosted many burger competitions and food festivals and seen many different techniques, ranging from classic to downright weird.
Food and drink news

Show all 35
I've spent the last 40 years perfecting this burger. I hope you are ready to achieve awesomeness because you are about to invite a wonderful cheeseburger to that party in your mouth. This is the blend that we believe is perfect. Many people won't have access to a butcher or these cuts of meat, so just go for a decent fatty beef mince (ground beef). The more fat, the better. Minimum 20% fat.
For the beef mince (ground beef – you can ask your butcher to prepare this mix of cuts but if you want to do it yourself, here are the weights as well as the percentages to make)
1kg beef mince (ground beef). Simply put all the meat through a coarse grain mincer meat grinder.
450g chuck (4 per cent)
150g Flank (15 per cent)
150g Brisket (15 per cent)
100g short rib (10 per cent)
100g aged beef fat (10 per cent)
50g bone marrow (5 per cent)
For the smoked garlic mayo
2.5cm fresh horseradish root, grated (shredded)
4 smoked garlic cloves, peeled and crushed
Juice of ½ lemon
100ml mayonnaise
For the dirty onions
1 big onion, chopped
2 tbsp cider vinegar
Pinch of sea salt
For the seasoning salt
1 tbsp sea salt
1 tsp black pepper
½ tsp onion granules
½ tsp garlic granules
To serve
4 slices of Monterey Jack cheese
4 slices of burger cheese (the orange stuff)
8 slices of smoked dry cured streaky bacon
4 brioche-style burger bun, halved
1 Romaine lettuce, separated into leaves
1 ripe tomato (preferably beef), sliced
First, get all of your toppings ready. Start by making the smoked garlic mayo by mixing the grated horseradish, smoked garlic, lemon juice and mayonnaise in a bowl. Set aside. Mix the chopped dirty onion with the cider vinegar, then season with a pinch of sea salt and set aside.
For the seasoning salt, mix all the dried ingredients together in a bowl. Get all your veg prepped and have your cheese ready. Finally, get your grill going with a medium hot heat. Now, it's patty time. You don't want a super-dense patty. A coarse grain on the mince means the fats can render down and flavour the beef patty. Divide the mince into four equal piles. Carefully sculpt each pile into a patty. I like my patty to be about 2.5cm (1 inch) thick. Make sure it is even all round, so there aren't any bits that are fatter than the rest. When creating the patty, I like to see cracks around the edge of the burger – I call these 'fjords of flavour'. As the fats render down, they will cascade down these fjords and flavour the patty.
Sprinkle the seasoning salt onto both sides of the patties and place them over direct heat. When the patties come away from the grill easily, then it's time to flip. Flip again when the grill releases your patties on the other side, and keep flipping every 1–2 minutes until the burgers are cooked through.
If you get flare-ups and it's getting out of hand, move the patties to the indirect side, so you can calm things down. Plus, this gives the burger a chance to do some more cooking on the inside. Once the burgers are about three-quarters done (about 50ºC/122ºF), lay a slice of both types of cheese in a cross on each patty and place the cloche over the burgers to melt the cheese quickly.
Move the burger to the indirect side just before it's hit the internal temperature you are after. I like my burger to be cooked medium-rare (55°C/131°F). As soon as you move the burgers over, get the bacon on the direct heat along with the bun halves, cut side down. When the bacon and the buns have a nice crispy char, remove everything onto a board ready to assemble.
To assemble, lay out the bottom half of the bun, spread a dollop of the smoked garlic mayo on it, followed by a piece of lettuce. Now it's time for the main event! Cast that grilled, cheesy, slab of meaty beef ass down on top of the lettuce, like Thor casting thunderbolts into Hades. Finish off with the bacon, tomato and dirty onions. All you need to do now is pop that toasted bun on top to seal the deal. Then, suddenly, bam! You have made the ultimate cheeseburger!
Live fire frittata
Back in the early 1990s I lived in a ski resort in Vail, Colorado as a snowboard bum. I worked part time at a 24-hour diner called DJ's Diner. We specialized in omelettes, chillies and this dish: 'The Frittata' or fried pasta. It's super-tasty comfort food stuffed full of carbs, veggies and protein – exactly what you need when shredding the rad in the mountains.
Make sure you have everything prepped and ready to assemble for the final dish.
Serves 4
BBQ set-up: Half and half technique
2 onions – I like using a red one for sweetness and the classic cooking onion for sharpness, peeled and thickly sliced
1 red, 1 green, 1 yellow pepper, halved and deseeded
6 smoked bacon rashers 
2 chicken breasts
200g spaghetti
​3 eggs, beaten within an inch of their life
Vegetable oil, for frying
250g Cheddar cheese, grated
50g Parmesan cheese, grated
Sea salt and black pepper
For the marinara sauce
4 tbsp olive oil
4 smoked garlic cloves, peeled and chopped
2 tbsp capers, drained and roughly chopped
4 canned anchovy fillets, chopped
2 x 400g cans chopped tomatoes
1 tsp dried oregano
Get the marinara sauce cooking so it has time to do its flavour-fusing thing. Place a medium saucepan on the grill over the direct heat and pour in the olive oil. Once hot, add the garlic, capers and anchovies. Fry for 2 minutes, then add the tomatoes and oregano. Move to the indirect side and leave to simmer slowly, while you prep your other ingredients. You might want to add a bit of water if the sauce gets too thick.
Meanwhile, stick the onions and peppers on the grill over the direct heat until tender and then set aside. Cook the bacon in the same way until crispy. Rub the chicken breasts with olive oil, season and grill till cooked through (if you're using a temperature probe, you're looking for 72ºC/162ºF), then leave to cool. Boil the spaghetti according to the packet instructions (you can do this in the kitchen if it's easier). When the spaghetti is cooked, drain and leave to cool. Roughly chop the onions and the peppers. Slice and dice the chicken breasts. Roughly chop the crispy bacon. Place a small frying pan (skillet) with a bit of depth to it on the grill over the direct heat. I like using cast-iron or iron-spun pans as they radiate the best heat for caramelisation.
To make one frittata at a time, take a mixing bowl and throw in about a quarter of cooked spaghetti followed by a quarter of the peppers, onions, chicken and bacon. Add a quarter of the beaten eggs to the bowl and mix.
Drizzle some vegetable oil into the hot pan. Now carefully pour the ingredients from the bowl into the frying pan. Season with salt. Use a spatula to pull the ingredients away from the edge so you create something that looks like a Spanish tortilla. Fry for a couple of minutes until you have a golden-brown crust on the bottom. Use the spatula to check. Once you've got the right colour, carefully flip the frittata over. The egg will start to bind and hold the pasta together. Give the flip side another couple of minutes. Flip one more time, cover with a quarter of the grated Cheddar cheese and set aside to rest while you cook the others.
Once you've cooked all your frittatas, serve with a slathering of marinara sauce and Parmesan. Crack some pepper on top and enjoy your food coma. You can always ski it off.
Baking the law! Baked beans
Every good pitmaster, backyard chef and amateur cook needs to have a good recipe for baked beans in their repertoire. And because you so kindly asked, here's a super duper triply delicious one for your viewing and eating pleasure. So good, you gotta break a few laws to make it. First up, the law of mediocre flavours.
Serves 6–8
BBQ set-up: Heat canyon technique (cooked coals moved to the side to make room for a drip pan). Seasoned wood chunks
200g bacon lardons (fatty bacon, cubed)
1 red chilli (or go with however many you can handle… break the law!)
2 red onions, sliced
2 carrots, peeled and sliced
1 leek, sliced
1 garlic bulb, whole cloves peeled and smashed
1 tsp paprika
1 tsp ground coriander
1 tsp sumac
1 cinnamon stick
50ml bourbon
500ml passata
200ml BBQ sauce
3 x 400g cans beans, drained
Handful of rosemary leaves, chopped
Handful of thyme leaves, chopped
Handful of sage leaves, chopped
2 chipotle chillies
2 parsley sprigs, stems chopped (leaves reserved to garnish)
2 tbsp balsamic vinegar
Sea salt and black pepper
You'll need a roasting tin (pan) that will fit on the grill. Put your bacon in the tin and try to get them fat side down. Place on your grill over the heat canyon on the indirect heat. Stick your chillies straight on the grill over the indirect heat to char, then put the lid on. After 20 minutes, the bacon fat will have rendered and the chillies will be smoky and roasted.
Add all the roasted veg and the spices (up to and including the cinnamon stick) to the tin, give the whole lot a good mix and get it back on the grill with the lid on for another 30 minutes, stirring well halfway through. When the veggies are starting to char, add in all the rest of the ingredients, up to and including the parsley stems (but not the leaves) and place back on the grill with the lid on, for another 45 minutes.
After 45 minutes, pull those suckers off and give them a big old stir! If these break your heart and probably a couple of laws, then you know you're one step closer to bringing around world peace. Finish these bad boys off by stirring in the balsamic vinegar and season with a little salt and pepper if needed. Then make it rain chopped parsley leaves.
Fire Food: The Ultimate BBQ Cookbook by DJ BBQ (Quadrille, £15) Photography © David Loftus
Register for free to continue reading
Registration is a free and easy way to support our truly independent journalism
By registering, you will also enjoy limited access to Premium articles, exclusive newsletters, commenting, and virtual events with our leading journalists
Already have an account? sign in
Register for free to continue reading
Registration is a free and easy way to support our truly independent journalism
By registering, you will also enjoy limited access to Premium articles, exclusive newsletters, commenting, and virtual events with our leading journalists
Already have an account? sign in
Join our new commenting forum
Join thought-provoking conversations, follow other Independent readers and see their replies