The Independent's journalism is supported by our readers. When you purchase through links on our site, we may earn commission.
Easter 2018 recipes: From hot cross bun pudding to lemon simnel cakes
Easter is when baking comes into it's own, from fruit packed hot cross buns to mini-egg clad brownies. Here are our favourite recipes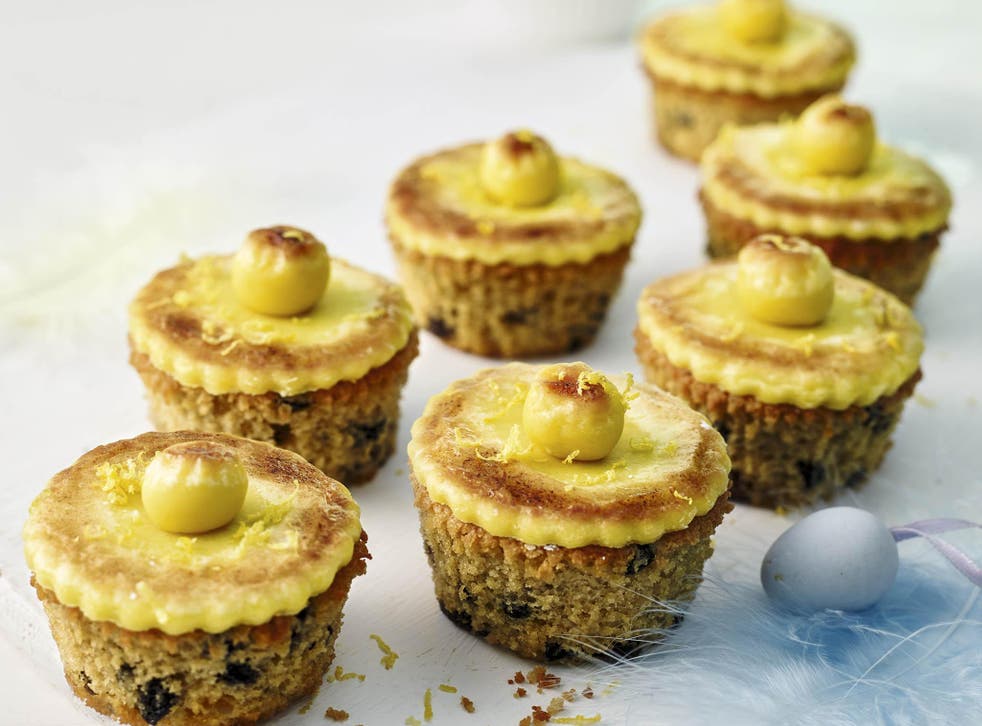 At Easter, it's prime time to get children into baking, with something as simple and fun as chicken and bunny shaped cookie cutters that can be decorated.
But it's not just for children, for the novice baker it's easy to make something look and taste great, without getting technical.
Make use of the shop bought staples and turn leftover hot cross buns into a rich and delicious version of the classic bread and butter pudding or add spring time colour with rose petals and pistachios for something a little more grown up.
Lemon simnel cupcakes
Prep: 20 minutes
Cook: 20 minutes + cooling
Makes 12
500g golden marzipan
150g light muscovado sugar 
150g unsalted butter, at room temperature
2 large free range eggs 
150g self-raising flour 
125g mixed fruit
2 lemons, both zested and juice of 1
Icing sugar to dust 
2 tbsp apricot jam  
Preheat the oven to 180ºC, gas mark 4 and line a 12-hole muffin tin with muffin cases. Cut off an 80g piece of marzipan, then set aside the larger piece for later. Cut the smaller piece into 12 equal chunks.
Place the sugar and butter in a large mixing bowl and beat together until pale and creamy. Add the eggs, one at a time, scraping the bowl down after each addition. Fold in the flour along with the mixed fruit, lemon juice and half the zest. Add a spoonful of mixture to each case, place a chunk of marzipan in the centre, then top each evenly with the rest of the mixture. Bake in the oven for 15–20 minutes, until risen and golden, then allow to cool on a wire rack.
Sprinkle a little icing sugar on the work surface and roll out the remaining marzipan. Using a small cookie cutter (about 6cm) cut out 12 circles, saving the leftover marzipan.
To decorate the cupcakes, take off the paper cases. Brush on a little apricot jam then place on the circles of marzipan. Shape the leftover marzipan into 12 balls, then place one in the centre of each cupcake, using some jam to help secure if necessary. Place them on a baking tray and pop under a hot grill for 1 minute until the marzipan is lightly browned. Finish with a small sprinkling of lemon zest.
Hot cross bun puddings with salted brandy caramel
Leftover hot cross buns are screaming out to be turned into bread and butter pud. Give yours the edge by creating individual portions, then dousing liberally with this rather decadent sauce.
Prep: 20 minutes
Cook: 30 minutes
Serves 6
150ml whole milk
150ml double cream
¼ tsp vanilla bean paste
3 egg yolks
2 tbsp caster sugar
6 hot cross buns, chopped into 3cm chunks
2 tbsp demerara sugar
Salted brandy caramel sauce
110g caster sugar
40g unsalted butter
1 tbsp brandy
75ml double cream
Preheat the oven to 180˚C, gas mark 4. For the caramel sauce, put the sugar in a large saucepan and warm until dissolved, swirling the pan occasionally. Turn up the heat and simmer for 2-3 minutes, until deep golden. Take off the heat and stir in the butter. Mix the brandy into the cream, then stir into the caramel until combined. Add a good pinch of sea salt and set aside.
Australia's new foodie hub, the Barossa Valley

Show all 7
Heat the milk, cream and vanilla in a pan to just below boiling point. Gently whisk the egg yolks and sugar in a bowl. Slowly pour the hot vanilla cream mixture over the egg mixture, whisking constantly. Take 6 x 200ml ramekins and put 1 tbsp of the caramel into the base of each. Pile the chopped hot cross buns on top, then ladle over the custard. Top each with a sprinkle of demerara sugar and bake for 20 minutes, until golden. Serve with any remaining sauce drizzled over the top, if liked.
Swirled Easter brownies
Prep: 15 minutes
Cook: 35-40 minutes + cooling
Serves: 16
150g butter, plus extra for greasing 
150g dark chocolate, roughly chopped
50g dark muscovado sugar
½ tsp vanilla extract
1 tsp cornflour
4 medium free range eggs
200g creamy soft cheese
225g light muscovado sugar
75g plain flour
90g bag Cadbury mini eggs 
Preheat the oven to 180°C, gas mark 4. Grease and line a 20cm square tin with baking parchment. Place the chocolate and butter in a heatproof bowl and set over a pan of gently simmering water, stirring occasionally, until melted. Meanwhile, for the cheesecake mixture, beat together the dark muscovado sugar, vanilla extract, cornflour and 1 egg in a bowl. Gently stir in the soft cheese until mixed. Set aside.
In a bowl, beat the remaining 3 eggs. Stir in the chocolate mixture with the light muscovado sugar and flour. Spoon half of this into the tin, then drop in small spoonfuls of the cheesecake mixture. Spoon the remaining chocolate mixture over the top. Using a chopstick or skewer, lightly ripple the top, then bake for 15 minutes. Scatter over the mini eggs and return to the oven for a further 15-20 minutes until set. Set aside to cool in the tin before cutting into 16 squares to serve.
Pistachio, lemon and rose drizzle cake with rose cream
Prep: 20 minutes
Cook: 40-45 minutes
Serves 8
175g butter, softened
175g caster sugar
Zest and juice of 2 lemons
3 large free range eggs
​200g self-raising flour
2 tsp rose petals, plus extra to garnish
50g pistachio nuts, chopped, plus extra to garnish
For the lemon drizzle
Juice and zest of 1 lemon
2 tbsp caster sugar 
1 tsp rose petals
½ tsp rose water
For the rose cream
​500ml tub creme fraiche
​3 tbsp clear honey
1 tsp rose water
Preheat the oven to 180°C, gas mark 4. Grease and base line a 900g loaf tin. Cream the butter, sugar and lemon zest until pale and fluffy. Whisk in the eggs, one at a time.
Mix together the flour and rose petals. Reserve 1 tbsp chopped pistachios and add the rest to the flour, then stir into the creamed mixture. Add the lemon juice and gently mix to combine. Spoon into the prepared tin and bake for 40-45 minutes until golden and a skewer inserted in the centre comes out clean.
While the cake is baking, make the drizzle. Heat the lemon juice, sugar, rose petals, rose water and remaining pistachios until the sugar has dissolved, then allow to cool slightly. Prick the hot cake with a skewer and pour the lemon drizzle over. Allow the cake to cool in the tin before removing. Garnish with the remaining lemon zest, extra chopped pistachios and a scattering of rose petals. Whisk the creme fraiche with the honey and rose water until thickened, and serve with the cake.
Image and recipe courtesy of Waitrose
Register for free to continue reading
Registration is a free and easy way to support our truly independent journalism
By registering, you will also enjoy limited access to Premium articles, exclusive newsletters, commenting, and virtual events with our leading journalists
Already have an account? sign in
Register for free to continue reading
Registration is a free and easy way to support our truly independent journalism
By registering, you will also enjoy limited access to Premium articles, exclusive newsletters, commenting, and virtual events with our leading journalists
Already have an account? sign in
Join our new commenting forum
Join thought-provoking conversations, follow other Independent readers and see their replies