Ethiopia cookbook: From flatbread pastries to grilled Nile perch
After working as a chef around the world, Yohanis Gebreyesus decided it was time to go home and put his skills to showing off his home country has to offer. Now, he's dedicating his work to opening the world's eyes to Ethiopian cuisine
Wednesday 31 October 2018 18:54 Comments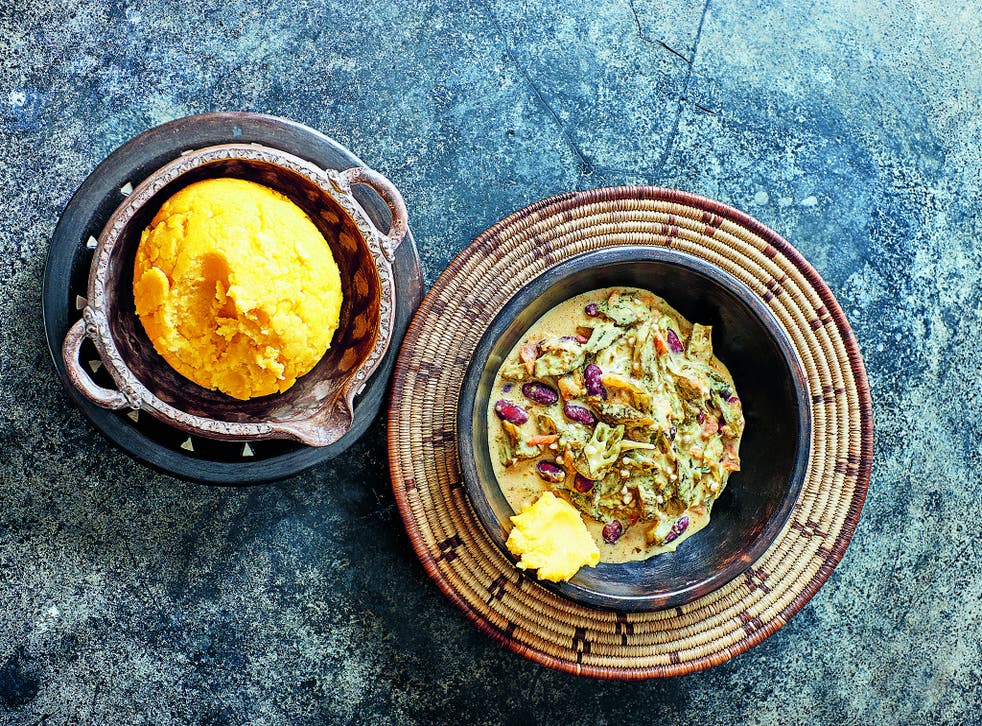 From berbere, the spice blend that takes more than three days to achieve complexity within heat, to injera, our gluten-free daily teff flatbread, which also requires three moons to acquire the perfect elasticity and taste, and of course let us not forget coffee, the country's first culinary gift to the world, I want to open your eyes to culinary wonders from Ethiopia, the Land of Origins.
Born in Addis Ababa, Ethiopia, I grew up in a typical Ethiopian family where traditional ceremonies and social events like Mahber (community bonding celebrations) were broadly practised. Whenever festivities came around I used to follow my mother in the kitchen while she prepared a large pot of niter kebbeh (Ethiopian spiced clarified butter), which flavoured all the delicious meals for the guests we would welcome.
As a young boy, then as tall as the kitchen table, I couldn't observe all the spices that were added but I could smell each of them.
I eventually ventured into the culinary arts industry by studying at the Paul Bocuse Institute and fine-dining restaurants in the southern cities of France. It allowed me to travel to the four corners of the world and that made me realise it was time to go back to my origins, to unfold the rich culture I am proud to be part of.
Ethiopia is one of the countries in the world whose pride is established on a lengthy and rich history. Yet, never colonised, its culinary and cultural diversity is a point of pride to the continent, and is always ready to share its crafts with anyone who listens.
Today, a third of the country is Muslim and Islam played a crucial role in introducing sweets to the plethora of our meals. Sweets like halawa and mushebak are widely available in Dire-Dawa and Harar. Then again, the culture of eating sweets regularly did not expand throughout Ethiopia, perhaps because their confection still remains a secret known only by harari families who make and sell them.
The cuisine is also influenced by its different climates and geography. From the Denakil Depression of Afar situated 410 feet below sea level, to the two-third of the country's plateaus ranging from 4,000 to 10,000 feet, the landscapes greatly influence its cuisines based on the ingredients each region can produce and the know-how of communities required to survive there.
Whether it's the use of goat skin to naturally cool water in very hot regions of Afar, the burning of specific plants to extract edible salt in Gambela, or Aja Kita whistling – the art of using sound vibration in Lalibela – Ethiopia is home to limitless ingenuity.
Today, I genuinely believe that it is time for Ethiopian food to be made globally available, and for the tastes and health benefits to be celebrated.
Kupe – ​
kidney bean and okra stew with corn flour patties
In Gambela, the far west of Ethiopia along the South Sudan border, there are five ethnic groups: the Opo, Gnuer, Agnuak, Komo and Mejeng. While all use genfo as the staple food of Gambela, each have a specialised and particular way of preparing it, which in turn creates major variations in texture, appearance and taste.
This dish is a speciality of the Komo. For this okra and bean stew, cooks not only grind the peanuts into a paste but also roast and grind the corn used to make a genfo-like dough to eat with it. This recipe simplifies the work by calling for peanut butter and preparing the corn dough with fine polenta. To eat, pinch off a piece of dough, flatten into a small patty and use it to scoop up the stew.
Serves 4
450g okra, ends trimmed and cut crossways into 1cm pieces
2 medium plum tomatoes, cored and chopped
salt
400g can cooked kidney beans, drained
2 tablespoons finely chopped fresh hot green chillies, such as bird's eye or jalapeño, or more to taste
2 tablespoons finely chopped fresh besobela or Thai basil (optional)​
65g creamy unsalted peanut butter
320g fine polenta
In a large saucepan, bring 750ml of water to the boil. Add the okra and tomatoes, season with salt and cook for 15–20 minutes until the okra is soft and the liquid a bit viscous. Add the beans and cook for 5 minutes.
Pound the chillies and besobela (if using) into a paste in a mortar with a pestle or purée using a food processor, adding in a touch of water if needed. Transfer to a bowl and whisk with the peanut butter and about 250ml of the simmering liquid (if you get a few beans, it's OK) into a runny paste. Return the mixture to the pan and cook for 1–2 minutes, stirring continually. Add a touch more water if needed – the mixture should be quite loose but not watery. Taste for seasoning and set aside.
In a large saucepan, bring 700ml of water to the boil and slowly stir in the polenta with a wooden spoon, working it for about 3 minutes until you have a thick, smooth mass of dough that holds its shape. Moisten a deep soup bowl with water, place the polenta in it and shake the bowl in a rotating circular manner until the polenta forms a smooth, round ball.
To serve, place the stew in a serving bowl. To eat, pinch off pieces of corn dough, flatten to form a small oatty and use it to grab the jelly stew.
Grilled Nile perch on a bed of creamy nettles
Samma – nettles – make an ideal bed for grilled fish. However, until they have been boiled and their stingers deactivated, handle carefully and wear gloves. Nettles are in season and usually available in spring, but if they are hard to find, substitute fresh spinach leaves. Boil the spinach for just a few minutes until tender, or wilt in a covered pan over a medium–low heat.
Serves 4–6
salt
450g cleaned and trimmed tender nettle leaves
3 tablespoons olive oil
1 medium red or yellow onion, finely chopped
120ml white wine
175ml double cream
freshly ground black pepper
600g fillets of Nile perch, tilapia or other firm white-fleshed fish, such as halibut, cut into
4–6 pieces
juice of 1 fresh lemon
a sprig of fresh thyme
baked potatoes, or chestnut or cauliflower purée (optional), to serve
Bring a large pot of water to the boil and add a pinch of salt. Wearing gloves, add the nettles and boil for 20 minutes, then drain into a colander. The stingers deactivate through cooking and the nettles can now be handled freely. Using a wooden spoon, press firmly to remove excess liquid from the leaves and set aside.
In a large sauté pan or wide pot over a medium heat, add 1 tablespoon of the oil and cook the onion for about 5 minutes until soft. Pour in the white wine and simmer, stirring, until the wine has reduced by half, then reduce the heat to low. Pour in the cream and allow to thicken for 1–2 minutes without letting it boil. Remove the pan from the heat, add the reserved nettles, season with salt and black pepper and stir well. Set aside and allow the nettles to soak in the sauce.
In a large frying pan, heat the remaining 2 tablespoons of oil over a high heat. Lay the perch fillets in the pan and sear on each side, turning just once. Sprinkle over the lemon juice and lay the thyme in the pan. Reduce the heat to low and cook for about 5 minutes until the fish is just done.
To serve, divide most of the nettle sauce between plates and top each with a piece of fish. Finish with a drizzle of sauce. Serve sides such as baked potatoes, chestnut or cauliflower purée.
Fetira be enkulal – flatbread pastries stuffed with egg
These delightful, egg-stuffed pastries are served in bite-size pieces. While this recipe cooks them in the pan, they can also be shallow-fried in oil. If cooking them this way, lift them out of the oil with a slotted spoon and drain well on kitchen paper before serving.
Makes 6 stuffed pastries
400g plain flour
salt
3 tablespoons sunflower, rapeseed or another mild vegetable oil, plus more for brushing the dough
3 large eggs
50g finely chopped yellow onion
40g finely chopped jalapeño or green pepper
In a large mixing bowl, sift the flour. Add the of salt and oil and, with your hands, begin working in about 240ml of warm water. Mix well without overworking the dough. Transfer to a clean surface and lightly knead until elastic.
Divide the dough into six even pieces and form into balls about 5cm in diameter – about the size of a large plum. Place on a plate, lightly brush with oil, and cover with a damp cloth or clingfilm. Set aside to rest for 10–15 minutes.
Whisk the eggs in a bowl. Stir in the onion and jalapeño and season with salt – you should have about 240ml of filling. Oil a rolling pin. Working on a lightly oiled surface and with one piece of dough at a time, roll out each ball into a thin, squareish sheet 20–25cm in diameter(the final size is not too important as the pastries will be cut before serving).
If rolling with oil is too challenging, dust some wheat flour on the surface instead. Traditional cooks flatten the dough by hand, tapping it against a marble surface to flatten it without breaking.
Heat a heavy, dry wok over a medium heat. Gently lay the dough in the middle of the pan and add the egg mixture. Fold the four sides of the dough over the egg mix. Immediately add 1–2 tablespoons of oil to the pan and cook for 5 minutes, turning a few times and each time brushing the pastry with a little oil, until golden and crispy. Set aside and keep warm.
Roll out, fill and cook the remaining pastries. Chop into 2.5cm pieces and serve warm.
'Ethiopia' by Yohanis Gebreyesus. Published by Kyle Books. Photography by Peter Cassidy
Register for free to continue reading
Registration is a free and easy way to support our truly independent journalism
By registering, you will also enjoy limited access to Premium articles, exclusive newsletters, commenting, and virtual events with our leading journalists
Already have an account? sign in
Join our new commenting forum
Join thought-provoking conversations, follow other Independent readers and see their replies