'Feasts of Veg' cookbook: Recipes from curried flatbread pizza to pea shoot salad
From small bites to celebration salads, Nina Olsson shares three delicious festive vegetarian dishes that are super-easy to make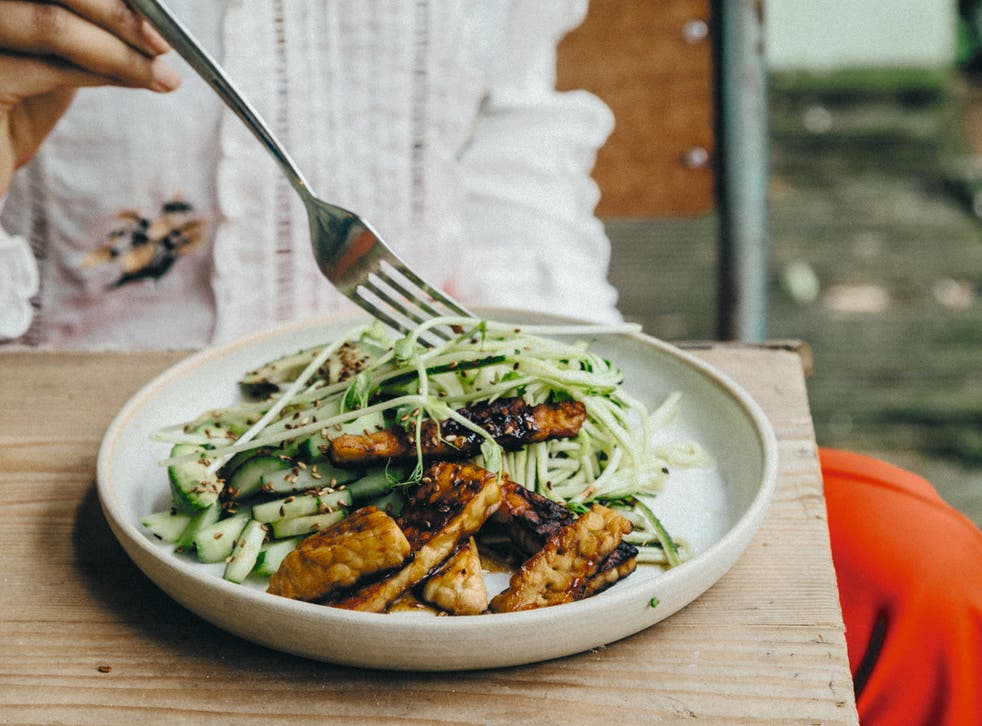 Pea shoots and courgette salad with hot tamari tempeh
Serves 4
This very fresh and cool salad combines spiralised courgette with cucumber, avocado, spring onions and tender raw pea shoots. It's a perfect spring and summer salad, but also an option to complement heartier dishes when you need to balance them with something less heavy. The tempeh adds a spicy flavour and extra interest to the salad.
A light and sweetened tamari and ginger dressing gives an extra edge to the taste. You can use other delicate shoots or sprouts instead of pea shoots and use tofu or chickpeas instead of tempeh.
250g best-quality tempeh, cut into bite-sized pieces
Vegetable oil, for frying
Dressing
75ml shoyu soy or tamari sauce
25ml mirin
25ml rice vinegar
1½ tsp freshly grated ginger
1 tbsp coconut sugar or agave syrup
¼ tsp salt
Tempeh seasoning
2 tbsp shoyu soy or tamari sauce
1 tbsp coconut sugar or agave syrup
1 tsp sriracha or other hot sauce
4 spring onions, chopped
½ cucumber, chopped
​1 large avocado, sliced
2 medium courgettes, spiralised​
Handful of peashoots
Mix the ingredients for the dressing together, and set aside. Mix the ingredients for the tempeh seasoning together and set aside. Heat a frying pan over a medium-high heat. Add a drizzle of vegetable oil and fry the tempeh.
Let the pieces fry until the surface is seared and golden before stirring and turning the pieces around, about 4-5 minutes. When the tempeh is nicely golden on all sides, splash the seasoning mixture over the pieces and allow the liquids to be absorbed before removing the tempeh​ from the heat.
Divide the salad between serving bowls or mix the ingredients in one large bowl. Serve with the tempeh and dressing.
Curried flatbread pizza
When time is in short supply but I want to make something really delicious for friends and family, I often throw together these Indian-style pizzas and they're always a hit! Don't be deterred by the list of ingredients, as the majority of them are spices you are likely to have already in your store cupboard. The idea is to use readymade flatbreads (keep a stock of them in the fridge, as I do). I like to use thin Turkish flatbreads, but Indian naan bread or Italian piadina flatbreads work just as well. Simply spread them with curry paste and bake them like a pizza, then serve them with fresh toppings. This is homemade fast food at its best! The pizzas can also be served whole for a more substantial meal.
Makes 6 pizzas
6 flatbreads of your choice
Curry paste
Ghee or vegetable oil, for frying
3 shallots, thinly sliced
1½ tbsp red wine vinegar or lemon juice
2 garlic cloves, crushed
1 tbsp grated fresh ginger
½ red chilli, deseeded and finely chopped
1½ tsp ground turmeric
1 tsp ground cinnamon or cardamom
1½ tsp ground cumin
1 tsp thyme leaves
½ tsp salt, or more to taste
¼ tsp freshly ground black pepper
Handful of almonds, coarsely ground
250ml dairy or vegan yoghurt​
1 tsp honey or coconut sugar
Sweet garlic sauce
150ml Greek yoghurt​
1 garlic clove, minced
½ tsp honey or agave syrup
Pinch of salt
Topping options
Cherry tomatoes, sliced
Fresh coriander
Baby spinach leaves
Pickled red onion
Piri piri peppers, finely chopped (for the hot spice lovers)
Organic eggs
Preheat the oven to 220C/gas mark 7. To make the curry paste, heat a frying pan over a medium-high heat. Add a generous spoonful of ghee or a good drizzle of vegetable oil and fry the shallots, stirring frequently, for about 2 minutes until transparent. Add the vinegar or lemon juice, garlic, spices, thyme, salt and pepper and cook, stirring, for 2-3 minutes. Add the almonds and more ghee or vegetable oil if needed and fry, stirring frequently, for about 1-2 minutes until the almonds are toasted. Reduce the heat, add the yoghurt with the honey or coconut sugar and cook, stirring constantly, for 2-3 minutes.
Turn off the heat. Mix together the ingredients for the sweet garlic sauce in a small bowl and set aside until ready to serve.
Lay the flatbreads on a large baking tray and spread with the curry paste. Bake for 30 seconds-2 minutes, depending on the thickness of the breads, keeping an eye on them to avoid burning – if they are thin, they can quickly catch. I bake in batches of 1-2 breads at a time. Remove from the oven, scatter with your choice of toppings and drizzle with the garlic sauce. Cut into slices for sharing.
The curry paste can be made 3-4 days in advance – leave to cool, transfer to an airtight container and keep in the fridge.
Tip: Crack an egg over each flatbread before baking in the oven.
Crispy sesame broccoli
A quick roasting of these broccoli stems gives them a pleasing crunchy bite, and then they are coated in nutty tahini and panko breadcrumbs for extra deliciousness. This works perfectly when contrasted with smooth-textured dishes, such as tofu dengaku or lemongrass and butternut squash soup.
Serves 8
200g panko breadcrumbs
Grated zest of ½ orange
1 tsp dried chilli flakes
½ tsp salt
Olive oil, for drizzling
1kg broccoli, cut down the length with the florets
2 tbsp tahini
2 tbsp shoyu soy or tamari sauce
1 garlic clove, peeled and crushed
Preheat the oven to 220C/gas mark 7. Line a baking tray with baking paper. Mix together the panko, orange zest, chilli flakes and salt. Heat a frying pan over a medium heat. Add a little drizzle of olive oil and fry the panko mixture, stirring, for about 3-4 minutes until golden. Transfer to a bowl and set aside.
Toss the broccoli with about 1 tablespoon of olive oil in a bowl, then arrange in a single layer, without overlapping, on the lined baking tray. Roast for 8 minutes, then flip the broccoli over and roast for a further 7 minutes. While the broccoli is roasting, mix together the tahini, soy and garlic.
Remove the broccoli from the oven and dip one side of each stalk in the tahini mixture and then in the panko mixture. Place on a platter and sprinkle with the rest of the panko mixture. Serve hot.
Extracted from 'Feasts of Veg' by Nina Olsson​ (Kyle Books, £18.99)
Register for free to continue reading
Registration is a free and easy way to support our truly independent journalism
By registering, you will also enjoy limited access to Premium articles, exclusive newsletters, commenting, and virtual events with our leading journalists
Already have an account? sign in
Register for free to continue reading
Registration is a free and easy way to support our truly independent journalism
By registering, you will also enjoy limited access to Premium articles, exclusive newsletters, commenting, and virtual events with our leading journalists
Already have an account? sign in
Join our new commenting forum
Join thought-provoking conversations, follow other Independent readers and see their replies