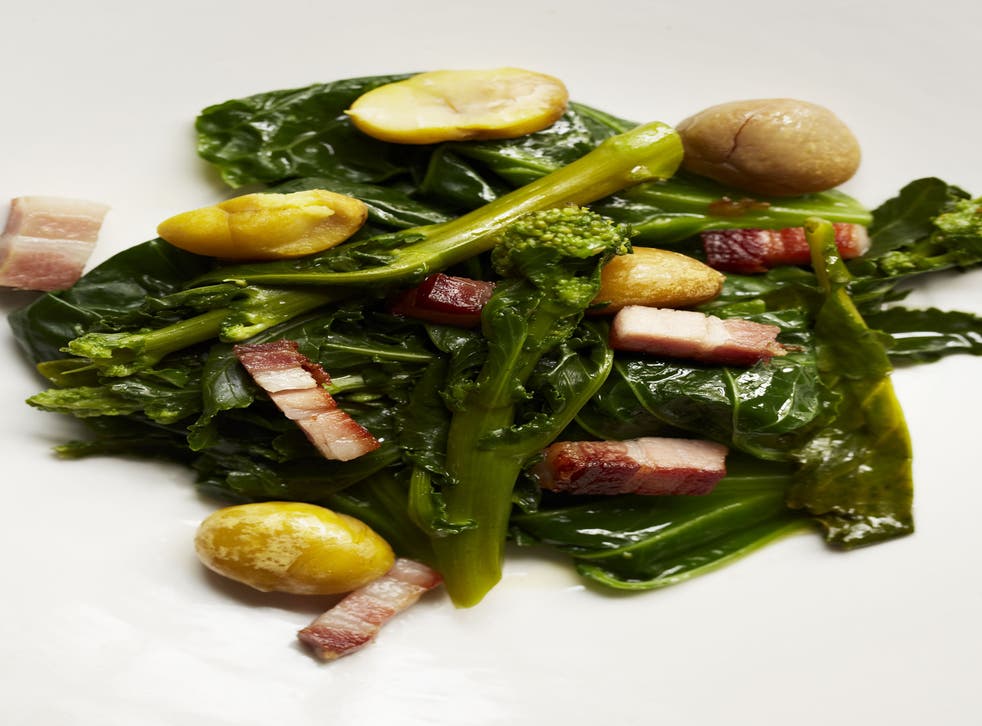 Greens, bacon and chestnuts
You can use whatever greens you want for this, kale, cabbage, sprout tops and even add some sprouting broccoli as I've done here. If you don't fancy the shlep of roasting and shelling chestnuts for your Christmas lunch guests, there are lots of good frozen and vacuum-packed prepared examples available on the market.
250-300g fresh chestnuts
500g greens, one variety or a mixture, thick and woody stems removed and washed
4 shallots, peeled, halved and thinly sliced
125g lardons or bacon
60g butter or rapeseed oil
Salt and freshly ground black pepper
With a sharp knife make a slit in the ends of the chestnuts and place them on a tray under a medium grill for 5-6 minutes, turning them occasionally. Beware, a few of them may explode. Remove from the grill, leave to cool and peel them. If they break up, don't worry.
Melt a little of the butter in a pan and cook the shallots for a couple of minutes without colouring. Add the lardons and fry for about 3-4 minutes. Meanwhile cook the greens in boiling salted water for 3-4 minutes until tender, then drain well. To serve, toss the greens, shallots, bacon and chestnuts in butter and seas
Join our new commenting forum
Join thought-provoking conversations, follow other Independent readers and see their replies