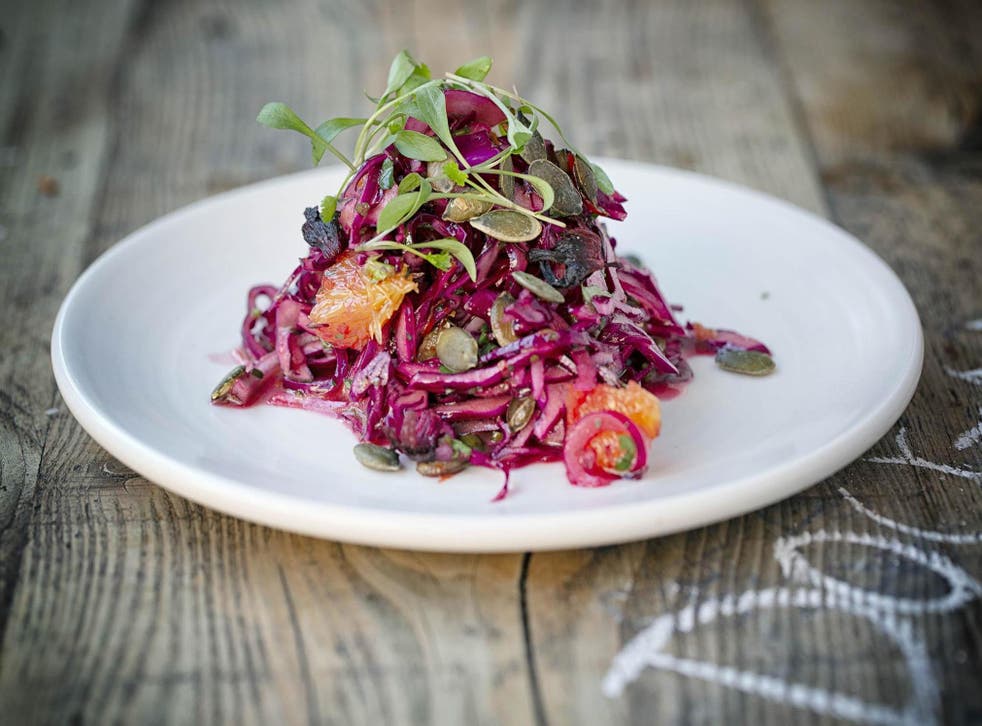 How to make a zesty hibiscus salad with red cabbage, chilli and orange
Hibiscus isn't just for your garden – with these ingredients it becomes an unexpected dish that's vegan too
Wednesday 12 June 2019 17:59 Comments
Serves 6
¼ of a medium sized red cabbage, sliced
1 green serrano chilli, deseeded and sliced
½ lime and zest
1 orange and zest
¼ red onion, sliced
¼ bunch coriander
Dressing
25ml extra-virgin olive oil
25ml vinegar
Sea salt
Sugar
15g hibiscus
100ml water
Crisps
Hibiscus from above (after hydration, dried then fried till crispy)
100g pumpkin seeds, toasted
Slice the red cabbage and onion – thin but not too thin, to give some texture.
Deseed and slice chilli. Segment ½ of the orange and cut segments into smaller pieces. Pick coriander leaves and chop the stalk finely.
Make the dressing by hydrating the hibiscus in 100ml hot water. Once the water is coloured and flavoured, strain the hibiscus and dry it, ready for frying. Reduce the water until there's 50ml left and allow to cool.
Fry the hibiscus flowers in a little oil until crispy – be careful that they are fully dry first so that they don't spit.
To finish the dressing, mix the hibiscus water reduction with salt, sugar, vinegar and oil.
In a bowl, mix the sliced cabbage, red onion, green chilli, orange segments, picked coriander leaves, coriander stalk chop, orange and lime zest and lime juice.
Allow to sit for 5 minutes to change in texture and develop in flavour.
Season to your taste with more dressing, lime and salt, then serve with toasted pumpkin seeds, hibiscus flowers and coriander.
Recipe from masaandmezcal.co.uk
Register for free to continue reading
Registration is a free and easy way to support our truly independent journalism
By registering, you will also enjoy limited access to Premium articles, exclusive newsletters, commenting, and virtual events with our leading journalists
Already have an account? sign in
Register for free to continue reading
Registration is a free and easy way to support our truly independent journalism
By registering, you will also enjoy limited access to Premium articles, exclusive newsletters, commenting, and virtual events with our leading journalists
Already have an account? sign in
Join our new commenting forum
Join thought-provoking conversations, follow other Independent readers and see their replies