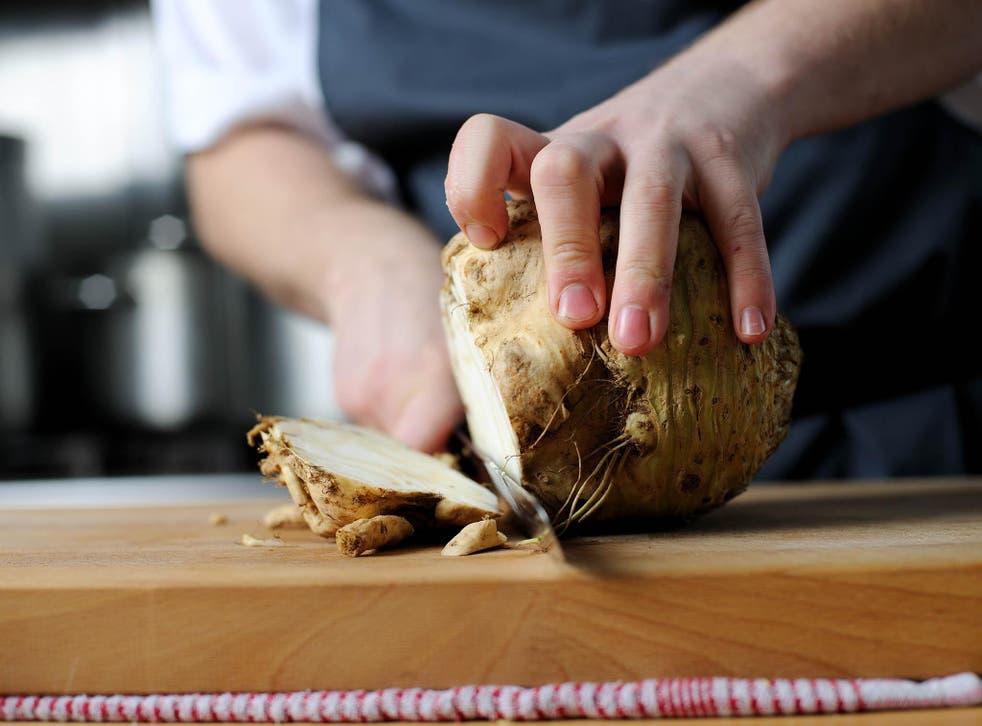 How to cook celeriac
The ugly duckling of vegetables, celeriac is much overlooked at the supermarket but both raw and cooked, it's versatile enough to give even potatoes a run for their money
If ever there was an underdog (under root?) of the vegetable world it's celeriac, the knobbly root vegetable so often overlooked at the supermarket. And if it does catch our eye it's because it's so alien looking, covered in obscene appendages, mud-filled crevices and warty protrusions.
At first sight it looks neither easy to work with or enjoyable to taste, so why bother? But it's actually pretty special.
Raw, celeriac has fantastic crunch and a super nutty, celery-like flavour that makes it perfect for salads and slaws. Cooked, it takes on a slight sweetness that works well mashed, baked, roasted or boiled. It all adds up to celeriac being an extraordinarily versatile vegetable, perfect during a change of seasons.
How to prepare celeriac
For all its gnarly bits, celeriac isn't actually that hard to work with. The key is to not be too precious about losing a bit of the flesh.
Use a good knife to top-and-tail the bulb then continue around it, slicing off the rest of the skin. You can now chop the celeriac into whatever sort of pieces you need: chunks, slices or strips depending on the recipe. Just be aware that it discolours quickly so once sliced, immerse the pieces into a bowl of water with a squeeze of lemon juice or splash white wine vinegar.
Food and drink news

Show all 35
How to cook celeriac
Raw it's is a great addition to salads. Celeriac remoulade is the classic preparation, a simple salad of celeriac, mayonnaise, mustard and lemon juice. But it's worth branching out and trying some more unusual recipes like Nathan Outlaw's root vegetable slaw or Paul Ainsworth's celeriac, apple and fennel slaw.
Celeriac is worth cooking, too. You can treat it like any root veg. Roast it as you would potatoes. Boil it and mash it with other root vegetables, or serve it on its own.
It makes a fantastic winter soup too as in Marcello Tully's blue cheese soup. Or for something totally different, try Paul Foster's whole celeriac baked in salt crust, or Matthew Tomkinson's oxtail and celeriac lasagne.
How to make celeriac mash
This underrated contender has a nutty, celery-like flavour. It adds substance to dishes in the same way as potato and makes an ideal, healthy substitute. When mashed, celeriac goes light and fluffy and has a great taste and texture.
1 celeriac
50g of butter
salt
Peel the celeriac and cut into 2-3cm chunks. Place in a suitable size saucepan, cover with water and season with salt. Bring to the boil and simmer for 15-20 minutes. The chunks will be cooked when a knife easily slices through them. Drain the water and return the celeriac to the pan with the butter and mash until smooth. Season to taste.
Variations: Try adding herbs such as thyme or rosemary to the water when cooking; adding a minced clove of garlic will also impart extra flavour. For an indulgent mash, stir through a glug of cream after mashing and for a bit of a kick try adding cracked black pepper or grated horseradish.
Serving suggestions: Celeriac mash complements a wealth of dishes and can be used in place of potato as a tasty side. Try it with Andy Waters' veggie Wellington or Chris Horridge's Roast chicken breast, potato purée and pine nuts. It also perfectly suits a warming, traditional beef casserole.
Leg of lamb with braised celeriac, fennel and bitter leaves by Jeremy Lee
Jeremy Lee's succulent lamb leg recipe makes a fantastic and fuss-free alternative to a traditional Sunday roast. Earthy celeriac is paired with tender fennel and a selection of bitter leaves – the chef recommends a selection of puntarelle, chicory and dandelion leaves – which are braised in olive oil and garnished with chopped dill for a fresh, low-carb side.
Leg of lamb
1 leg of lamb, roughly 2kg, butterflied
sea salt
black pepper
Braised vegetables
1 small celeriac
2 handfuls of dandelion leaves, puntarelle, and other bitter leaves
2 small onions
1 fennel bulb, large
​150ml of olive oil
​250ml of water
1 lemon, juiced
2 handfuls of dill, roughly chopped
salt
black pepper
Place a large cast-iron frying pan over a medium-low heat until hot. Liberally coat the fat layer of the lamb in salt and place, fat-side down, in the hot pan. Leave to gently cook, undisturbed, for 30 minutes. Preheat the oven to 150°C/gas mark 2.
Once the lamb has cooked on one side, turn the leg over and leave to cook for 15-20 minutes, until cooked through but still a little pink in the middle. To test whether the meat is ready, insert a metal skewer into the centre – it should come out hot to the touch. Meanwhile, prepare the vegetables. Place the oil in a wide, heavy bottomed pan and gently heat up. Peel and chop the onions into small pieces, then add to the pan and allow to soften (but not colour) in the warm oil​.
While the onion is cooking, peel and chop the fennel into small pieces, then add to the pan and bring up to a simmer, allowing to cook for 5 minutes. Carefully peel the celeriac and chop into rough 2.5cm squares, adding these to the pan along with the bitter leaves and the water. Stir and cover the pan with a lid, leaving to cook gently for 30 minutes, shaking occasionally.
Once the lamb has cooked through, transfer the pan to the oven and cook for a further 10-12 minutes, until crisp. Remove from the oven, season with black pepper and leave for 45 minutes. Remove the cooked vegetables from the heat and stir through the chopped dill, lemon juice and seasoning to taste. Set aside and keep warm until ready to serve.
To serve, carve the lamb into even slices and divide between serving plates. Heap a mound of braised vegetables on to each plate and finish with any remaining lamb juices from the pan.
Visit Great British Chefs for more creative celeriac recipes
Join our new commenting forum
Join thought-provoking conversations, follow other Independent readers and see their replies