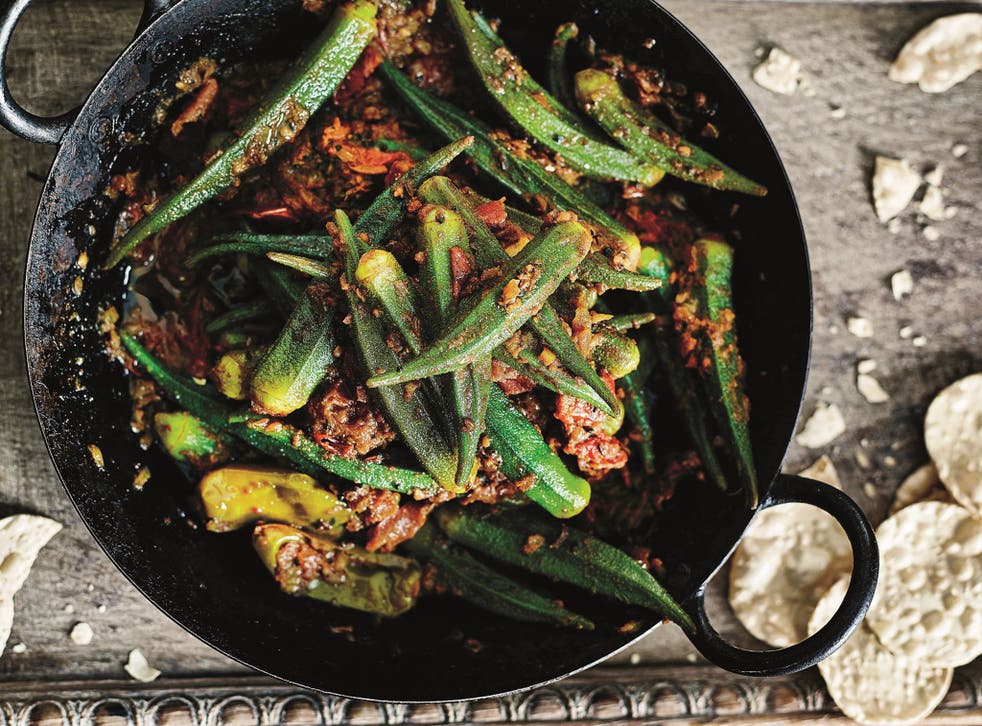 How to make Anjum Anand's four seed-spiced okra with tomatoes
Commonly used in Indian dishes, okra is versatile, simple to cook and, as Anjum Anand shows here, works well with tomatoes and carefully selected spices
Four seed-spiced okra with tomatoes
I love okra – it is such a great vegetable, not too watery, not too starchy, not too metallic and really good for you. I have never found it "gluey" when cooked properly, despite its unfair reputation. There are so many ways to cook it, but I do love it in this aachari bhindi, and it is really easy to cook. These spices and simple sweet, tart flavours add masses of flavour to a simple vegetable. It is a slightly tangy recipe and works well with any meat, chicken, fish or lentil dish.
Serves 4-6
4 tbsp vegetable oil
¾ tsp nigella seeds
¾ tsp cumin seeds
¾ tsp brown mustard seeds
¾ tsp fennel seeds
3 small onions, finely chopped
1-3 Indian green finger chillies, stalks removed, pierced with a knife
400g okra, stalks sliced off
4 tomatoes, chopped
salt
¾ tsp ground turmeric
1 tbsp ground coriander
½-¾ tsp dried mango powder (amchur), or to taste
handful of chopped coriander, to serve
Heat the oil in a large non-stick sauté pan over a medium heat. Add the seeds and, once they are popping, add the onions and green chillies and cook until the onions are browned on the edges and soft.
Add the okra, tomatoes, seasoning and remaining ground spices and stir to mix well. Cover and cook for 10-12 minutes or until the okra is soft and cooked through, giving the pan a stir every few minutes.
Taste and adjust the seasoning, adding more dried mango powder if you would like it a bit more tar. Add the coriander and serve.
Recipe from from Anjum Anand's I Love India cookbook, published by Quadrille
Join our new commenting forum
Join thought-provoking conversations, follow other Independent readers and see their replies