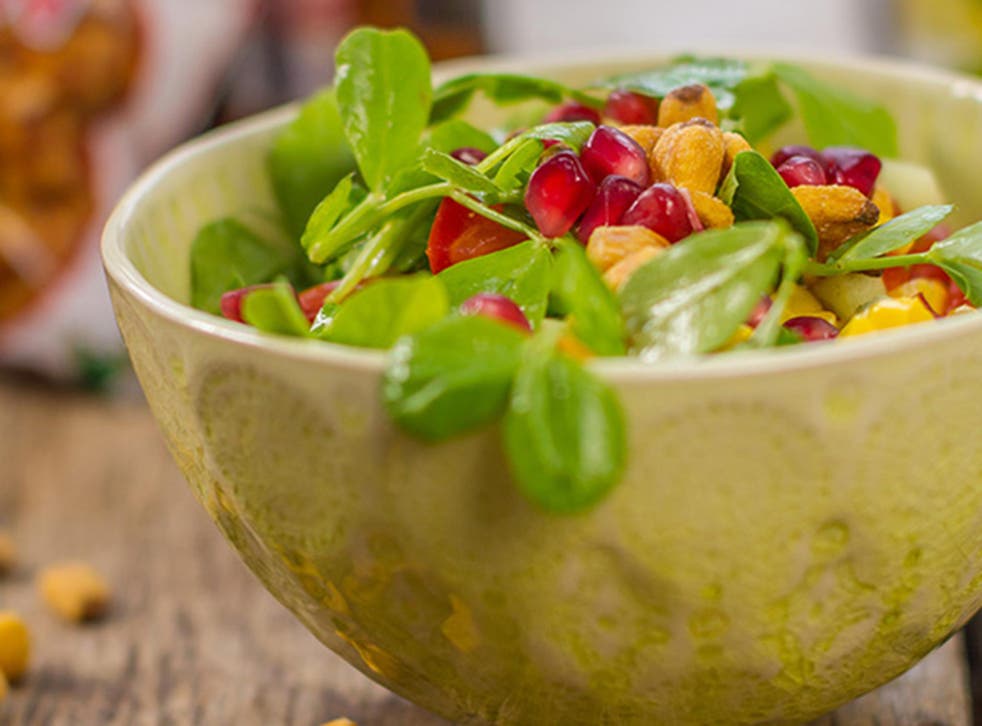 How to make corn and pomegranate kachumber
Try this sweet and vibrant salad as a super-healthy side
Kachumber is a salad dish of Indian origin that you can make with practically anything. The crispy corn kernels give this twist another layer of flavour, along with a satisfying crunch.
Corn and pomegranate kachumber
Salad
300g tin of sweetcorn  
¼ of a cucumber, peeled and diced
2 tomatoes, diced
crunchy corn (shop-bought)
handful of pomegranate jewels 
handful of pea shoots 
Dressing
½ tsp honey
1 lime, juiced
½ tsp paprika powder
3cm fresh ginger, fine chopped
1 green chilli, finely chopped
Large pinch coriander leaves, chopped
Salt to taste
Wash the sweetcorn and leave to dry. Mix all the dressing ingredients in a jam jar and shake to mix all the flavours together. Set to one side.
Place the corn in a bowl with the diced cucumber and diced tomatoes. Sieve the dressing over the salad and toss it together.
Sprinkle in the pea shoots and finally, sprinkle the crunchy corn and pomegranate on top and serve.
For more recipes, visit harighotra.co.uk
Register for free to continue reading
Registration is a free and easy way to support our truly independent journalism
By registering, you will also enjoy limited access to Premium articles, exclusive newsletters, commenting, and virtual events with our leading journalists
Already have an account? sign in
Register for free to continue reading
Registration is a free and easy way to support our truly independent journalism
By registering, you will also enjoy limited access to Premium articles, exclusive newsletters, commenting, and virtual events with our leading journalists
Already have an account? sign in
Join our new commenting forum
Join thought-provoking conversations, follow other Independent readers and see their replies