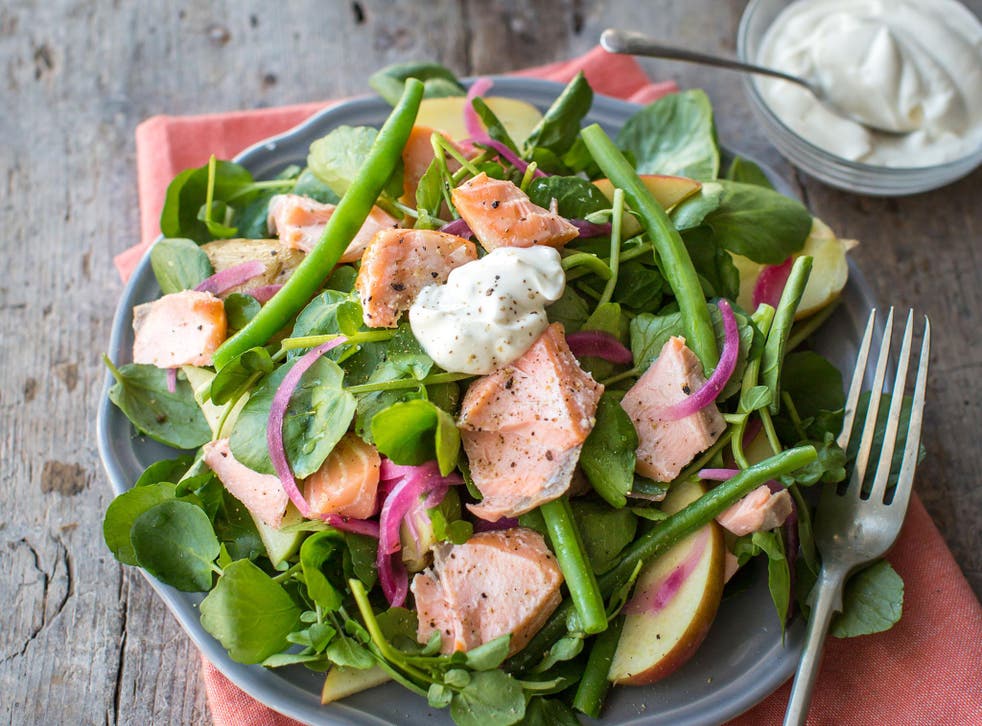 How to make hot-smoked salmon and watercress salad in 30 minutes
Hot-smoked salmon and watercress salad with apple, green beans and crème fraîche
Serves 2
Prep time: 10 minutes
Cooking time: 20 minutes
For the salad:
2 hot-smoked salmon fillets, skin removed
100g watercress, roughly chopped
1 small red onion, thinly sliced
 ½tbsp white wine vinegar
​200g baby new potatoes
​100g green beans, trimmed
1 Braeburn apple, cored and sliced
½ lemon, cut into wedges
For the dressing
4tbsp crème fraîche
juice of ½ a lemon
1tsp cream of horseradish
sea salt and black pepper
In a large bowl, toss the red onion with the white wine vinegar and a pinch of salt. Set aside.
Place the new potatoes in a pan and cover with cold water. Add salt and boil until tender (about 20 minutes). Drain and allow to dry for a few minutes. Tip into the bowl with the red onion, season and mix together.
In a separate bowl, mix together the crème fraîche, horseradish and lemon juice, adding salt and pepper to taste. Mix together with the potatoes and onion.
Bring a pan of salted water to the boil. Cook the green beans for one minute, then drain and cool down with cold water.
Divide the potato mixture between two plates. Scatter over the apple slices, green beans and watercress and flake the salmon on top. Serve with a lemon wedge on the side.
For more recipes, visit watercress.co.uk
Register for free to continue reading
Registration is a free and easy way to support our truly independent journalism
By registering, you will also enjoy limited access to Premium articles, exclusive newsletters, commenting, and virtual events with our leading journalists
Already have an account? sign in
Register for free to continue reading
Registration is a free and easy way to support our truly independent journalism
By registering, you will also enjoy limited access to Premium articles, exclusive newsletters, commenting, and virtual events with our leading journalists
Already have an account? sign in
Join our new commenting forum
Join thought-provoking conversations, follow other Independent readers and see their replies