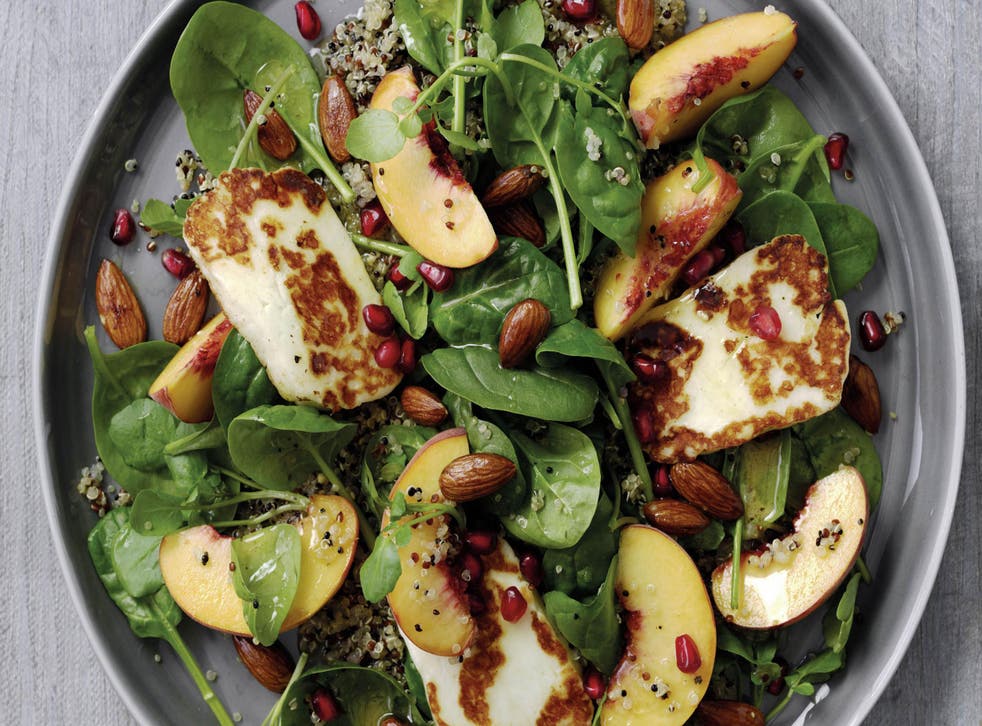 How to make peach, sizzled halloumi and quinoa salad
The time for thick stews and soups is over. Now bright and textured salads make easy evening meals
South African peach, sizzled halloumi and quinoa salad
This flavour-packed healthy salad is perfect for serving bright and colourful food as we step into spring.
South African peaches taste so good with grilled halloumi – try the combination as a topping for toasted sourdough, with a few rocket leaves and a splash of balsamic vinegar.
To make this recipe a bit different, try using walnut oil in the dressing instead of olive oil.
Prep time: 15 minutes
Cooking time: 20 minutes
Serves 2
75g red, black and white quinoa (or just use one colour)
​1tsp vegetable stock powder
2 South African peaches or nectarines, pitted and sliced
50g spinach and watercress salad
20g whole almonds, toasted
​120g halloumi cheese, sliced
40g pomegranate seeds
Dressing
2tbsp olive oil
​1tbsp lemon juice
​1tsp Dijon mustard
​1tsp clear honey
Salt and freshly ground black pepper
Rinse the quinoa in a sieve, then cook it in simmering water with the stock powder for 15 minutes, until tender. Drain well and cool for a few minutes.
Combine the warm quinoa with the South African peaches or nectarines and the spinach and watercress. Share between 4 plates and scatter the almonds on top.
Heat a large non-stick frying pan and dry-fry the slices of Halloumi for 1-2 minutes on each side, until golden brown. Share them between the salads.
To make the dressing, put the olive oil, lemon juice, mustard and honey into a small saucepan and warm over a low heat, whisking together to combine. Season with a little salt and pepper, then drizzle the dressing over the salads. Serve, sprinkled with pomegranate seeds.
Register for free to continue reading
Registration is a free and easy way to support our truly independent journalism
By registering, you will also enjoy limited access to Premium articles, exclusive newsletters, commenting, and virtual events with our leading journalists
Already have an account? sign in
Register for free to continue reading
Registration is a free and easy way to support our truly independent journalism
By registering, you will also enjoy limited access to Premium articles, exclusive newsletters, commenting, and virtual events with our leading journalists
Already have an account? sign in
Join our new commenting forum
Join thought-provoking conversations, follow other Independent readers and see their replies