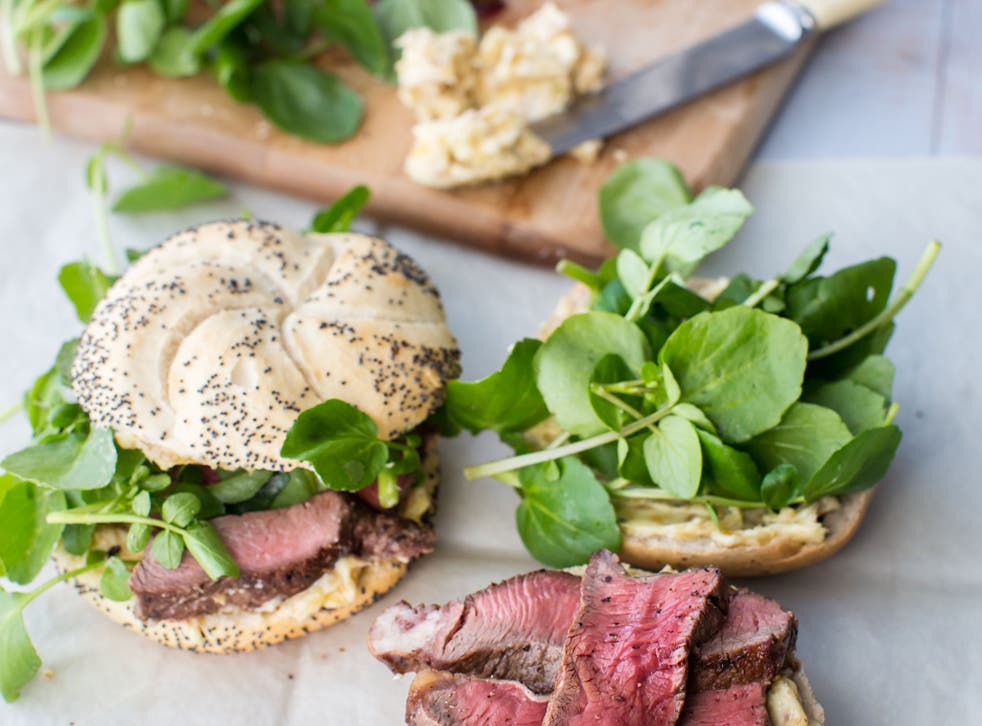 How to make peppered beef and watercress rolls
Peppered beef and watercress rolls with caramelised shallot butter
Serves 6
Prep time: 25 minutes
Cooking time: 10 minutes
6 crusty bread rolls
2 x 150g ribeye steaks
3 tsp whole green peppercorns
3 tsp whole white peppercorns
​100g watercress
4 tbsp olive oil
2 tsp garlic salt
For the shallot butter:
4 tbsp soft butter, divided
2 banana shallots, finely sliced
Remove ribeyes from the fridge and allow to come up to room temperature (about 30 minutes). Coarsely chop or grind the peppercorns and mix together. Drizzle steaks with 2 tbsp of olive oil and season with garlic salt. Press the peppercorns on to cover the entire surface of the meat.
Heat 1 tbsp of olive oil in a frying pan over a high heat. Add the steaks, searing for 2½ minutes on each side for medium rare. Wrap the meat in foil to keep warm and allow to rest for 10 minutes before carving.
While the steaks are resting, prepare the shallot butter. In the frying pan used for the steak, heat 1 tbsp of butter. When the butter begins to foam, add the shallots with a pinch of salt and reduce the heat to low. Cook until the shallot is soft and lightly browned and remove from the pan. In a small bowl, mix together the cooked shallots and remaining butter.
Slice the bread rolls in half horizontally. Spread the shallot butter generously on both sides. Slice the beef across the grain and fill the rolls, topping with a generous handful of watercress.
For more recipes, visit watercress.co.uk
Register for free to continue reading
Registration is a free and easy way to support our truly independent journalism
By registering, you will also enjoy limited access to Premium articles, exclusive newsletters, commenting, and virtual events with our leading journalists
Already have an account? sign in
Join our new commenting forum
Join thought-provoking conversations, follow other Independent readers and see their replies