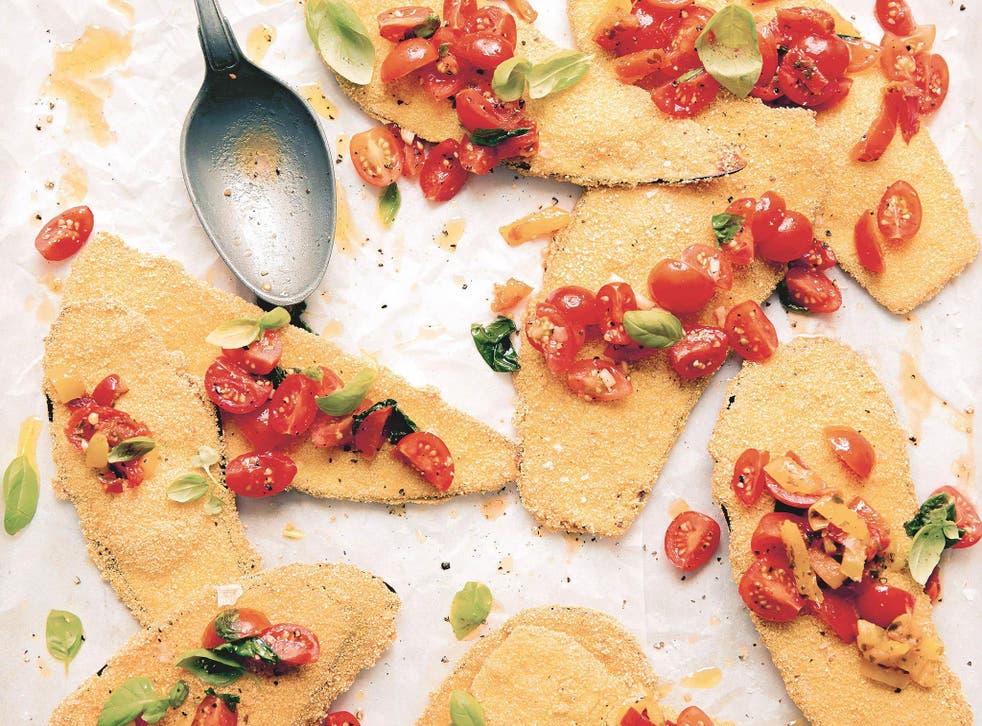 Classic Italian recipes from Gennaro Contaldo
The TV chef serves up family recipes and nostalgic reminders of his childhood
Aubergine slices with a parmesan and polenta crust
This idea was given to me by my wife Liz while we were making involtini di melanzane alla parmigiana together. It was her grandmother's version of "vegetarian steak", which she would make for the family during wartime when meat was scarce. It can be served as a snack, side dish or, indeed, a vegetarian main course. The aubergine slices are delicious topped with salsa alla crudaiola, a little garlic, basil, salt and pepper, or with preserved vegetables.
Serves 4–6
2 large eggs
25g parmesan cheese, freshly grated
1 large aubergine, peeled and cut lengthways into slices 5mm thick
Plain flour, seasoned with salt and pepper, for dusting
250g polenta
7 tbsp olive oil
Salt and freshly ground black pepper
Break the eggs into a bowl, season with salt and pepper, then add the parmesan and beat well. Dust the aubergine slices in seasoned flour, dip them into the egg mixture and then coat with the polenta.
Heat the olive oil in a large frying pan and, over a medium-high heat, fry the aubergine slices on both sides until golden brown. Remove, drain on kitchen paper and serve either hot or cold. When eaten hot, they are deliciously crunchy.
Sun-dried tomato gnocchi with black olive sauce
If you like sun-dried tomatoes, you will love this recipe. Very finely chopped sun-dried tomatoes are added to a basic potato gnocchi mixture, worked into a dough, then shaped and cooked in boiling water until they come up to the surface.
Serves 4
500g floury potatoes
150g plain flour
2 egg yolks
12 whole sun-dried tomatoes preserved in oil, drained and dried on kitchen paper 
Salt and freshly ground black pepper

For the sauce

4 tbsp olive oil
1 small onion, finely chopped
2 garlic cloves, squashed but left whole
120g black olives, pitted and roughly chopped
A few sprigs of fresh thyme
120ml red wine
Place the unpeeled potatoes in a saucepan of lightly salted water, bring to the boil and simmer until tender. Once the potatoes are cooked, drain and leave to cool. Peel and mash the potatoes, preferably with a potato ricer to give a really smooth mash.
In a large bowl, combine the mashed potatoes with the flour, egg yolks, salt and pepper.
Chop the sun-dried tomatoes very finely, almost to a pulp – if necessary, once chopped, blitz in a blender or food processor. Add the tomatoes to the potato mixture and mix well to form a soft dough. Take large pieces of the dough and roll them into sausage shapes, then slice into 2cm squares. Roll each one over the back of the tines of a fork to mark it slightly and give a traditional gnocchi shape.
Food and drink news

Show all 35
Bring a large saucepan of salted water to the boil. Meanwhile, make the sauce. Heat the olive oil in a large frying pan, add the onion and garlic and cook gently until the onion is softened. Add the olives, thyme and wine and simmer until the wine has evaporated.
Season with salt and pepper. Drop the gnocchi into the pan of boiling water and simmer until they rise back up to the top. As they float to the surface, lift them out of the water with a slotted spoon, drain well and add to the olive sauce. Mix well and serve immediately.
Stuffed mussels with tomato sauce
Because I lived by the sea, mussels were part of my life, and as a child I would pick bucketfuls of them during the cooler autumn months. When we had larger mussels, my father would often make this dish by removing the mussels from their shells, mixing them with stale bread, garlic and parsley and then stuffing the shells with this mixture. Using mussels in this way made an unusual, tasty dish and also meant they would go further to feed a large family. If you like mussels, try this dish for an informal supper with friends; it's fun to eat, as you have to remove the raffia tied round each mussel.
Serves 4
12 large mussels
4 tbsp extra virgin olive oil
4 anchovy fillets
1 garlic clove, thinly sliced lengthways
½ small red chilli, finely chopped (optional)
20 capers
3 tbsp white wine
A handful of fresh parsley, finely chopped, plus a few sprigs to garnish
​100g  stale bread, cut into small cubes 
For the sauce
2 tbsp extra virgin olive oil
½ small onion, very finely diced
½ tsp dried oregano
2 large green olives, pitted and sliced
​400g tinned chopped tomatoes
Salt and freshly ground black pepper
Clean the mussels in plenty of cold water, scrubbing them well and pulling off the beards. Place in a pan, cover and steam for 2-3 minutes until the shells open. Remove from the heat and discard any mussels that are still closed. Remove the flesh from the shells and any liquid and place in a bowl (if necessary, open up the shells a little more, taking care to keep the shells intact). Keep the empty shells for later.
Heat the olive oil in a pan, add the anchovies and stir with a wooden spoon until they have almost dissolved into the oil. Add the garlic, chilli if using, and capers. Once the garlic turns golden, stir in the mussels, reserving their liquid for later. Heat the mussels through, then add the wine and simmer gently for 1 minute. Pour in the liquid from the mussels and stir in the parsley. Remove from the heat, mix in the bread cubes, then leave to cool. When the mixture has cooled, place it on a chopping board and chop quite finely with a sharp knife. Transfer to a bowl and mix well until you get a mushy consistency.
Dry the mussel shells and generously fill one half of each shell with the mussel mixture. Close the shell, removing any excess filling that escapes, and wrap some raffia around the middle of the shell, tying it round a few times until nice and tight, so the shell cannot open (you could use string, but I think raffia looks much nicer). Trim off any excess raffia and put the filled shells to one side.
To make the sauce, heat the olive oil in a large pan, add the onion and, as soon as it begins to fry, add the oregano, olives and tomatoes. Season with salt and pepper and bring to a gentle simmer. Reduce the heat and simmer for 5 minutes. Add the mussels to the sauce, cover the pan and cook gently for 20 minutes, turning the mussels over halfway through the cooking time. Stir from time to time and, if necessary, add some water to prevent the sauce becoming too dry. Put the filled mussel shells on individual plates, pour a little sauce over and garnish with a sprig of parsley. Serve immediately and remember to provide finger bowls for your guests.
'Gennaro's Passione: The Classic Italian Cookery Book' by Gennaro Contaldo (Pavilion Books). Photography by Kim Lightbody
Join our new commenting forum
Join thought-provoking conversations, follow other Independent readers and see their replies