Jamie Oliver's 'Veg' cookbook: Recipes from stuffed curried aubergines to pad thai
The Naked Chef's gone meat free in his latest book, not that you'd really notice as dishes are vibrant and full of flavour and this book is all about making them affordable and easy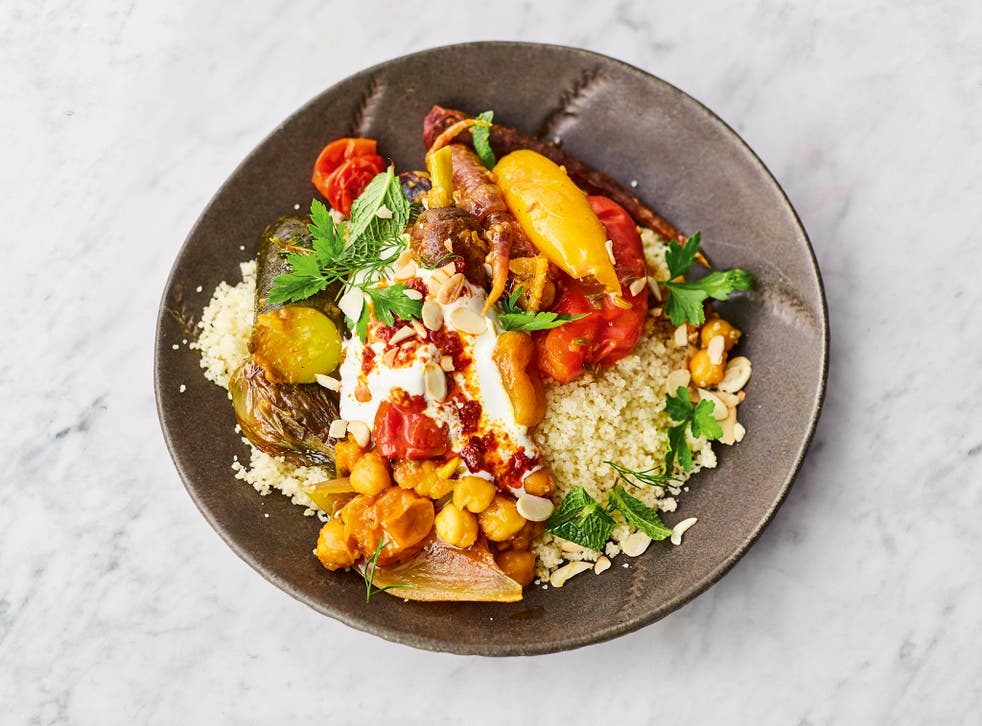 Wonderful veg tagine
with saffron, preserved lemons, apricots, fluffy couscous and toasted almonds
Time: 1 hour
Serves 6
1 pinch of saffron
4 cloves of garlic
4cm piece of ginger
olive oil
1 teaspoon ground cumin
½ teaspoon ground cinnamon
1 teaspoon ras el hanout​
1 tablespoon sun-dried tomato paste
2.5kg mixed veg, such as aubergines, courgettes, carrots, cherry tomatoes, red onion, butternut squash, mixed-colour peppers
1 x 400g tin of chickpeas
100g dried apricots
1 preserved lemon
300g couscous
½ a bunch of mixed fresh herbs, such as dill, mint, flat-leaf parsley (15g)
20g flaked almonds
Put the saffron into a jug, cover with 500ml of boiling water and leave to infuse.
Meanwhile, peel and finely slice the garlic and ginger, then place in a large casserole pan over a medium heat with 2 tablespoons of oil, the cumin, cinnamon and ras el hanout.
Add the tomato paste, fry for a few minutes, stirring regularly, then pour over the saffron water. Trim and prep the veg, as necessary, then chop into large chunks, adding them to the pan as you go.
Tip in the chickpeas (juices and all), roughly chop and add the apricots and preserved lemon, discarding any pips, then season with sea salt and black pepper. Bring to the boil, cover, reduce the heat to low, and simmer for 45 minutes, or until tender, stirring occasionally.
When the veg are almost tender, just cover the couscous with boiling water, season with salt and pepper and pop a plate on top. Leave for 10 minutes, then fluff and fork up. pick the herb leaves and toast the almonds. Serve the tagine and couscous sprinkled with the almonds and herbs.
Delicious served with harissa rippled yoghurt.
TIP: In the summer I grow most of these vegetables, and I'm always eager to pick, wash and race to cook this dish – the flavour is just extraordinary with tender, delicate veg
Energy: 438kcal, Fat: 9.6g, Sat fat: 1.4g, Protein: 16.3g, Carbs: 77.6g, Sugars: 27.7g, Salt: 1g, Fibre: 15.8g
Stuffed curried aubergines
with spiced tamarind and peanut sauce, fresh coriander
Serves 6
Total time: 1 hour 15 minutes
1 onion
4 cloves of garlic
4cm piece of ginger
½ a bunch of fresh coriander (15g)
2 fresh red chillies
1 teaspoon each cumin seeds, mustard seeds, ground turmeric, garam masala, fenugreek seeds
1 big handful of fresh curry leaves
groundnut oil
2 heaped tablespoons crunchy peanut butter   
1 tablespoon mango chutney
2 level tablespoons tamarind paste
12 finger aubergines (800g total)
1 x 400g tin of light coconut milk
250g ripe mixed-colour cherry tomatoes
Preheat the oven to 190°C/375°F/gas 5. Peel the onion, garlic and ginger, place in a food processor with the coriander stalks and chillies (deseed if you like), and whiz to a fine paste. Put the spices and curry leaves into a 25cm x 35cm roasting tray on a low heat with 2 tablespoons of oil and fry for 1 minute, or until smelling fantastic, stirring constantly. Tip in the paste and cook for 5 minutes, or until softened, stirring regularly.
Stir in the peanut butter, mango chutney and tamarind paste, season with a good pinch of sea salt and black pepper, then scrape into a bowl, adding a splash of water to loosen to a paste, if needed.
Leaving them intact at the stalk, cut the aubergines into quarters lengthways, rub and stuff them generously with all the paste, then arrange them in the tray (if using regular aubergines, simply trim then cut into 1cm-thick rounds and sandwich the paste between them). Place the tray on a medium heat and fry for 5 minutes, turning halfway. Add the coconut milk, roughly chop and sprinkle over the tomatoes, season well with salt and pepper, and bring to the boil.
Cover with tin foil and roast for 40 minutes, or until thickened and reduced, removing the foil halfway. Season to perfection and scatter over the coriander leaves.
Always good with fluffy rice, poppadoms, yoghurt and extra fresh chilli.
TIP: Delicious and convenient made in advance and reheated when you need it – loosen with a splash of water, if needed.
Energy: 221kcal, Fat: 15.2g, Sat fatL 5.6g, Protein: 6.7g, Carbs: 15.9g, Sugars: 12.9g, Salt: 0.9g, Fibre: 2.3g
Veggie pad thai
with crsipy fried eggs, special tamarind and tofu sauce, peanut sprinkles
Serves 2
Total time: 30 minutes
150g rice noodles
sesame oil
20g unsalted peanuts
2 cloves of garlic
80g silken tofu
low-salt soy sauce
2 teaspoons tamarind paste
2 teaspoons sweet chilli sauce
2 limes
1 shallot
320g crunchy veg, such as asparagus, purple sprouting broccoli, pak choi, baby corn
80g beansprouts
2 large free range eggs
olive oil
dried chilli flakes
½ a cos lettuce
½ a mixed bunch of fresh basil, mint and coriander (15g)
Cook the noodles according to the packet instructions, then drain and refresh under cold running water and toss with 1 teaspoon of sesame oil. Lightly toast the peanuts in a large non-stick frying pan on a medium heat until golden, then bash in a pestle and mortar until fine, and tip into a bowl. Peel the garlic and bash to a paste with the tofu, add 1 teaspoon of sesame oil, 1 tablespoon of soy, the tamarind paste and chilli sauce, then squeeze and muddle in half the lime juice.
Peel and finely slice the shallot, then place in the frying pan over a high heat. Trim, prep and slice the crunchy veg, as necessary, then dry-fry for 4 minutes, or until lightly charred (to bring out a nutty, slightly smoky flavour). Add the noodles, sauce, beansprouts, and a good splash of water, toss together over the heat for 1 minute, then divide between serving bowls.
Wipe out the pan, crack in the eggs and cook to your liking in a little olive oil, sprinkling with a pinch of chilli flakes. Trim the lettuce, click apart the leaves and place a few in each bowl. Pop the eggs on top, pick over the herbs, and sprinkle with the nuts. Serve with lime wedges for squeezing over, and extra soy, to taste.
TIP: If you want to make this dish vegan, remove the eggs and serve with extra cubes of tofu, marinated in soy and lime juice.
Energy: 593kcal, Fat: 19g, Sat fat: 3.8g, Protein: 26.4g, Carbs: 83.5g, Sugars: 10.7g, Sugars: 10.7g, Salt: 1.3g, Fibre: 8.3g
'Veg' by Jamie Oliver is published by Penguin Random House © Jamie Oliver Enterprises Ltd (2019 Veg) Food photography: David Loftus.
Join our new commenting forum
Join thought-provoking conversations, follow other Independent readers and see their replies