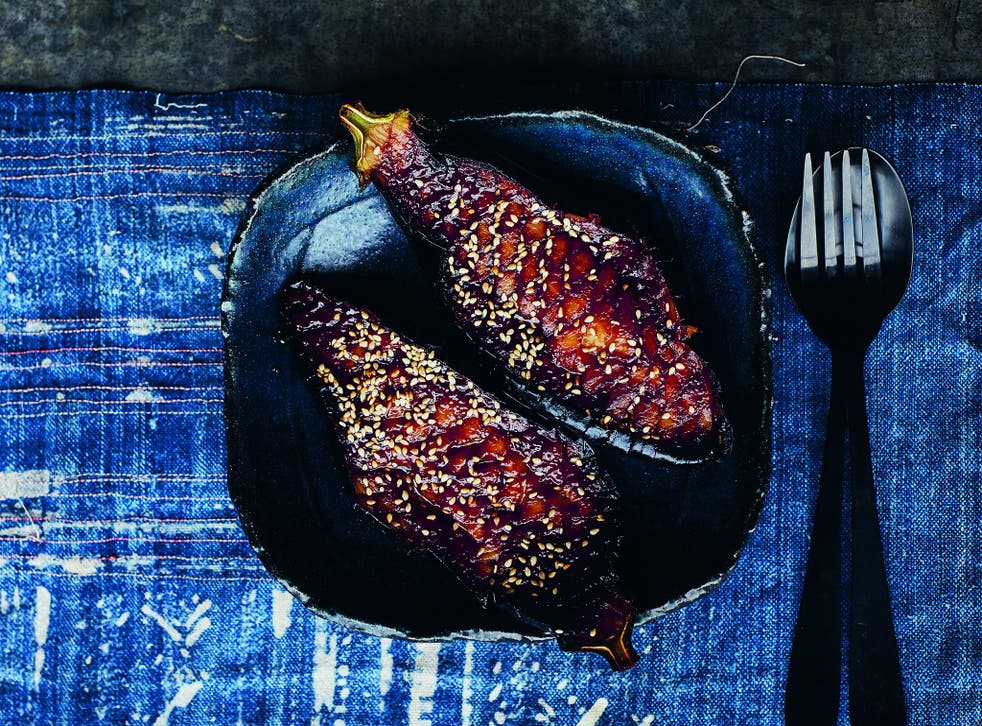 Master classic Japanese cooking at home with these easy recipes
Just as it says on the tin, Tim Anderson's new cookbook, 'Japaneasy', makes what can feel like an intimidating cuisine incredibly simple 
Tim Anderson
Friday 06 October 2017 15:21 Comments
Nasu dengaku – sweet miso-glazed aubergine
Serves 4
So many people I speak to name this absolute classic as one of their favourite Japanese dishes, which makes me very happy. It's not sexy like sushi, it's not complicated like ramen, and in fact it is even a little ugly. So I love that people get so excited about it – it's got none of the pretence or the showiness that Japanese food is often expected to have. It's just pure, concentrated deliciousness: Fudgy aubergine (eggplant) with a profoundly delicious caramelised miso sauce.
2 aubergines 
oil, for shallow-frying
120-150ml sweet miso sauce *
toasted sesame seeds, to garnish
Cut the aubergines in half lengthways and score the flesh in a diamond pattern, about 5mm (¼ inch) deep (this will help them cook evenly and absorb the glaze). Pour the oil into a deep frying pan (skillet) to a depth of about 1 cm (½ inch) and heat over a medium heat. Add the aubergines and fry for about 5 minutes on each side, until the flesh has browned and softened and the skin has become glossy and brittle. Carefully remove from the oil and drain well on kitchen paper.
Spoon the sweet miso sauce onto the scored side of each aubergine and place under a hot grill for 5-10 minutes; the glaze should bubble and brown and fuse with the aubergine. Garnish with sesame seeds and serve.
* Sweet miso sauce
Makes about 180ml
100g miso
2 tbsp mirin
2 tbsp caster or granulated sugar
1 tsp water or sake
½ tsp vinegar
Stir all the ingredients together until the sugar has dissolved. This will keep in the fridge more or less indefinitely.
Salmon tataki with ponzu and green chillies
Serves 2-4
I love the silky texture and fresh, sweet flavour of raw salmon, but of course I also love the dense, meaty flavour of grilled salmon – this delivers the best of both worlds, with tangy ponzu and hot green chillies to offset the richness of the fish.
sesame oil, for greasing
200g salmon, pin-boned and skinned – if you can, get just the loin rather than the whole fillet
100ml ponzu ** 
1 green chilli, very thinly sliced
2 tsp toasted sesame seeds
a few drops of chilli oil, to serve
Food and drink news

Show all 35
Lightly grease a baking tray with sesame oil and place the salmon on it. Grill under a very high heat until it begins to brown. Move the salmon around as needed to ensure an even colour. Turn over and repeat on the other side. Remove from the heat and leave to cool, then slice the salmon thinly and arrange on small plates. Pour over the ponzu and top with the green chilli and sesame seeds. Drizzle a tiny bit of chilli oil over the top.
** Ponzu
4 tbsp soy sauce
1½ tbsp lemon/lime juice (you can use either or a combination of both)
1 tsp caster or granulated sugar
1 tsp vinegar
Combine all the ingredients and stir to dissolve the sugar. Keep in an airtight container in the fridge for up to 1 month.
Chahan fried rice
Serves 4
The first thing I ever learned to cook was macaroni and cheese (from a box, if you can call that cooking). The second thing I ever learned to cook was egg salad sandwiches (again, if you can call that cooking).
And the third thing I ever learned to cook, if memory serves, was fried rice.
Fried rice is awesome on so many levels. First of all, it's easy. Like, really easy. Very little can go wrong in making fried rice. Also, it's satisfying and really full of flavour, plus it's a great use for leftovers – in fact, that's what I usually make it from. It's like my Japanese version of bubble and squeak, taking particularly well to finely sliced roast meats and veg. This is a sort of basic recipe for fried rice, but feel free to embellish it however you like. Delicious additions you may want to try include king prawns (shrimp), chicken, scallops, squid, Chinese chives, salmon and pork.
By the way, this works better with rice that has been in the fridge overnight. I frequently make more rice than I need just so I have an excuse to make fried rice the next day.
1 tbsp oil
4 rashers of smoked streaky bacon (dry-cured, if possible)
1 onion, finely diced
150g shiitake (de-stemmed) or chestnut mushrooms, finely sliced
1 carrot, diced
4 eggs
4 garlic cloves, finely chopped
4 spring onions (scallions), roughly chopped
4 large portions of cooked rice (350-400g uncooked)
3 tbsp soy sauce
1 tbsp sesame oil
1½ tbsp mirin
¼ tsp dashi powder
50g red pickled ginger
1 tsp toasted sesame seeds
freshly ground black pepper
handful of katsuobushi (optional)
Heat the oil in a frying pan (skillet) or wok and add the bacon. Cook until golden brown and crisp, then remove and drain on kitchen paper (keep the bacon fat in the pan). Crumble or chop the bacon into small pieces. Add the onion to the hot bacon fat and stir-fry until translucent and beginning to brown, then add the shiitake, carrot and eggs, and stir to break up and scramble the eggs. Add the garlic and spring onions and fry briefly, then add the rice, soy sauce, sesame oil, mirin and dashi powder. Break up the rice with a wooden spoon as you stir-fry, ensuring that there are no clumps. When the rice has absorbed all the liquid in the pan, add the pickled ginger, sesame seeds, some pepper and the bacon bits, and stir through. Serve in shallow bowls, topped with katsuobushi, if you like.
JapanEasy: Classic & Modern Japanese Recipes to Cook at Home by Tim Anderson (Hardie Grant, £20)
Register for free to continue reading
Registration is a free and easy way to support our truly independent journalism
By registering, you will also enjoy limited access to Premium articles, exclusive newsletters, commenting, and virtual events with our leading journalists
Already have an account? sign in
Join our new commenting forum
Join thought-provoking conversations, follow other Independent readers and see their replies