'Judes: Ice Cream & Desserts': Recipes from peach sorbet to ice cream cheesecake
What began as a small family run business is now a luxury creation made with the best ingredients, from Madagascan bourbon vanilla to milk from Matterley Farm, from just down the road and is the perfect summertime cool-off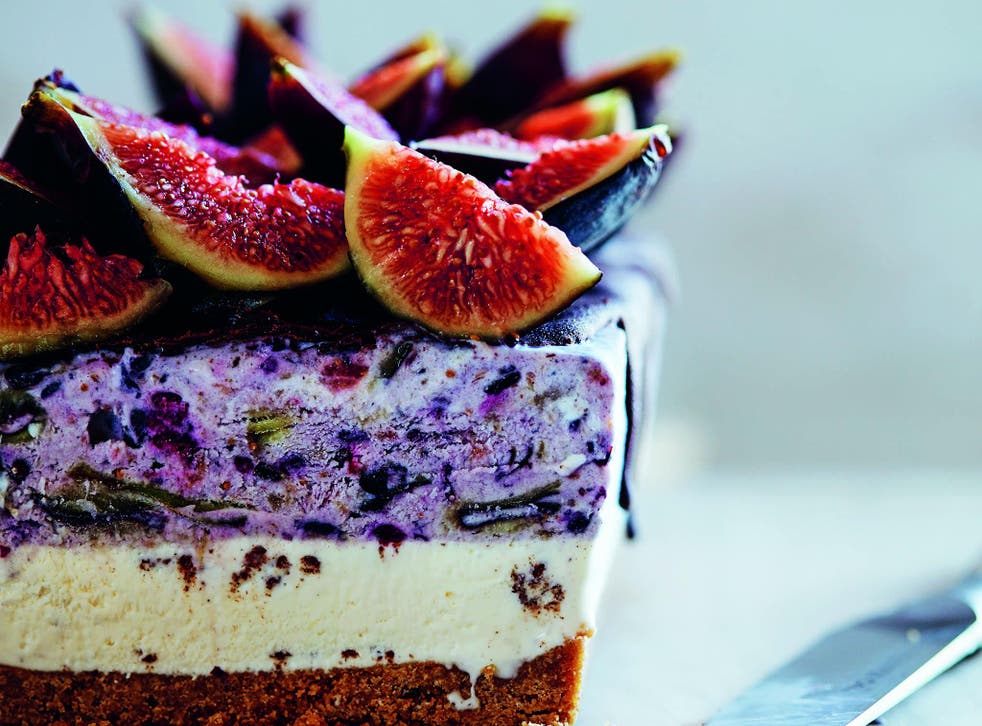 Stacked ice cream cheesecake
There are few greater pleasures than slicing into the layers of this beauty and serving up the colours of autumn in their full glory. And this recipe isn't tricky, merely inventive. It's actually one cracking ice-cream recipe, divided into two, with each batch given its own unique addition. This flavour combination continues to blow our mind: rich maple syrup, warm cinnamon, juicy blackberries, dark chocolate and succulent pink figs were made to be together. Ice cream isn't just for summer!
Serves 8 generously makes a large 900g (2lb) loaf cake
Cinnamon and maple ice cream
1 x 397g (14oz) can condensed milk
2 tablespoons maple syrup
1 teaspoon vanilla bean paste or extract
450ml (16fl oz) double cream
1 teaspoon ground cinnamon
Cheesecake base
40g (1½oz) pecan nuts, toasted
150g (5½oz) ginger biscuits
50g (1¾oz) unsalted butter, melted blackberry ice cream
80g (2¾oz) juicy blackberries
1 tablespoon dark muscovado sugar
To serve
40g (1½oz) dark chocolate (minimum
70% cocoa solids)
6–8 ripe pink figs, trimmed and quartered
Line the bottom and sides of a 900g (2lb) loaf tin with baking parchment. For the cheesecake base, blitz the toasted nuts and ginger biscuits in a food processor to a fine crumb.
Add the melted butter and continue to pulse until the mixture comes together. Spoon the crumbs into the lined tin and press firmly into an even layer. Place in the refrigerator for 40 minutes to firm up.
For the ice creams, mix together the condensed milk, maple syrup and vanilla in a large bowl until combined. In a separate bowl, lightly whip the cream to a soft dropping consistency. Gently fold the cream into the condensed milk mixture until smooth.
Divide this mixture between two bowls and stir the cinnamon into one half. Pour the cinnamon ice-cream mixture over the biscuit base and freeze for 4–5 hours or overnight, until firm.
Meanwhile, gently mash the blackberries and brown sugar together to produce a heavy, dark mixture. Stir this through the reserved ice-cream base and combine until well mixed.
Cover with clingfilm and place in the refrigerator until ready to pour over the
cinnamon layer. It will happily sit overnight. Once the cinnamon layer has frozen hard, spoon over the blackberry layer and return to the freezer for 4–5 hours.
When ready to serve, melt the chocolate in a bowl set over a saucepan of simmering water or in the microwave. Remove the pudding from the freezer and turn out of the tin (a round-bladed or palette knife will help) then place on a board. Spoon over the melted chocolate and set the figs on the chocolate, pushing slightly so they stay put. Allow the ice cream to soften slightly, then serve in slices.
Summer peach sorbet
This stunner couldn't be simpler. It's made of just three ingredients, with the sweet taste of fresh peaches taking centre stage. When they're in season, it's just sensational. It's sure to become a regular favourite, so why not try something new each time you make it? Experiment by using both yellow and white flesh peach varieties – each lends its own unique colour and taste.
Serves 4
Makes 1 litre (1 pints)
5 big, ripe peaches, about
750g (1lb 10oz) in weight, halved and stoned
175g (6oz) golden caster sugar
Juice of 1 lime, or extra to taste
Simply cut up the peaches, skin and all, and put into a food processor. Add the sugar and blend to a smooth, velvety pulp. Stir through the lime juice.
Taste and add more lime juice if necessary – remember the flavour will dull once the ice cream is frozen.
Pour into a 1.2-litre (2-pint) airtight, freezerproof container and freeze overnight. Remove from the freezer and allow to soften for 10 minutes or so, before scooping.
Tropical smoothie bowl
Enter this healthy smoothie, bursting with goodness. It's a beautiful way to add nutrients to your breakfast and, even better, it's ready in minutes. Go ahead and customize the toppings to get your personal favourites in there. This recipe also works brilliantly as a dessert.
Serves 2
3 tablespoons toasted coconut
flakes (optional)
1 banana, peeled, halved and frozen
1 papaya, peeled, deseeded,mcut into thick slices and frozen
200ml (7fl oz) orange juice
Juice of 1 lime
To serve
1 kiwi fruit, peeled and sliced
100g (3½oz) fresh raspberries, frozen (or use frozen)
6–8 slices of mango or papaya flesh
Zest of 1 unwaxed lime
Small handful of Granola
Heat a small, dry frying pan over a medium heat and toast the coconut shavings, if using. Fry for 1–2 minutes until the edges begin to brown. Remove from the heat and set aside.
Put the frozen banana, frozen papaya and orange juice in a blender and blitz to a thick, smooth consistency, scraping down the sides with a spoon, if necessary. Stir through the lime juice to taste.
Divide the smoothie between two bowls and decorate with sliced kiwi fruit, frozen raspberries, mango slices and the lime zest. Sprinkle over the granola and coconut flakes, if using. Eat immediately.
'Judes: Ice Cream & Desserts' by Chow and Alex Mezger, published by Kyle Books is out now. £16.99 octopusbooks.co.uk
Join our new commenting forum
Join thought-provoking conversations, follow other Independent readers and see their replies