How to make lemon and ricotta pancakes with strawberry compot
Now they're in season, there's no excuse not to indulge in British strawberries – and these ricotta and lemon pancakes will make you want them every day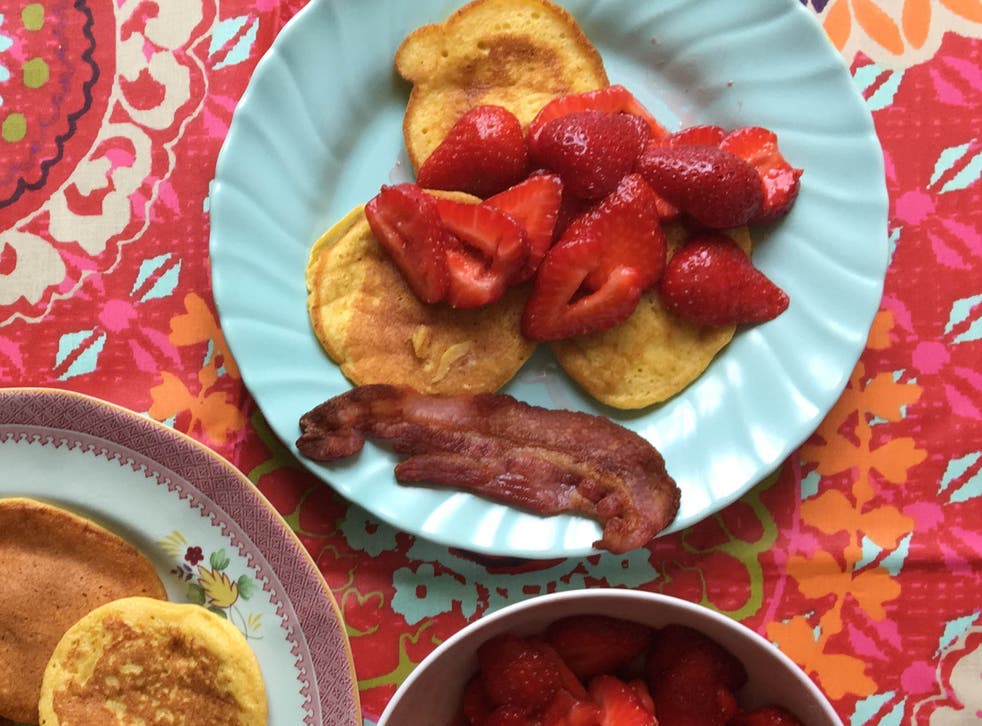 I'll admit that I have bought strawberries out of season, seduced by their colour and promise that they'll taste remotely like a strawberry should.
Surely if they look that good, I think, then they must taste pretty good too. A fatal error because out-of-season strawberries never fail to disappoint.
To remind myself of this lesson, I eat as many British strawberries as possible while they're in season.
One bite and I'm reminded that nothing else comes even close. They're red, juicy and packed with flavour. They taste like a strawberry should taste.
I've never been one for cooked strawberries but macerated with a bit of sugar, they make the perfect topping for a slice of pound cake or sponge, waffles or pancakes.
This recipe features an American-style pancake enriched with ricotta and an extra citrus zing thanks to lemon zest and juice.
Lemon ricotta pancakes with strawberry compote
Makes 24-30 pancakes
3 eggs, separated
350ml whole milk
3 tbsp caster sugar
200g ricotta
Zest of 1 lemon
1 tbsp lemon juice
180g plain flour
1 tsp baking soda
1 tsp baking powder
½ tsp salt
Vegetable oil to grease the pan
400g strawberries, sliced
1 tbsp caster sugar
To make the strawberry compote, remove the stem and hull from the strawberries. Slice the strawberries, place in a bowl and mix with the sugar. Leave to sit for 15 minutes or so. Give them a stir every few minutes to allow them to macerate. Taste and add a bit more sugar if you want them sweeter. Set aside.
To make the pancakes, mix the egg yolks, whole milk, sugar, ricotta, lemon zest, and juice together in a medium bowl. The mixture will be a bit lumpy. In a separate bowl, sift the flour, baking soda, baking powder and salt together. In a third bowl, beat the egg whites until they form soft peaks.
Gently fold the dry ingredients into the egg yolk and milk mixture. Again, don't worry if the mixture is slightly lumpy. Gently fold in half the egg whites, then the remaining half.
Heat a frying pan over a medium heat. Lightly grease the pan with some vegetable oil. Pour the batter to make small cakes. When the cakes bubble, turn them over and cook for another minute or so then remove and keep warm while you make the remaining cakes.
To serve, top the pancakes with a spoonful of the strawberry compote. You can also dust with icing sugar or a swirl of maple syrup.
@juliapleonard
Register for free to continue reading
Registration is a free and easy way to support our truly independent journalism
By registering, you will also enjoy limited access to Premium articles, exclusive newsletters, commenting, and virtual events with our leading journalists
Already have an account? sign in
Register for free to continue reading
Registration is a free and easy way to support our truly independent journalism
By registering, you will also enjoy limited access to Premium articles, exclusive newsletters, commenting, and virtual events with our leading journalists
Already have an account? sign in
Join our new commenting forum
Join thought-provoking conversations, follow other Independent readers and see their replies