How to make Leon's cherry and almond slice
There's no need for a cherry on top when they're baked in to this delicious treat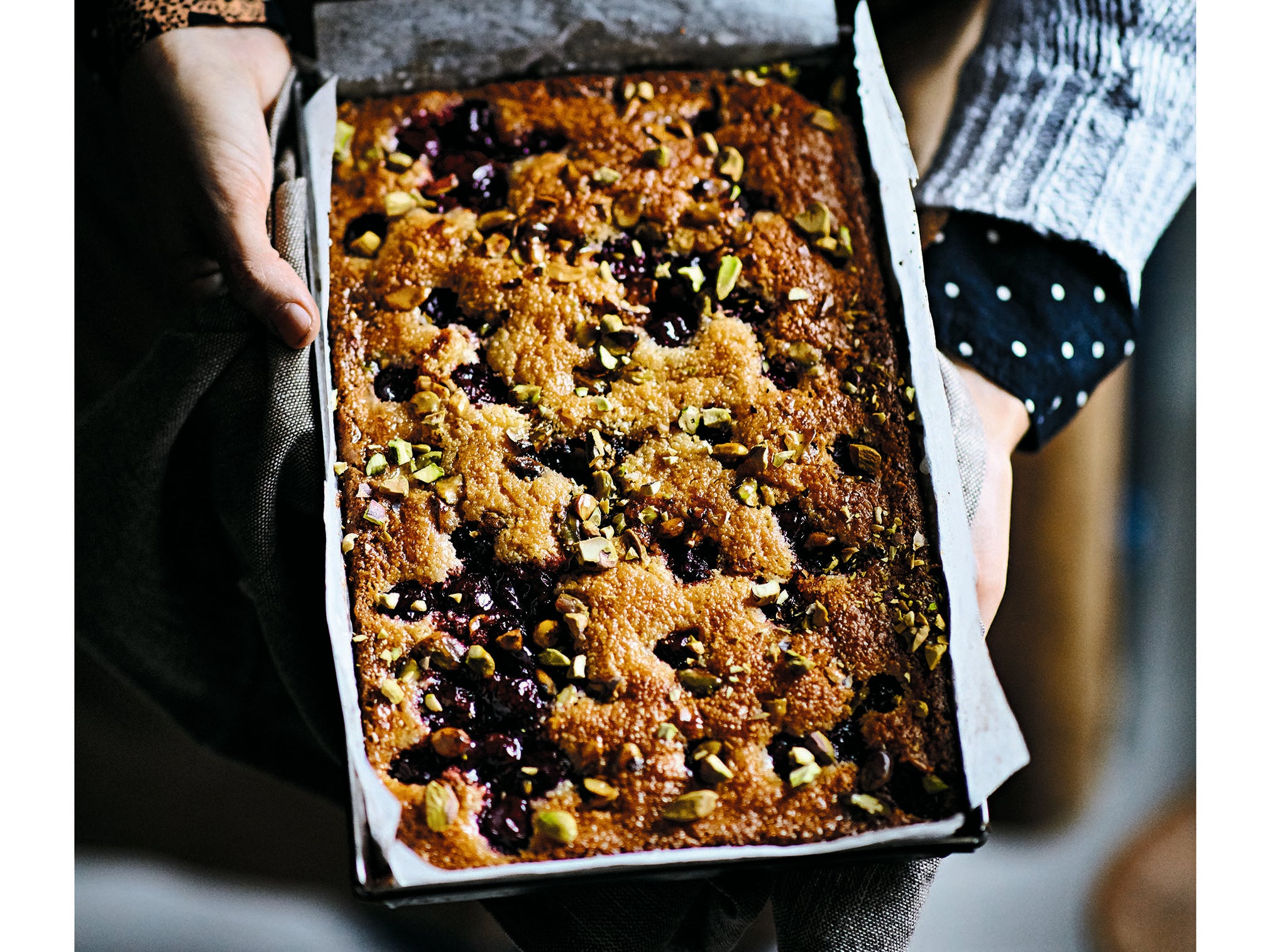 Cherry and almond slice
​This cake is made with whole sour cherries baked into a sponge with lemon juice and almond flour, making it taste like the lovechild of a lemon drizzle and a cherry bakewell. Perfect for the indecisive amongst us.
Makes: 14 slices
Prep: 20 mins plus cooling
Cook: 25-30 mins
200g salted butter, at room temperature
200g golden caster sugar
2 large eggs
¼ tsp almond extract
200g fine polenta
100g ground almonds
¼ tsp gluten-free baking powder
200g fresh sour cherries, pitted (frozen will also work)
30g pistachios, roughly chopped
4 tsp milk
4 tsp lemon juice
70g icing sugar
Heat the oven to 180C/350F/gas 4 and line a deep 25 x 25cm baking tin with baking paper.
In a large bowl, beat together the butter and sugar until fluffy and smooth. Beat in the eggs, one at a time, then beat in the almond extract until well combined. Add the polenta, ground almonds and baking powder and fold in until well combined.
Scrape the mixture out into the lined tin and evenly sprinkle the sour cherries and pistachios over the surface of the batter, reserving about one-third of the pistachios for decorating.
Bake for 25-30 minutes, until just beginning to turn pale golden. Remove from the oven and allow to cool in the tin.
Meanwhile, combine the milk, lemon juice and icing sugar in a small saucepan and heat, whisking all the time, until the syrup is warm and no lumps of sugar remain.
Brush the hot syrup over the still-warm cake and sprinkle the reserved pistachios over the surface. Let the cake completely cool and set, then turn out of the tin and cut into slices or squares.
'Leon Happy Baking' by Claire Ptak and Henry Dimbleby is published by Conran Octopus, £16.99. Photography by Steven Joyce
Join our commenting forum
Join thought-provoking conversations, follow other Independent readers and see their replies