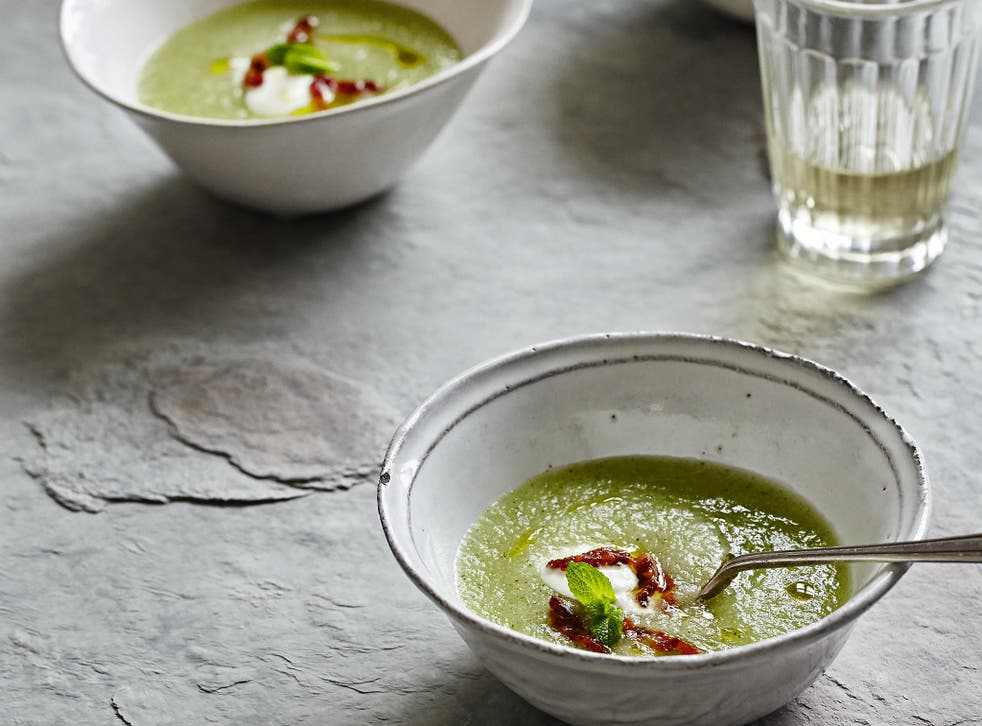 Lisbon recipes: From mint and melon soup to roasted octopus with smoked paprika
It's become one of Europe's most popular food destinations and Rebecca Seal celebrates the Portuguese capital's cuisine with plenty of meat, fish, desserts and pastries
Rebecca Seal
Friday 07 July 2017 14:57 Comments
As one of Europe's oldest cities, Lisbon has a long history of invading cultures influencing and changing the country's food: the Moors bought figs, almonds and coffee; hot chilli peppers arrived from ships returning from South America; cinnamon came from Sri Lanka and sweet oranges from India. ​Food writer and cookbook author, Rebecca Seal takes to the streets to uncover why this quiet coastal city delivers such an incredible food experience, meeting cooks and chefs that are deeply committed to preserving the city's food-ways.
Sopa de melao – Melon and mint soup
Serves 4 as a starter
If you think this sounds a little like dessert, then you'd be right. I've been served this, without the yoghurt and ham, at the end of a meal as well as at the beginning. But this way is my favourite, with the sweet and salty flavours mimicking those of that old classic starter, melon and Parma ham.
1 large green melon, seeded, skin removed and flesh cut into chunks
6 mint leaves, finely chopped, plus 4 little sprigs to garnish
2tbsp freshly squeezed lemon juice
small pinch of salt
100g (3½oz) smoked ham or bacon, cut from a whole piece, sliced into thick matchsticks
4tbsp creamy natural yoghurt, to serve
Place the melon chunks in a blender with the mint, lemon juice and salt. Blitz to a very fine purée. If it seems thicker than a soup should be, add some cold water, a tablespoon at a time, until it reaches the desired consistency. Chill the soup until ready to serve (this will also allow the bubbles, caused by blending, to dissipate).
When ready to eat, fry the smoked ham or bacon for 1-2 minutes, until crispy. Divide the soup between 4 small bowls and swirl a tablespoonful of yoghurt through each one. Top with the crispy ham and a mint sprig.
Polvo assado – Roasted octopus with smoked paprika, parsley and lemon
Serves 4 as a main course, or 6 as part of a spread of petiscos
There is something wonderful about combining sweet but salty octopus, slightly charred, with smoky paprika and lemon juice. Don't be intimidated by octopus – it takes a little time to prepare, but most of that is simmering time, and it is really easy to cook. If you're buying fresh octopus, ask your fishmonger to prepare it for you by removing the head and mouth parts. I often use frozen octopus, which works just as well and is easier to find at Asian supermarkets and fishmongers. You can even make this with good-quality cooked octopus – vacuum-packed, not tinned – in which case you can skip the simmering stage.
1 octopus (750g-1kg/1lb 10oz-2lb 3oz), raw, defrosted if frozen, cleaned, head and mouth parts removed
1 garlic clove, whole and peeled
2 bay leaves
olive or vegetable oil, for cooking and dressing
4tsp sweet smoked paprika
2 garlic cloves, crushed
6tbsp olive oil
1tbsp freshly squeezed lemon juice
generous handful of chopped coriander (cilantro) leaves
Place the octopus, garlic and bay leaves in a large saucepan with a lid over a high heat and bring to the boil without any added liquid (the octopus will release plenty of its own). Reduce the heat and simmer for about 1 hour, or until the meat is really tender. Remove from the liquid, drain and pat the octopus dry with paper towels, then slice into chunks.
Heat a griddle pan over a high heat and add a splash of oil, followed by the octopus pieces. Cook, turning often, for about 5 minutes until gently charred all over. Remove from the pan and place in a large bowl.
Meanwhile, whisk together the smoked paprika, crushed garlic, olive oil and lemon juice. Dress the octopus with this and taste a piece – it almost certainly won't need salt, but you may like more lemon or garlic. Finish by stirring through the fresh chopped coriander. Eat warm.
Salada de bacalhau a grao-de-bico – Salt cod and chickpea salad
Serves 2 as a main course, or 4 as a starter or as part of a spread of petiscos
This punchy, traditional salad is very filling and extremely tasty, and works just as well in summer as in winter. (It's a handy way to use up any leftover desalinated salt cod, too.) For vegetarians, you can omit the salt cod and – if you like – grate the eggs, giving the final dish a similar look to the original.
300g (10½oz) salt cod
2 eggs
½ red onion, finely chopped
400g (14oz) tinned chickpeas (garbanzo beans), drained and rinsed
sweet paprika, to serve 
1 garlic clove, crushed
4tsp red wine vinegar
6tbsp olive oil
3tbsp finely chopped flat-leaf parsley
pinch of salt
24 hours before you want to start cooking, begin to desalinate the salt cod: rinse it under fresh running water to remove any salt crystals on its exterior, then place in a large bowl of cold water, cover and leave in the fridge.
Change the water every few hours. It should be ready after about 24 hours – some cod is ready in just 8-12 hours, depending on its cure. To check whether it is ready, place a piece in a pan and cook it with a little water for a minute or two, then taste. It may be slightly salty, but shouldn't be overwhelming.
When ready to make the salad, place the cod in a pan of water and bring to a simmer. Cook for 15 minutes, then remove from the pan and leave it to cool slightly. Once it's cool enough to handle, remove the skin and any bones and fins, discard them, then flake the flesh.
While the cod is cooking, cook the eggs. Place them in a pan of cold water and bring to a simmer, then cook for 6 minutes. Remove from the heat and cool under cold running water, then peel and slice each egg into 6 wedges. Place the flaked cod, red onion and chickpeas in a serving bowl. Make the dressing by whisking together all the ingredients in a bowl. Taste to check the seasoning – it should be really sharp, salty and garlicky.
Use half the dressing to dress the cod, chickpeas and onion, then arrange the eggs on top and drizzle over a little more of the dressing. Sprinkle with a pinch of paprika before serving.
Lisbon: Recipes from the Heart of Portugal by Rebecca Seal (Hardie Grant, £25) Photography © Steven Joyce
Register for free to continue reading
Registration is a free and easy way to support our truly independent journalism
By registering, you will also enjoy limited access to Premium articles, exclusive newsletters, commenting, and virtual events with our leading journalists
Already have an account? sign in
Join our new commenting forum
Join thought-provoking conversations, follow other Independent readers and see their replies