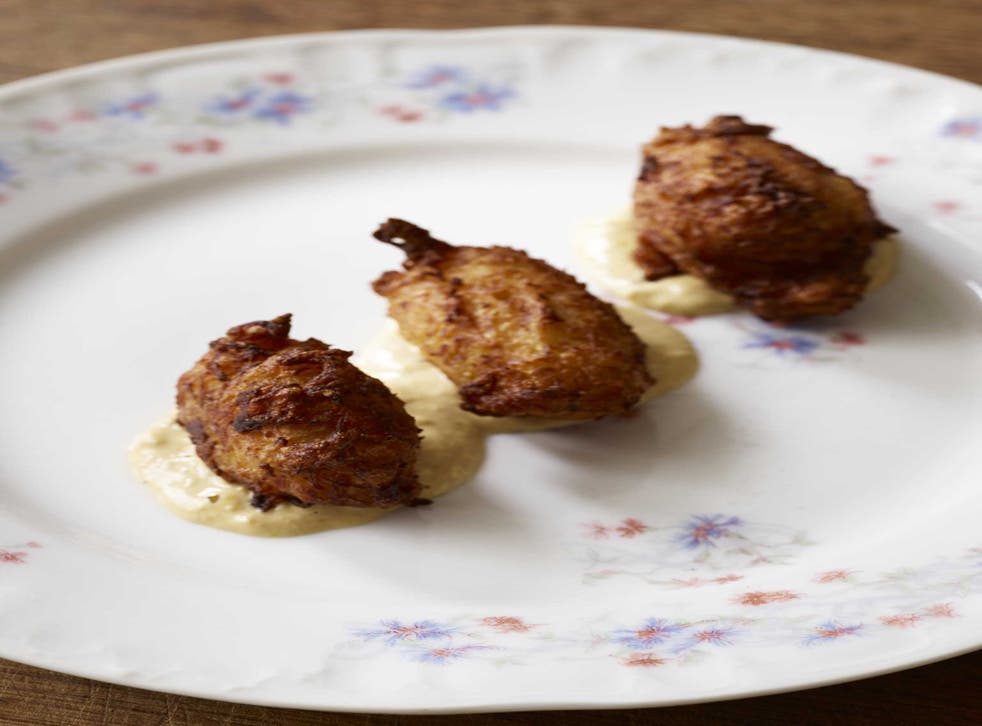 Mark Hix recipe: Crab beignets
This is my take on Gordon Gleave's prize-winning recipe.
125ml milk
125ml water
100g butter, diced
½tsp salt
150g plain flour
4 eggs, beaten
150g freshly picked white crab meat
50g brown crab meat
For the sauce
50-60g brown crab meat
1tbsp chilli sauce
1tbsp good-quality mayonnaise
Put the milk, water, butter, salt and sugar into a saucepan and bring to the boil.
Remove from the heat, mix in the flour and stir with a wooden spoon or spatula until smooth.
Return the pan to a low heat and stir for about a minute until the mixture leaves the sides of the pan, then transfer to a bowl.
Gradually whisk the beaten eggs into the mix a little at a time, until it is smooth and shiny, then fold in the brown and white crab and season.
To make the sauce, whisk all of the ingredients together and season to taste.
Preheat about 8cm of oil to 160-180C in a large thick-bottomed saucepan or electric deep-fat fryer.
Using a dessert spoon, drop spoonfuls of the mixture into the fat (about 6-8 at a time) and move them around with a slotted spoon for a couple of minutes until they are golden, then remove them from the oil and drain on some kitchen paper.
Serve immediately with the sauce.
Register for free to continue reading
Registration is a free and easy way to support our truly independent journalism
By registering, you will also enjoy limited access to Premium articles, exclusive newsletters, commenting, and virtual events with our leading journalists
Already have an account? sign in
Register for free to continue reading
Registration is a free and easy way to support our truly independent journalism
By registering, you will also enjoy limited access to Premium articles, exclusive newsletters, commenting, and virtual events with our leading journalists
Already have an account? sign in
Join our new commenting forum
Join thought-provoking conversations, follow other Independent readers and see their replies