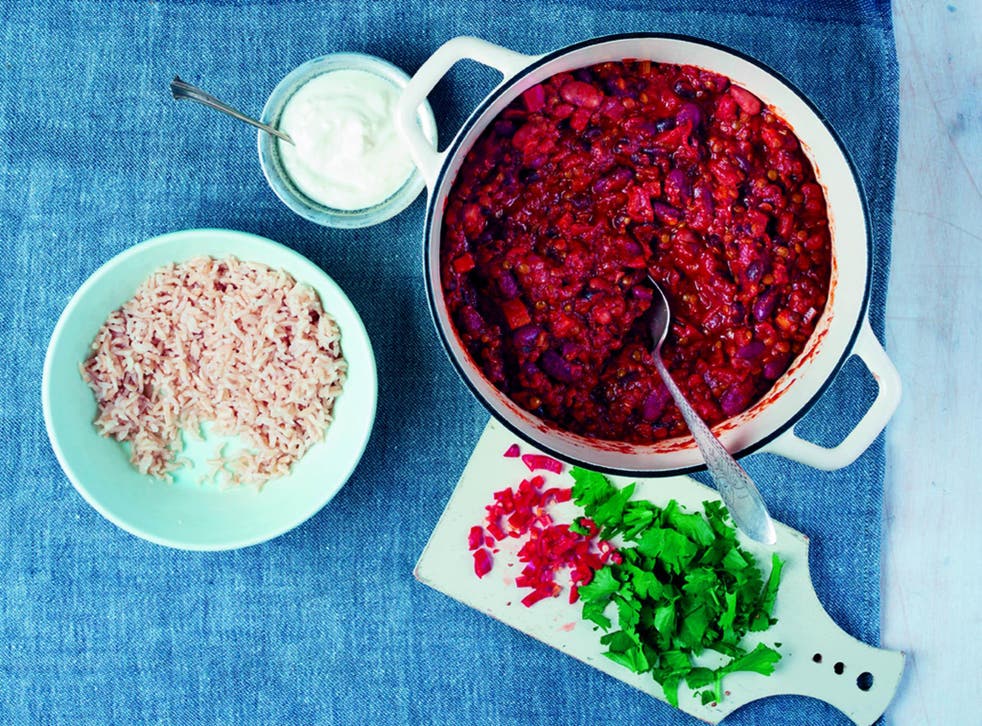 Meat Free Monday: How to make smoky three-bean and lentil chilli
Can this classic dish be improved? Add a dollop of coconut yoghurt, says Lizzie King
Smoky three-bean and lentil chilli
Serves 4
A tweak on an old favourite that I realised my son could enjoy too at a young age. This perfect wintry supper bowl is full of cold-fighting vitamins and minerals. Serve with some brown basmati rice, or as my husband does, with lots of mashed potato.
2 tbsp olive oil
1 large red onion, finely chopped
3 garlic cloves, finely chopped
2 carrots, finely chopped
1 celery stick, finely chopped
1 red pepper, deseeded and diced 
1 tsp sweet smoked paprika
½ tsp chipotle paste
3 x 400g tins plum tomatoes 
200ml vegetable stock 
110g puy lentils 
400g tin red kidney beans, drained
400g tin black beans, rinsed and drained 
400g tin pinto beans, rinsed and drained
A few coriander sprigs, stalks torn 
3 tbsp tomato purée
Dollop of coconut yoghurt, to garnish
1 red chilli, chopped (optional) 
Salt and pepper 
Heat the olive oil in a large pan or casserole dish over a medium heat. Add the onion and garlic and fry for a couple of minutes before adding the rest of the chopped vegetables. Stir in the paprika and chipotle paste and cook for about 10 minutes, stirring every now and again until the vegetables soften.
Tip in the tomatoes and break them up a bit with the back of a wooden spoon, adding in most of the stock once you've swirled it round the emptied tomato tins to get the last of the juices out. Turn the heat up to high and bring to the boil. Once it is all bubbling, turn the heat back down to low and let it simmer gently for 45 minutes.
Add in the lentils and all the rinsed beans, with the coriander stalks, and bring to the boil. Season with salt and black pepper to taste and let it simmer gently for 30 minutes. Add the tomato purée, and another dash of stock if the chilli looks a little dry, then continue to simmer for another 30 minutes, or until the lentils and beans are tender if using soaked beans.
Divide between bowls and enjoy either as is, or with rice and a blob of yoghurt on the side. Scatter with snipped coriander leaves and chilli, if you like. This keeps in the fridge for up to a week and freezes really well too.
Recipe from 'Lizzie Loves Healthy Family Food: Delicious and Nutritious Meals You'll All Enjoy' by Lizzie King. Published by Trapeze (£20). Photography by Charlotte Kibbles
Join our new commenting forum
Join thought-provoking conversations, follow other Independent readers and see their replies