Mussels in cider with tarragon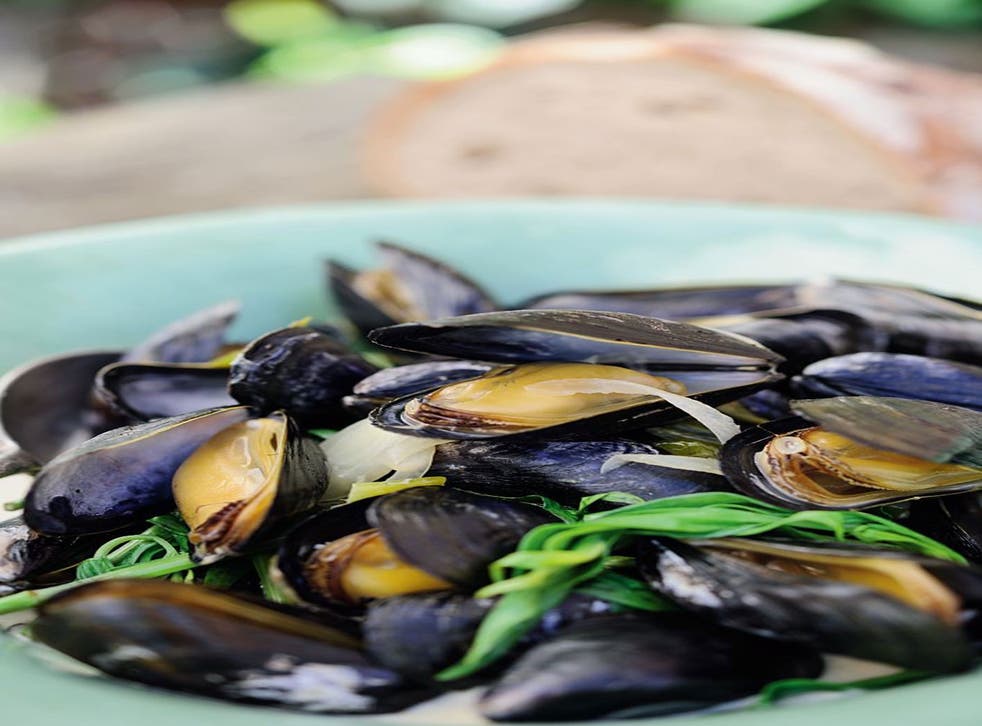 1–1.5kg mussels
Rapeseed oil
3 shallots, sliced into half moons
1 garlic clove, crushed under a knife and then finely sliced
250ml medium-dry cider
250ml chicken stock
100ml double cream
4 sprigs of tarragon
Sea salt
Sourdough bread, to serve
Mussels are one of our favourite shellfish. We are truly addicted to them and feel you can never have enough. It is perhaps without much objectivity therefore that we would claim they are one of the most outstanding foods to be found in the British Isles.
We have introduced a West Country twist to this classic recipe with the addition of a medium-dry local cider called Perry's Dabinett, but any good medium-dry cider can be substituted.
Rather than using fish stock, we opt for the deeply rich and meaty pressure-cooked chicken stock that is an essential part of our kitchen routine (see our book). Chicken and cider have a great affinity with each other and you will soon see why this works so well in this dish. The "bridging" flavour is the tarragon. If you don't have any, you can substitute star anise.
Rinse the mussels under cold water and remove their "beards". A few will be slightly open. Tap them quite hard on the work surface. If, after a minute or so, the mussel closes, you know it is alive. Discard any mussels that do not close.
Heat a splash of rapeseed oil in a large pan, add the shallots and garlic and fry over a medium heat until softened but not browned. Add the cider, chicken stock and cream and turn the heat up high with the lid on. Once the liquid has come to a boil, add the mussels.
Stir once, cover the pan again and cook for 2–3 minutes, until the mussels open. Add the tarragon sprigs and stir the mussels to check the majority have opened. Discard any that don't open. It is far easier to overcook mussels than it is to undercook them, so resist the urge to continue any longer.
With a slotted spoon, divide the mussels between two serving bowls, then taste the cooking liquid and add salt if needed. Ladle the liquor over the mussels and get amongst them pronto. An empty mussel shell makes a perfect set of tweezers for removing the remaining mussels from their shells, and decent sourdough bread will thirstily mop up the last drops of the liquor.
Taken from 'The Ethicurean Cookbook' (Ebury Press, £25).
Register for free to continue reading
Registration is a free and easy way to support our truly independent journalism
By registering, you will also enjoy limited access to Premium articles, exclusive newsletters, commenting, and virtual events with our leading journalists
Already have an account? sign in
Register for free to continue reading
Registration is a free and easy way to support our truly independent journalism
By registering, you will also enjoy limited access to Premium articles, exclusive newsletters, commenting, and virtual events with our leading journalists
Already have an account? sign in
Join our new commenting forum
Join thought-provoking conversations, follow other Independent readers and see their replies