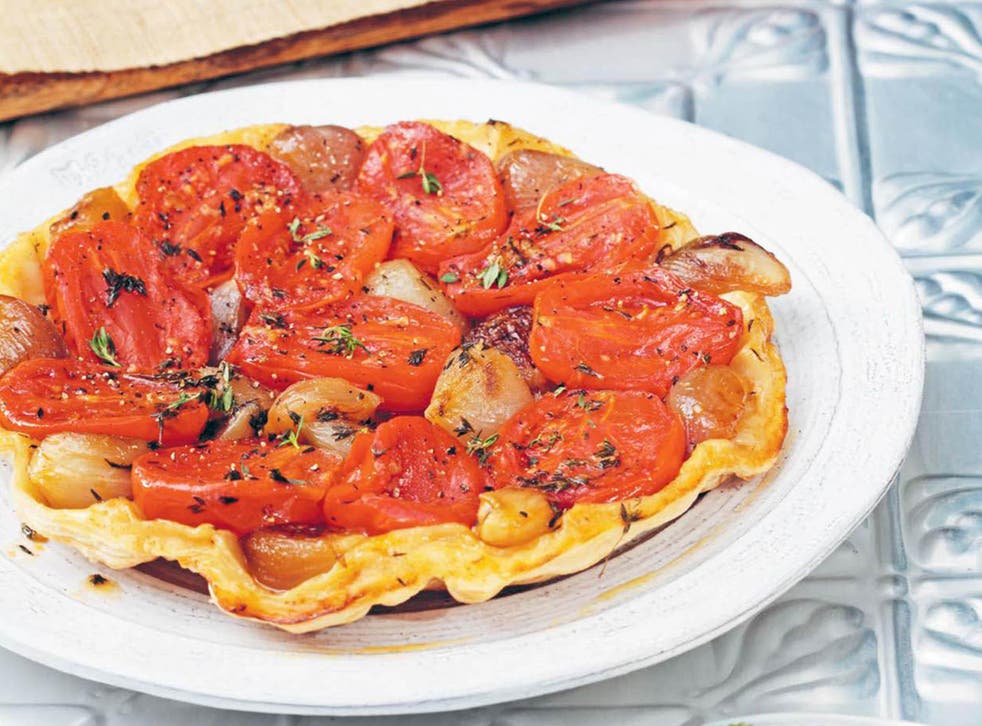 National Picnic Week 2017: Recipes from smoked salmon pate to tomato tarte tatin
Eating outside is one of summer's highlights. So grab your blanket and hamper and celebrate National Picnic Week, which started yesterday, by making your own mini treats and enjoying them alfresco
Tomato and shallot savoury tarte tatin
​Tarte tatin is often associated with dessert, but savoury versions are delicious too and this one is no exception.
Serves 6-8
250g French shallots, unpeeled
1tbsp olive oil
25g butter
2 garlic cloves, crushed
6 Roma tomatoes, halved lengthways
1tbsp thyme leaves, plus extra to garnish
1tsp sugar
1 sheet frozen puff pastry (about 24 x 24cm), thawed in fridge
Find yourself a 20cm (across the base) ovenproof frying pan. Check the handle is ovenproof too, basically not plastic, or cover it with a double layer of foil. Also check it fits in your oven with the door closed! Preheat a fan-forced oven to 180°C (200°C conventional/Gas 6).
Simmer the shallots in water for 5 minutes, then drain well. Cool slightly, then peel (the skins should slip off easily). Heat the oil in your frying pan. Add the shallots and cook for about 5 minutes or until starting to brown. Transfer to a plate and remove the oil from the pan.
Put the butter in the pan over a low heat. Once it has melted, add the garlic and stir around briefly. Add the tomatoes cut-side down and sprinkle with the thyme and sugar. Cook over a medium heat for 1 minute. Remove from the heat and add the shallots, ensuring that everything is in a single, compact layer.
If your pastry is a square sheet, snip off the corners to make them rounded. Carefully place the pastry over the shallots, tucking it inside the pan (not over the edges of the pan).
Place on a baking sheet and bake for 30-35 minutes until the pastry is puffed and golden. Remove from the oven and cool in the pan for 5 minutes. Then carefully turn out onto a large serving plate, remembering the handle will still be hot. Also be aware the tomatoes may have leaked a little juice. Serve warm or cold, scattered with the extra thyme. If transporting, cover with foil once cool.
Smoked salmon and roasted red capsicum pâté on toast
Serves 6
This creamy smoked salmon pâté served on crisp toast triangles is perfect finger food. You can make the pâté smooth or slightly chunky, depending on whether you blend the capsicum into the mix. If you stir the capsicum through after blending, the resulting pâté will be a little creamier.
1 small red capsicum (pepper), halved and seeded (or 50g bought chargrilled capsicum, drained)
200g smoked salmon
200g cream cheese
100g sour cream
4tbsp finely chopped dill
60-80ml lemon juice
8 thin slices of wholegrain or wholemeal (whole-wheat) bread
Preheat a grill (broiler) to high. Squash the capsicum halves to flatten them, then place under the hot grill, skin side up. Grill until the skin is completely blackened. Place in a plastic bag, seal the bag and leave for 15 minutes. Rub or peel off the skin (do not rinse), then finely dice the capsicum and set aside.
Put the smoked salmon, cream cheese, sour cream, dill and 60ml (2fl oz/¼ cup) of the lemon juice into the bowl of a food processor. Blend for about 20 seconds. Taste, then season with sea salt and freshly ground black pepper and add the extra tablespoon of lemon juice if needed. Now either add the diced capsicum and blend for 10 seconds, or transfer the pâté to a bowl and stir in the diced capsicum. Chill the mixture in the fridge for about 30 minutes so it firms up slightly.
Heat the oven to 180°C (350°F) fan-forced, or 200°C (400°F) conventional, and place a baking sheet in the oven to heat up. Remove the crusts from the bread, then roll the slices out thinly using a rolling pin or bottle. Cut each piece into four triangles. Place on the baking sheet and bake for 8-10 minutes, or until the toasts are golden and crisp. Set aside to cool.
Store and transport the toasts in an airtight container, then serve alongside the pâté.
Goats cheese, black olive and herb muffins
These are best eaten on the day they're made, however, if you do have any left over, warm them up and serve with some butter the next day.
Makes 12 muffins
2 free-range eggs, lightly beaten
220ml milk
150ml olive oil, plus extra  for greasing
300g (2 cups) self-raising flour
1tsp sea or table salt
120g pitted kalamata olives, finely chopped
3tbsp flat-leaf parsley, finely chopped
150g goats cheese, crumbled
1 red chilli, deseeded and finely chopped (optional) 
Preheat a fan-forced oven to 180°C (200°Conventional/ Gas 6). Grease a 12-hole (capacity 80ml or 1/3 cup) muffin tin or line with cupcake cases. Combine the eggs, milk and olive oil in a bowl. Sift the flour and salt over the egg mixture then stir gently to combine. Fold in the olives, parsley, goats cheese and chilli and season with freshly ground black pepper.
Divide the mixture between the muffin holes and bake for 20-25 minutes, or until the muffins have risen and are golden. Leave to cool for 5 minutes in the tin then transfer to wire racks to cool further.
Styling tip: Balls of coloured and textured twine look beautiful stacked in glass jars and are handy for wrapping sandwiches and muffins for lunches.
A Moveable Feast by Katy Holder (Hardie Grant, £12.99) Photography © Natasha Milne
Join our new commenting forum
Join thought-provoking conversations, follow other Independent readers and see their replies