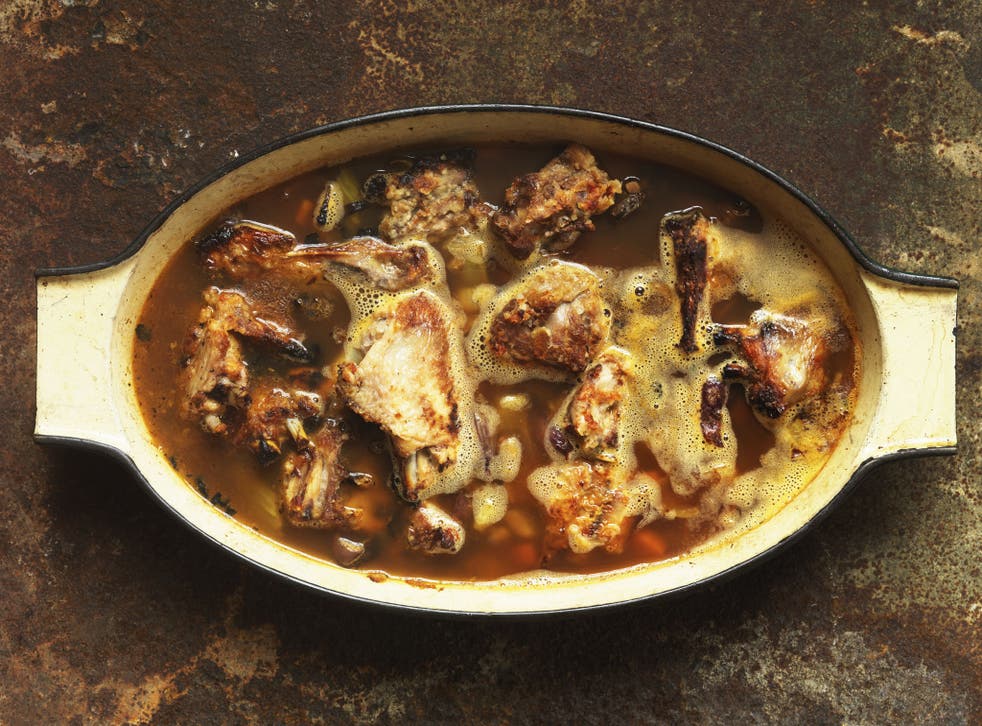 Perfect gravy
This can easily be made a day in advance and if there is any left over you can freeze it for future use. I've added some cider here, or you could use wine (if you do, use half the quantity).
500g chicken wings, chopped
1 large onion, peeled, halved and roughly chopped
2 carrots, peeled and roughly chopped
1 stick of celery, roughly chopped
1 leek, trimmed, washed and roughly chopped
2 cloves of garlic, peeled and chopped
1tsp tomato purée
1tbsp flour
500ml cider (optional)
2ltrs chicken stock (alternatively, 2 good cubes will do)
6 black peppercorns
A few sprigs of thyme
1 bay leaf
Preheat the oven to 200C/gas mark 6. Roast the chicken wings, the vegetables and garlic for about 15-20 minutes until they are lightly coloured, giving them a good stir every so often.
When the chicken wings and the vegetables are a nice golden-brown colour, add the tomato purée, then the flour, and stir well with the bones and vegetables in the roasting pan. Return the pan to the oven for another 10 minutes.
Remove the roasting tray from the oven to the hob. Add a little of the stock and give it a good stir over a low flame. This will remove any residue from the tray and begin the thickening process.
Transfer everything into a large saucepan, cover with the rest of the stock and the cider (if you are using), and some cold water if the stock doesn't quite cover the bones.
Add the peppercorns, thyme and bay leaf. Then bring to the boil, skimming off any scum as it forms and simmer for approximately 2 hours. The pan may need topping up with water in order to keep the ingredients covered. Skim occasionally as required.
Strain through a fine-meshed sieve and remove any fat with a ladle. Check its strength and reduce the gravy if necessary. If the gravy is not thick enough, you can dilute some cornflour in a little cold water and stir it in.
Join our new commenting forum
Join thought-provoking conversations, follow other Independent readers and see their replies