Prune and Armagnac tart
Serves 8 –1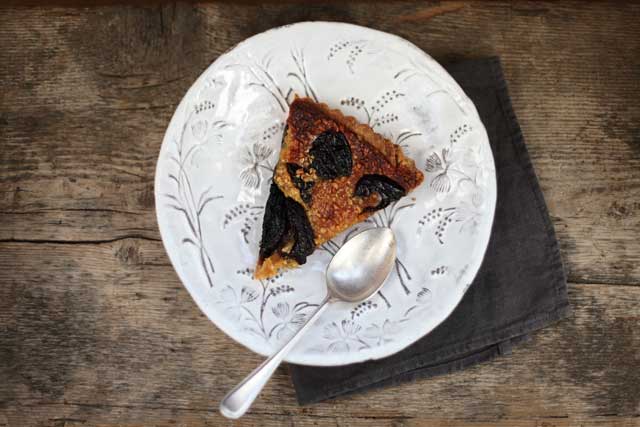 250g/8oz ready made, all-butter pastry
300g/10oz good-quality prunes
30g/1oz unsalted butter
2 organic free-range eggs
120g/4oz caster sugar
vanilla extract
1tbsp orange flower water
5tbsp double cream
3tbsp ground almonds
3tbsp Armagnac to drizzle
Icing sugar to dust
Crème fraîche to serve
Roll out the pastry on a lightly floured work surface to a large round, about 3mm thick. Using your rolling pin, carefully lift the pastry and drape it over a 25cm flan tin, about 2.5cm deep with removable base. Press the pastry into the edges and side of the tin, and trim excess from the rim by rolling your pin straight across the top. Prick the base all over with a fork. Place in the fridge for 30 minutes.
Meanwhile, preheat the oven to 180C/350F/Gas4. Stone the prunes and place them in a bowl. Pour on hot water to cover, leave to soak for 10 minutes to soften, and then drain. Melt the butter in a small pan and allow to cool slightly.
Line the pastry case with greaseproof paper and baking beans, and bake "blind" for 15 minutes. Remove the beans and paper, and return to the oven for five minutes, or until the pastry base is golden brown. Remove from the oven and allow to cool. Increase the oven setting to 190C/375F/Gas5.
In a large bowl, combine the eggs, sugar, orange flower water, cream, almonds, and a few drops of vanilla extract. Lightly whisk together until evenly blended, then stir in the melted butter.
Place the flan tin on a flat baking tray (to make it easier to take in and out of the oven). Scatter the prunes evenly over the pastry base, then ladle the whisked egg mixture over the top; carefully place on the middle shelf of the oven and immediately turn the heat down to 180C/350F/Gas4. Bake for 25-30 minutes until the custard filling is golden brown on the surface and still slightly wobbly in the centre.
Remove the flan from the oven and drizzle with the Armagnac. Serve warm or at room temperature, with a dusting of icing sugar and a dollop of crème fraîche.
Join our commenting forum
Join thought-provoking conversations, follow other Independent readers and see their replies