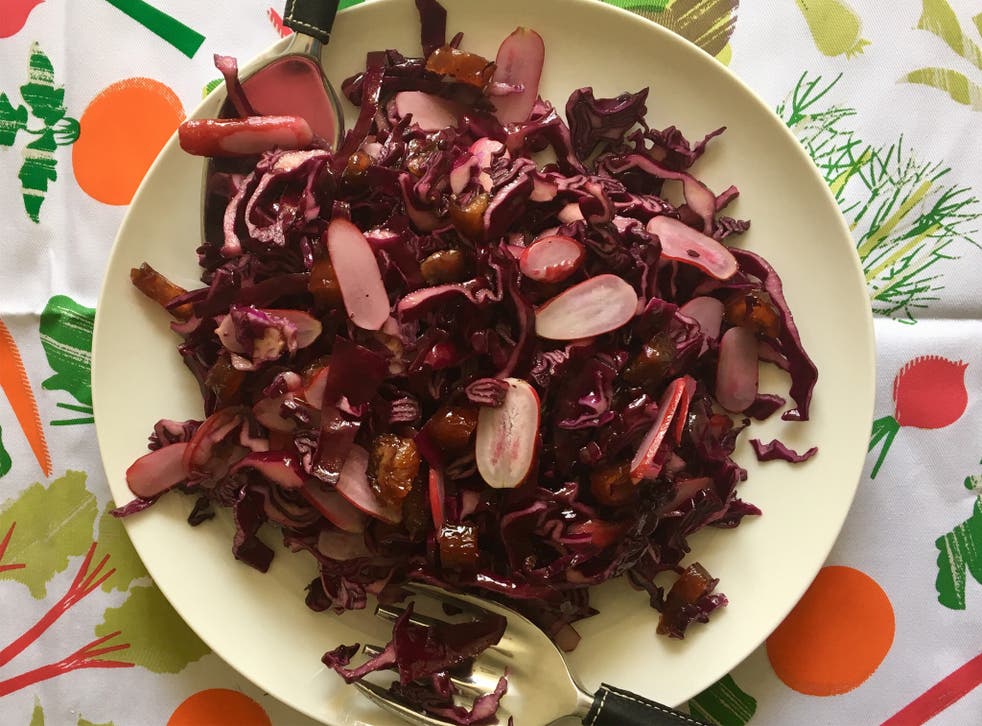 How to make red cabbage slaw with medjool dates and radishes
We're still clinging on to summer, so while the sun shines Julia Platt Leonard creates a perfect side dish for a BBQ
Coleslaw, that mix of crispy cabbage and creamy mayonnaise, is a summertime mainstay. It's perfect outdoor food and an ideal side dish at barbecues and picnics.
And if you're vegan – or cooking for vegans – there are lots of choices to make your slaw free from mayonnaise.
One option is an eggless mayonnaise. Gaz Oakley – author of Vegan 100 – has a recipe in his new cookbook for a Creamy 'mayonnaise' based on soy milk.
He suggests using a stick blender so you can get the correct consistency.
Another option is to skip the mayonnaise altogether and go for a vinaigrette. Ideally, toss the vinaigrette in last minute to keep the cabbage crisp – but to be honest, cabbage is pretty robust and can handle it much better than lettuce leaves.
For this one, I've added radishes to give the slaw some bite and tang, and chopped medjool dates for sweetness.
Optional extras include sesame seeds or some chopped herbs – mint and coriander would be perfect.
Red cabbage slaw with medjool dates and radishes
Serves 4-6
½ red cabbage, about 500g
12 French breakfast radishes, about 100g
6 medjool dates, about 120g
1-1 ½ tbsp white wine vinegar​
2 tbsp olive oil
Salt and pepper
Sesame seeds (optional)
Mint leaves or coriander (optional)
Remove the core from the cabbage and cut it thinly and place the slivers in a bowl. Slice the radishes thinly lengthways and add to the cabbage.
Remove the pits from the dates and chop roughly and add to the vegetables. Mix together the vinegar and olive oil in a separate bowl.
The vinaigrette should have some sourness to offset the sweetness of the dates. Taste and season with salt and pepper. Place the slaw in a serving bowl.
Garnish with sesame seeds and the herbs. Note: you can make the slaw and dressing ahead of time but best to add the vinaigrette just prior to serving.
@juliapleonard
Join our new commenting forum
Join thought-provoking conversations, follow other Independent readers and see their replies