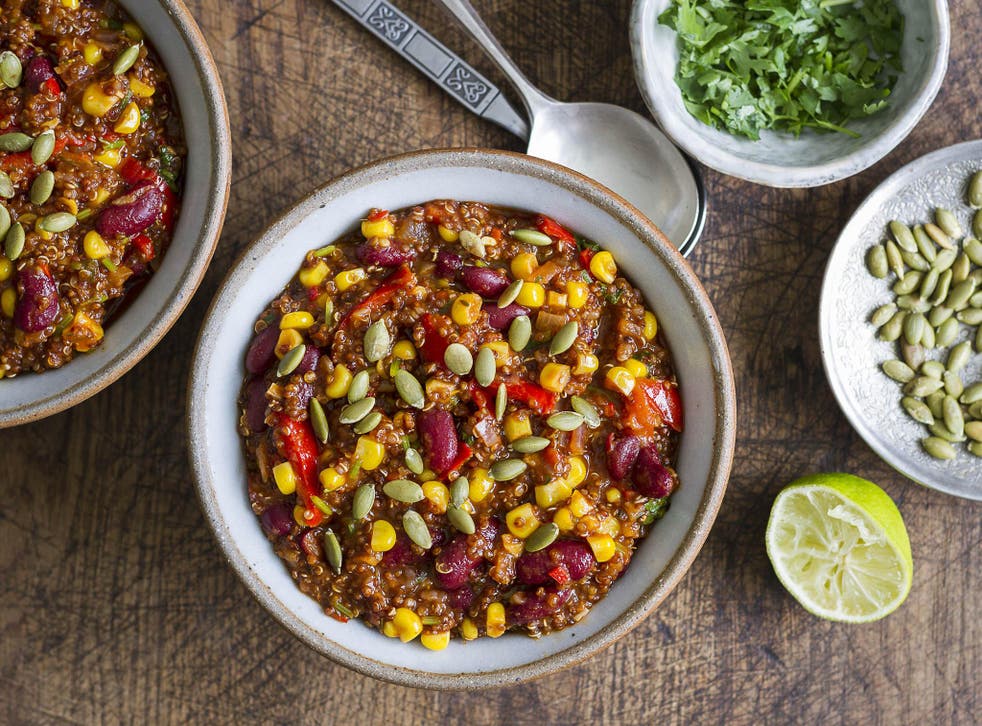 How to make red quinoa, corn and chilli beans
As sweetcorn comes into season, try it in this Mexican-style quinoa dish that's colourful and easy. Just make sure to eat it with a cold cerveza
Tuesday 21 August 2018 15:08 Comments
Red quinoa, corn and chilli beans
Prep and cook: 40 mins
Serves 2
1 red onion, peeled and finely diced
1 red pepper, deseeded and thinly sliced
1 tsp dried thyme
1 tsp smoked paprika
1 tsp ground cumin
1 tsp ground coriander
1 garlic clove, peeled and finely chopped
1 chilli, deseeded and finely chopped
½ tbsp tomato purée
200ml passata​
1 tin kidney beans, drained and rinsed
125g red quinoa, rinsed
400ml veg stock
1 sweetcorn cob, kernels chopped off
2 tbsp pumpkin seeds
small bunch of coriander, chopped
1 lime
Oil for frying 
Salt and pepper 
Heat 1 tbsp oil in a large saucepan. Gently fry the onion and pepper for 10 mins, stirring occasionally. Add a splash of water if it looks like catching.
Stir in the dried herbs and spices, garlic, and chilli to your taste for heat. Stir in the tomato purée and passata. Add the kidney beans, quinoa and stock. Season. Stir, bring to a low boil and cook for 5 mins.
Add the sweetcorn. Cook for a further 10 mins. Dry toast the pumpkin seeds in a frying pan for 1-2 mins, until smelling fragrant.
When the quinoa is tender, stir in ¾ of the coriander. Check the seasoning and add a squeeze of lime juice, to taste. Serve topped with pumpkin seeds and remaining coriander.
Recipe from Riverford.co.uk
Register for free to continue reading
Registration is a free and easy way to support our truly independent journalism
By registering, you will also enjoy limited access to Premium articles, exclusive newsletters, commenting, and virtual events with our leading journalists
Already have an account? sign in
Join our new commenting forum
Join thought-provoking conversations, follow other Independent readers and see their replies