Rich chocolate cake with gooseberries and candied clementines
Makes 10 slices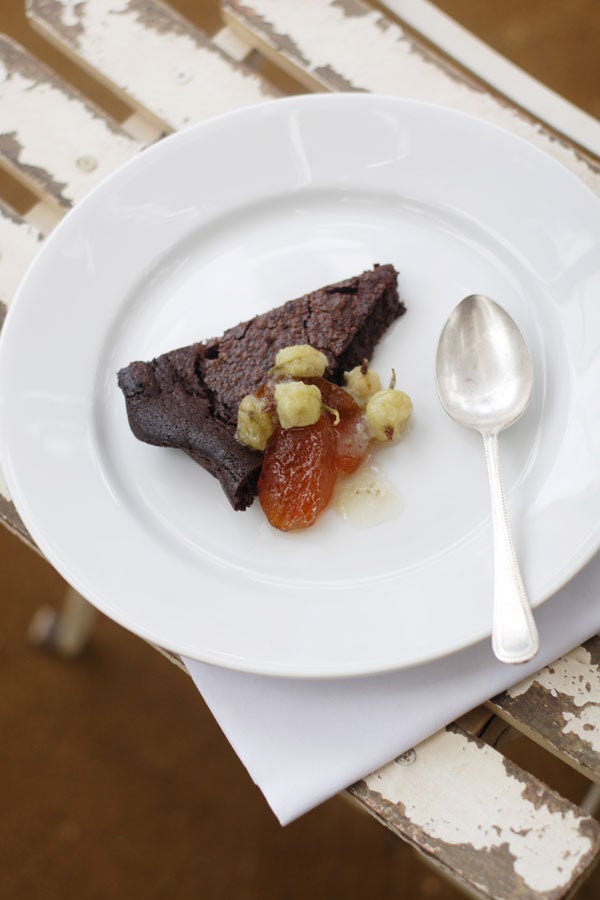 The sweet, candied, sticky texture of the clementines completes this dish of rich and sharp contrasts. Serve with plenty of whipped cream or crème fraîche.
325g/11oz unsalted butter
650g/11/4lb good-quality dark chocolate
8 whole eggs
500g/1lb gooseberries
200g/7oz caster sugar
A small pinch of salt
A few drops of lemon juice
Candied clementine peel
Heat the oven to 220C/425F/Gas7 and line a 12in x 2in cake tin with parchment paper. Slice the butter into cubes and break the chocolate into small pieces. Melt together in a bowl over a pan of hot water, making sure that the bowl does not touch the hot water underneath. Once the butter and chocolate have melted, stir together well, remove from the heat and set aside to cool slightly. Stir in the eggs one by one, beating after each addition – it may look a little curdled at the beginning but this is nothing to worry about, just keep stirring and it will come together. Pour the mix into the prepared tin and place on the middle shelf of the oven and bake for 25 minutes, then remove and allow to cool.
Prepare the gooseberries as per the fool recipe, right, and place in a saucepan with the sugar. Cook for about 10 minutes over a low heat, until the sugar has melted and the gooseberries break up. Remove from the heat and set aside to cool, then squeeze over the lemon juice, add a small pinch of salt, stir to combine and chill in the fridge until ready to serve. Slice a little candied peel and stir through the gooseberries. Serve with slices of the cake.
Join our commenting forum
Join thought-provoking conversations, follow other Independent readers and see their replies