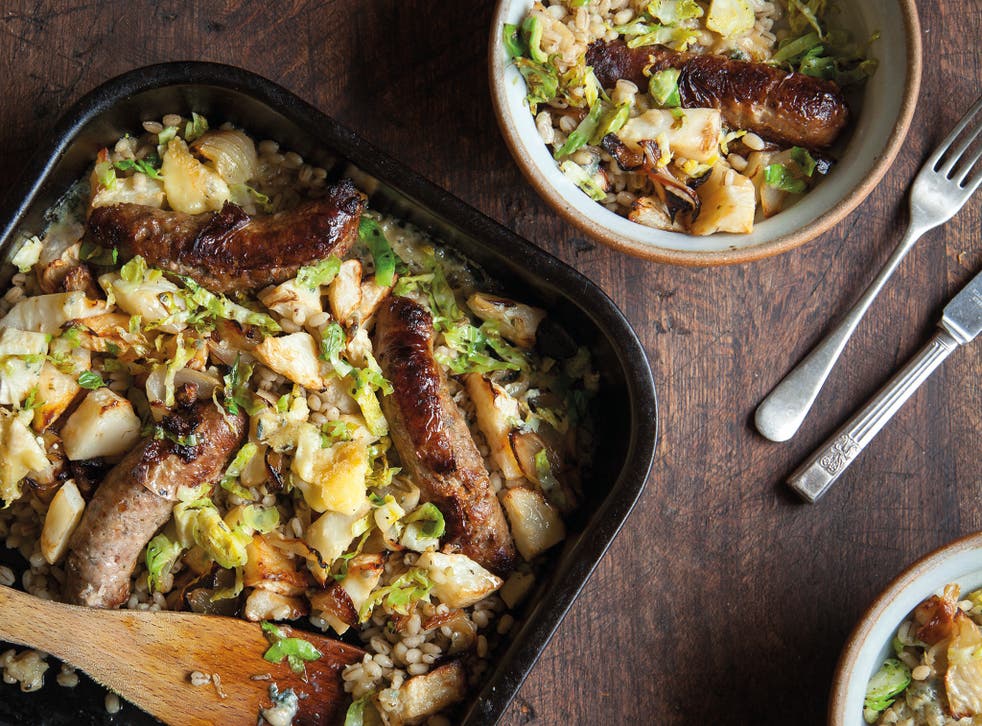 Four celeriac recipes to cook for November from Riverford
This celery-type flavoured root vegetable is worth the fiddly chopping for a wealth of warming wintery dishes, from spicy curries to hefty pies
Wednesday 31 October 2018 14:13
comments
Another root vegetable that's pretty hard to chop, but just like butternut squash, it's well worth it. If you like the celery-like flavour, that is. Top and tail it and then use a sharp knife or potato peeler to remove the tough and knobbly skin.
Perfect for soups, either turn it into mash or simply roast to sit aside meat, or let it shine as the main event for vegetarian meals with other wintery flavours, like kale and pumpkin.
Although we associate it with autumn and winter, it's available all year round, but at it's best from September to April
Sausage, celeriac and barley with sprouts and blue cheese
A seasonal barley recipe using our organic pork and apple sausages and celeriac. Don't be precious with celeriac when peeling; use a good, sharp knife and hack off all the very knobbly, gnarly bits. Any leftover from this recipe can be roasted in chunks, with or without other veg, or added to soups and stews. It can discolour when chopped (though it still tastes as good); rubbing it with a little cut lemon will help prevent this.
Oil for frying and roasting, eg vegetable or sunflower
4 pork and apple sausages
2 large or 3 smaller onions
⅔ celeriac
175g pearl barley
500ml chicken stock
1 tsp mixed herbs
200g brussels sprouts
75g perl las blue cheese
1 lemon
Salt and pepper
Preheat oven to 210˚C/Gas Mark 5. Heat 1 tablespoon of oil in a frying pan. Add the sausages and fry, turning them now and then, until browned. Remove from the heat. Peel and cut the onions in half, then each half into 5-6 wedges, through the root to hold them together. Transfer the wedges to a roasting tin.
Peel and chop two thirds of the celeriac into approx 2cm chunks. Add to the onion. Toss them in just enough oil to coat and season with a little salt and pepper. Add the sausages. Roast the veg and sausages for 30 minutes or so, until the celeriac and onions are tender and starting to colour a little, and the sausages are cooked through. Toss the veg and turn the sausages halfway through, so they roast evenly.
Meanwhile, heat the stock in a large pan. Rinse the barley in a sieve or colander and add to the stock with the dried mixed herbs. Cook on a low to medium boil for 25-30 minutes. Stir often and add a splash of water to top up the liquid if needed (this will vary depending on your pan); by the end of cooking you want a sloppy, risotto like consistency.
Meanwhile, wash and peel the outer leaves of the sprouts. Cut them in half lengthways, through the stalk, then thinly shred each half, discarding the little stalk bases. Roughly crumble up the blue cheese. When the barley is ready, mix with the roasted celeriac, onion, sausages and blue cheese.
Season to taste with salt and pepper (you won't need much salt as the cheese is quite salty). Add a little squeeze of lemon juice to sharpen the dish. Wash out the frying pan. Add and heat 2 tablespoons of oil. Add the sprouts and briskly stir-fry for 2-3 minutes to wilt them. Stir some into the barley and save some for garnishing. Wash out the frying pan. Add and heat 2 tablespoons of oil. Add the sprouts and briskly stir-fry for 2-3 minutes to wilt them.
Stir some into the barley and save some for garnishing. Divide the barley and sausages between 2 serving bowls or plates and top with the remaining fried sprouts.
Cooks notes: Shredded sprouts are a great way of preparing and cooking them. They fry in minutes and have none of the sulphurous smell and flavour that over-boiled sprouts do.
Celeriac, kale and mushroom pie
This winter warmer gives the heartiest of meat stews a run for its money. Cooking the component parts may seem a bit fiddly but it ensures each ingredient retains its perfect flavour and texture. We've suggested some additions to the filling below but go easy with them – the veg is more than enough to carry the show.
4 tbsp light olive or vegetable oil
1 large celeriac (about 1kg), peeled and cut into 1cm chunks
1 tbsp white wine vinegar
60g butter
2 large red onions, roughly sliced
500g flat mushrooms, thickly sliced
1 glass of red wine
3 garlic cloves, finely chopped
150g cavolo nero (black kale), leaves stripped from their stalks and washed
100ml double cream
¼ whole nutmeg, finely grated
1 x 300g ready-rolled sheet all-butter puff or flaky pastry
Beaten egg, for brushing
Salt and black pepper
Turn the oven to 190°C/Gas 5. Heat 3 tablespoons of the oil in a pan. Add the celeriac it will hiss and spit for a few seconds. Keep it moving so doesn't catch or burn and after a few minutes add 50ml of water, half the butter, 1 tablespoon of white wine vinegar and a good pinch of salt. Give it a good stir, cover with a tight fitting lid and drop to a medium heat.
Keep checking every 5 minutes adding a dash more water if it looks like it may be catching on the bottom. You want it to cook through so the edges become soft and the middle retains a toothsome bite, this should take about 20 minutes. Remove the lid for the last 5 minutes to evaporate any excess liquid. Season to taste.
Meanwhile, melt the remaining butter in a frying pan with the remaining tablespoon of oil and fry the onion on a medium heat until starting to soften, about 10 minutes.Add the sliced mushrooms and cook until they start to release their moisture. Pour in the wine, add the chopped garlic and let the liquid bubble and reduce until you have a dark, sticky mess. Season with salt and pepper.
While the mushrooms cook, blanch the kale in salted water in two batches for 1½ minutes each. Remove with a slotted spoon and plunge straight into ice cold water to stop the cooking and fix the colour. When cool, squeeze out the water and roughly chop. Combine all the component parts in a large bowl.
Pour in the cream, grate in the nutmeg, mix gently and check the seasoning. Pack the mixture snugly into a shallow pie dish. Cut out the pastry to the size of the rim of your dish and place it over the top of the filling, tucking it around the sides. Brush with the egg and slash a couple of holes in it for the steam to escape. Bake for 20–25 minutes, until the pastry is golden and the filling is bubbling around the edges.
Celeriac curry with chard and cardamom rice
Celeriac has a wonderful ability to soak up flavours, while also bringing its own subtle, nutty fragrance to proceedings.
1 onion
2 garlic cloves
25g fresh ginger
1 celeriac
1 head chard
2 tomatoes
Oil for frying eg sunflower or light olive
1 tsp mustard seeds
Few curry leaves
1 tbsp curry powder
½ tsp turmeric
400ml coconut milk
1 chilli
1 tbsp ground almonds
Few cardamom pods
150g brown basmati rice
Salt and pepper
Put a large pan of salted water on to boil. Rinse the rice in a sieve under cold running water. Peel the onion, garlic and ginger. Grate them all on a fine grater, or pulse them in a food processor with a splash of water if you have one. Alternatively you could just chop them all very finely.
Wash and peel the celeriac (see cook's notes). Cut into 2cm cubes. Wash the chard and strip the leaves away from the stalks. Finely dice the stalks and finely shred the leaves. Roughly chop the tomatoes.
Heat 2 tablespoons of oil in a saucepan. Add the mustard seeds and curry leaves. Fry briefly until the mustard seeds start to pop. Add the onion, garlic and ginger. Mix and cook gently for 3 minutes. Tip in the curry powder, turmeric, tomato, celeriac and diced chard stalks. Cook for 2 minutes, stirring continuously. Add the coconut milk. Season well with salt and pepper. Stir well and simmer for 20 minutes.
Food and drink news

Show all 35
While it cooks, take the time to deseed and finely slice the chilli. While the celeriac cooks, bash the cardamom pods once or twice with the butt of your knife or a rolling pin.
Tip the rice into the pan of boiling water along with the cardamom pods. Stir once and lower to the gentlest of simmers. Cover and cook for 20-25 minutes. Taste the curry; if you would like it a bit hotter add some of the sliced chilli. If unsure at this stage you can garnish with raw chilli at the end to add more heat.
When the celeriac is just tender, add the chard leaves and ground almonds. Simmer for a further 8 minutes until everything is tender and the liquid has thickened into a sauce. Add a dash more water if it looks too dry. Check the seasoning in the curry.
When the rice has cooked, drain it and remove the cardamom pods. Fluff it up with a fork and serve topped with the celeriac curry.
Cooks notes: Don't forget to remove the pods from the rice before you serve. Chewing on a whole cardamom pod can throw your taste buds out of kilter for a while.
Thai celeriac salad with noodles and crispy tofu
This is dish is inspired by the famous Thai green papaya salad, a dish of crisp shredded veg dressed with a sharp, fragrant and punchy dressing. The noodles and tofu help draw it into a well-rounded meal. As long as they are well drained and retain a slight bite, noodles are a great addition to a salad. This dish is about texture and freshness. The tofu should be crisp on the outside but soft in the centre
1 pack of marinated tofu
Plain oil, eg vegetable or sunflower
Bunch green beans
80g brown rice noodles
25g ginger
1 red chilli
1 shallot
1 lime
2 carrots
1 celeriac
1 sachet Thai green curry paste
2 tbsp tamari soy sauce
2 tsp brown sugar
50g salted peanuts
15g mint
Put a pan of salted water on to boil. Preheat oven to 200˚C/Gas Mark 6. Cut the tofu block into 4 thin slices, then cut each slice into even-sized, chunky matchsticks. Spread on the oven tray, turn in a little oil, season with a small pinch of salt and bake for 15 minutes, until golden and crisp.
Meanwhile, trim the ends away from the green beans. Slice them at an angle into 2cm pieces. Add to the boiling water and simmer for 3 minutes, until just cooked but with a slight bite remaining. Remove with a slotted spoon and keep to one side. Add the noodles to the same water. Stir to separate the strands and remove from the heat. Let them sit for about 4 minutes, until just cooked. Drain and cool in cold water immediately.
Peel and finely grate or chop the ginger. Deseed the chilli and slice it thinly. Peel the shallot and slice it as finely as you can into rings. Squeeze the juice from ½ of the lime, cut the other ½ into wedges. Peel and wash the carrots and celeriac. Use the peeler to pull the carrot into long thin ribbons, rotating as you peel until it becomes impractical. Cut the ribbons into thin strips.
Cut the celeriac into thin slices. Cut each slice into thin matchsticks. In a large bowl, mix the Thai curry paste with the lime juice, soy sauce, sugar, ginger and as much chilli as suits you. Add the celeriac, carrots, shallot and sliced green beans. Mix well and season with salt to your taste. Roughly chop the peanuts. Pick the mint leaves and roughly shred them. Thoroughly drain the noodles and pat dry with kitchen paper or a clean tea towel.
Add the mint and noodles to the mix. Turn thoroughly and gently together. Divide between two plates and top with the warm crispy tofu and the chopped peanuts. Serve with lime wedges for squeezing.
Cooks notes: The Thai green paste already has a chilli heat to it, so only add the extra sliced chilli to your preference.
Recipes from Riverford.co.uk
Join our new commenting forum
Join thought-provoking conversations, follow other Independent readers and see their replies