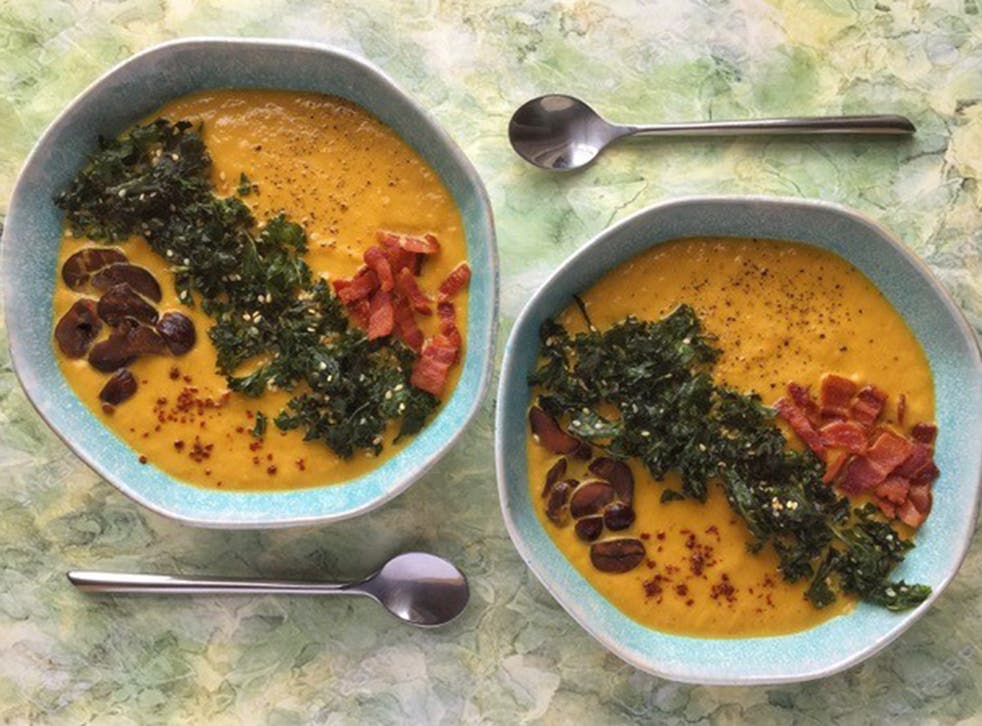 How to make roasted carrot, chestnut and bacon soup with sesame honey kale crisps
It's soup season again. And now the best kale is here, you can cover it in honey and make it into crisps to top your bowl – an instant winner
Beverley Hicks
Friday 31 August 2018 13:51 Comments
Kale is in season – yippee! To be clear, kale is actually available all year round but from September to February it is at its absolute best.
Kale truly is a superfood. As a good source of fibre, protein, calcium and iron, a portion of raw kale provides you with more than the recommended daily amount of vitamins A, C and K and is a source of many other vitamins and minerals. It is packed to the brim with antioxidants and is reputed to help lower cholesterol.
When eaten raw kale has an earthy, sometimes meaty taste and can be a little bitter, but roasting it in the oven removes all bitterness and concentrates the earthiness.
Children are notorious for not eating their greens but make a batch of these sesame honey kale crisps and that will be a thing of the past. Eat them on their own as a snack or serve as an accompaniment to a meal.
Their earthy flavour goes particularly well with this sweet tasting roasted carrot, chestnut and bacon soup.
Roasted carrot, chestnut and bacon soup with sesame honey kale crisps
Serves 3-4
For the sesame honey kale crisps
100g kale
1 tbsp rapeseed oil
1 tsp honey
Salt
Freshly ground black pepper
1 tbsp sesame seeds
For the soup
300g carrots
2 tbsp rapeseed oil, divided
Salt
Freshly ground black pepper
4 slices streaky bacon
1 small onion
2 fat garlic cloves
750ml vegetable stock
75g chestnuts, vacuum packed
50ml crème fraîche 
Preheat your oven to 170C/gas mark 3.
To make the sesame honey kale crisps, remove the stalks from the kale leaves and slice into slightly larger than bitesize pieces. Place in a large mixing bowl and drizzle with the oil, honey, salt and pepper. Massage lightly to distribute the seasonings.
Australia's new foodie hub, the Barossa Valley

Show all 7
Tip onto a baking tray lined with parchment paper and arrange the kale pieces in a single layer so that they roast rather than steam. Sprinkle over the sesame seeds then put the tray into the preheated oven and bake for about 7-8 minutes or until the kale is crispy. These will burn very quickly so keep an eye on them. Remove the kale leaves from the oven and allow to cool.
Increase the heat of your oven to 180C/gas mark 4.
Peel and roughly chop the carrots and tip onto a foil lined baking tray. Drizzle over 1 tablespoon of the oil and season well with salt and pepper. Lay the slices of bacon over the top of the carrots and roast in the preheated oven for 10 minutes. Remove the tray from the oven and turn the bacon over, return to the oven for another 10 minutes or until the bacon is crispy. Transfer the bacon to a plate, give the carrots a good stir then return to the oven for a further 10 minutes; if you notice they are browning a little too much you can cover them loosely with foil before returning to the oven to finish cooking. When done, remove from the oven and set aside.
Heat the remaining oil in a saucepan over a medium heat and sauté the onions for a few minutes, add the garlic and continue to cook for a further 2-3 minutes until soft.
Pour in the stock and stir well. Add the chestnuts and roasted carrots, bring to a boil then reduce the heat and simmer for 10-15 minutes. Blend the soup with an immersion blender until smooth and creamy. Add the crème fraîche and blend again to combine then crumble in the crispy bacon and stir again, leaving a little aside for a garnish. Taste the soup and adjust the seasoning if necessary.
When ready to serve, ladle the soup into warmed bowls, top with a handful of kale crisps, some crispy bacon and a pinch of sesame seeds.
Follow Beverley Hicks @thelittlechelseakitchen
Register for free to continue reading
Registration is a free and easy way to support our truly independent journalism
By registering, you will also enjoy limited access to Premium articles, exclusive newsletters, commenting, and virtual events with our leading journalists
Already have an account? sign in
Join our new commenting forum
Join thought-provoking conversations, follow other Independent readers and see their replies