How to make Romy Gill's deep fried spicy potatoes
These root vegetables form part of the backbone to Indian cooking, and here they're used to make these savoury snacks
Friday 05 April 2019 14:57 Comments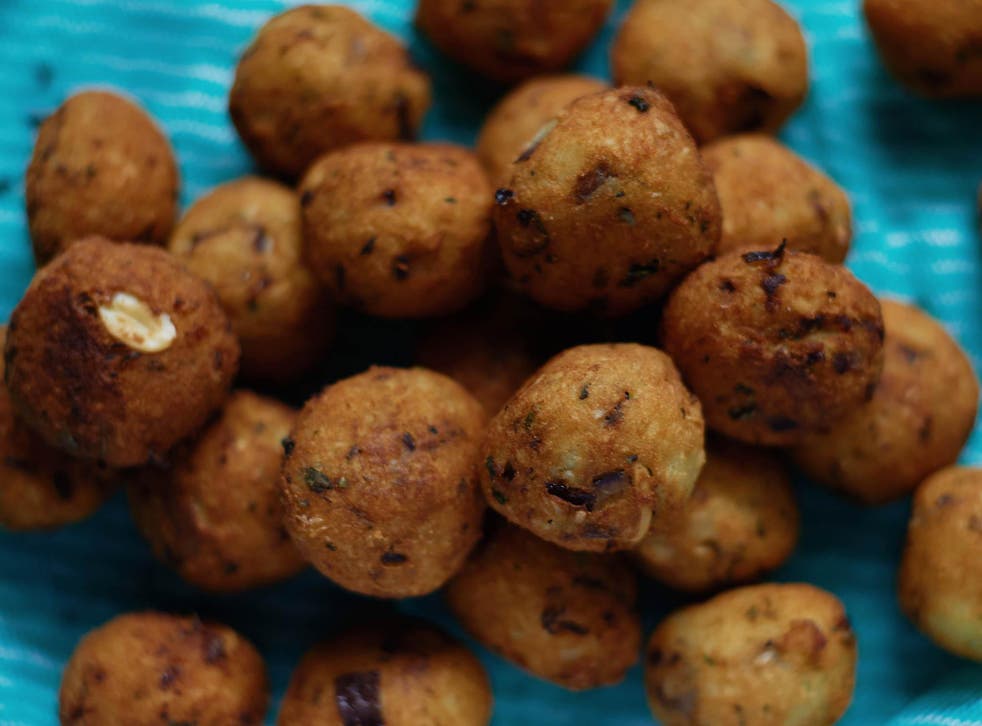 Potatoes played a huge part in my growing up years because we ate lot of these crops in my different ways.
We had parathas, aloo gobi, aloo matar, aloo in biryani with meat, aloo posto, aloo tikki. The list can go on.
It not only worked as a thickening base for sauces that might be a bit runny, but it also added plenty of flavour and texture too.
When potatoes were added to the dish it meant if you had a big family everyone would be able to eat it, as it made the meal go further too.
I think potatoes play such a huge part as a dish, whether that's on their own or when combined with something else because they're warming and comforting – just like hugging a mum!
Deep fried spicy potatoes
Serves 3-4
100g peeled and grated potatoes 
6 tsp desiccated coconut
4 tsp peanuts
1 red small red onion finely chopped
1-2 green chilli finely chopped with seeds 
3 tsp fresh chopped coriander
1 tsp ground cumin
1 tsp chaat masala
1 tsp salt 
Sunflower oil for deep-frying
In a bowl grate the peeled potatoes and squeeze the water out of the potatoes.
Then add rest of the ingredients and mix it well. Separate the mixture into equal golf size balls.
Deep-fry each of the balls for 2-3 minutes. Serve with any chutney.
Romy Gill is head chef and owner of Romy's Kitchenin Thornbury. Follow her @Romygill
Register for free to continue reading
Registration is a free and easy way to support our truly independent journalism
By registering, you will also enjoy limited access to Premium articles, exclusive newsletters, commenting, and virtual events with our leading journalists
Already have an account? sign in
Join our new commenting forum
Join thought-provoking conversations, follow other Independent readers and see their replies