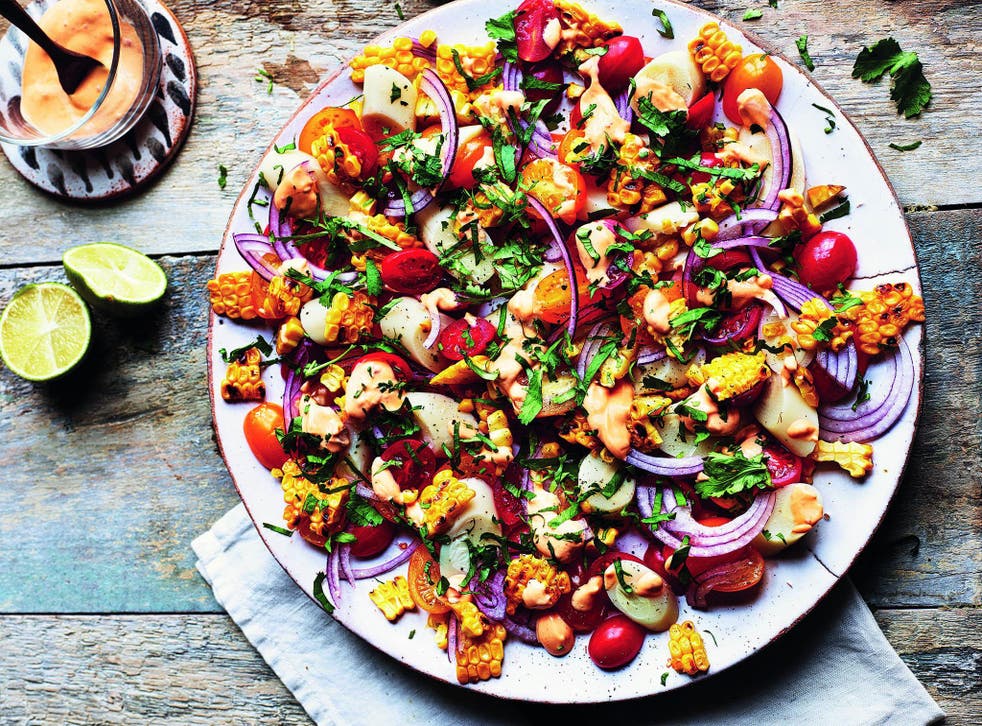 Sabrina Gayhour's 'Bazaar' cookbook: Recipes from sweetcorn salad to sumac tomato toast
Milli's charred sweetcorn salad
Once in a blue moon, I sheepishly agree to cook a meal for a talented chef friend of mine named Milli Taylor.
Milli is one of those doubly talented individuals who not only makes food that tastes amazing, but her creations look beautiful, too. She always enjoys my salads, and this one in particular – a rainbow salad, as she calls it. She has good taste – it's also a favourite of mine.
Serves 4-6
2 sweetcorn cobs
400g can hearts of palm, drained and cut diagonally into 1cm-thick slices
300g baby tomatoes, halved
½ red onion, sliced into half moons
½ small packet (about 15g) of fresh coriander, roughly chopped
For the dressing
3 tbsp Greek yogurt​
1 tbsp harissa​
Juice of ½ fat lime
Maldon sea salt flakes and freshly ground black pepper
Mix the dressing ingredients together in a small bowl and season to taste with salt and pepper. Set aside.
Cook the corn cobs in a saucepan of simmering water for 10 minutes, or until soft but not completely tender, then drain. Preheat a griddle pan over a high heat and griddle the corn cobs for 5 minutes, turning occasionally, until charred in places. Remove from the heat and transfer to a chopping board.
Hold the sweetcorn cobs vertically and, using a sharp knife, cut down to slice off the kernels, then put them in a mixing bowl. Arrange the hearts of palm, corn kernels, tomato and red onion on a serving platter. Dot with the dressing, then scatter over the coriander and serve.
Carrot, halloumi and dill balls
Rarely do you see carrots fried, so here I've combined them with halloumi to make these crispy little balls – perfect with drinks or as part of a feast. Probably one of the best things to have ever happened to the humble carrot, if I'm honest.
Makes 16-18
Vegetable oil, for frying
2 large carrots, peeled and coarsely grated
250g halloumi cheese, coarsely grated
1 large egg
1 small packet (about 30g) of dill, finely chopped
4 tbsp plain flour
2 tsp cumin seeds
1 tsp paprika
Maldon sea salt flakes and freshly ground black pepper
Salad leaves, to serve
Pour enough vegetable oil into a large saucepan to fill to a depth of 5cm. Heat the oil over a medium-high heat and bring to frying temperature (add a pinch of the mixture: if it sizzles immediately, the oil is hot enough). Line a plate with a double layer of kitchen paper.
Put the grated carrot and halloumi, along with the remaining ingredients, into a mixing bowl and season well with black pepper and just a little salt. Now work the mixture with your hands to combine it well. When the oil is ready for deep-frying, take roughly 1tbsp of the mixture and roll it into a ball that would fit perfectly into the tablespoon measure. Repeat with the remaining mixture.
Carefully lower the balls into the hot oil and fry in batches for 2-3 minutes, until deep golden brown. Remove with a slotted spoon and transfer to the paper-lined plate to drain. Serve hot with salad leaves.
Sumac, tomato and garlic toasts with labneh
I'm obsessed with tomatoes on toast either in the Spanish style of pan con tomate or the Italian bruschetta. I used to make mini versions of these for clients as canapes, which proved so popular that I was asked to serve them as starters rather than finger food. The addition of sumac gives the tomatoes a citrusy note, and I never need an excuse to add coriander to tomatoes. They are incredibly moreish and I am happy to eat several of these as a meal by themselves; simple yet terribly good.
Makes 12
1 large ciabatta, cut into 12 slices
1 large or 2 small garlic cloves, peeled
4 large, ripe vine tomatoes, very finely chopped
½ small red onion, very finely chopped
2 tsp sumac, plus extra to garnish
½ small packet (about 15g) of fresh coriander, finely chopped (reserve some for garnish)
Olive oil
4 heaped tablespoons labneh or thick Greek yogurt
Maldon sea salt flakes and freshly ground black pepper
Chargrill the bread in a griddle pan on both sides or use a toaster. Lightly rub the surface of each slice with the raw garlic.
Mix the tomatoes, onion, sumac and coriander in a bowl. Add a little drizzle of olive oil and season well with salt and pepper.
Divide the tomato mixture between the toasts, spreading it across the surface of each piece. Top each with a teaspoon of labneh or yogurt and garnish each with a little pinch of sumac, the reserved coriander and a drizzle of olive oil. Serve immediately.
'Bazaar: Vibrant Vegetarian and Plant-Based Recipes' by Sabrina Ghayour is out now, £26. Published by Mitchell Beazley, octopusbooks.co.uk
Register for free to continue reading
Registration is a free and easy way to support our truly independent journalism
By registering, you will also enjoy limited access to Premium articles, exclusive newsletters, commenting, and virtual events with our leading journalists
Already have an account? sign in
Join our new commenting forum
Join thought-provoking conversations, follow other Independent readers and see their replies