Salad of poached pears, walnuts and Gorgonzola
Serves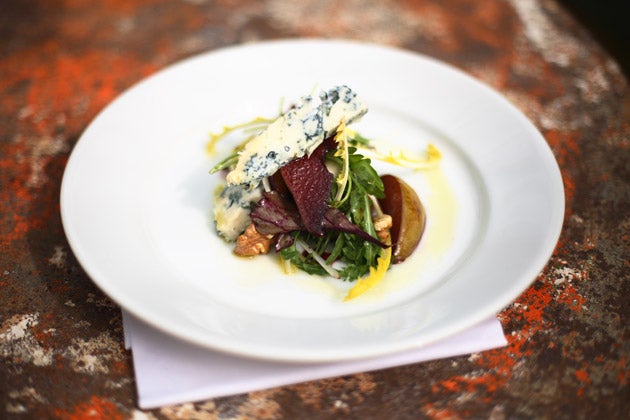 This salad has an undeniable feel of autumn about it. We are now seeing nuts for the first time, pears are in abundance and it feels time to leave lighter, summery cheeses behind for something a little stronger. I like to use the Gorgonzola known as Dolcelatte; it is younger, softer in taste and creamier in texture than Gorgonzola naturale. Though if you prefer something a little stronger, do go with that – it's firmer, with a sharp bite. The pears here are pickled in red wine, a few herbs and a little sugar – their colour becomes a beautifully glossy ruby-red.
180ml/6fl oz red wine
40g/11/2oz caster sugar
A small bunch of thyme
2 fresh bay leaves
2 firm ripe pears
100g/31/2oz freshly shelled walnuts
A very small bunch of white dandelion
A few sprigs of rocket
200g/7oz Gorgonzola
For the dressing
1 tbsp Dijon mustard
1 tbsp red-wine vinegar
75ml/3fl oz walnut oil
75ml/3fl oz olive oil
A little salt and freshly ground black pepper
Place the wine into a saucepan along with the sugar, thyme and bay leaves. Bring to a simmer over a medium heat. Peel and core the pears and cut into quarters, place in the pan with the red wine, poach for 10 minutes. Remove from the heat and allow the pears to cool in the poaching liquid.
Now shell the walnuts, wash and gently pat dry the salad leaves and slice the Gorgonzola into fine slices.
To make the dressing, put the mustard, vinegar, salt and pepper into a bowl and whisk together well. Gradually pour in the oil, whisking while you do so. Arrange the ingredients attractively on a plate and spoon over the dressing. Serve at once.
Join our commenting forum
Join thought-provoking conversations, follow other Independent readers and see their replies