How to make a salted caramel panetonne bread and butter pudding
Served with the easiest caramel sauce ever, Beverley Hicks's sweet and sticky version will give the traditional (and much loved) bread and butter pudding a run for its money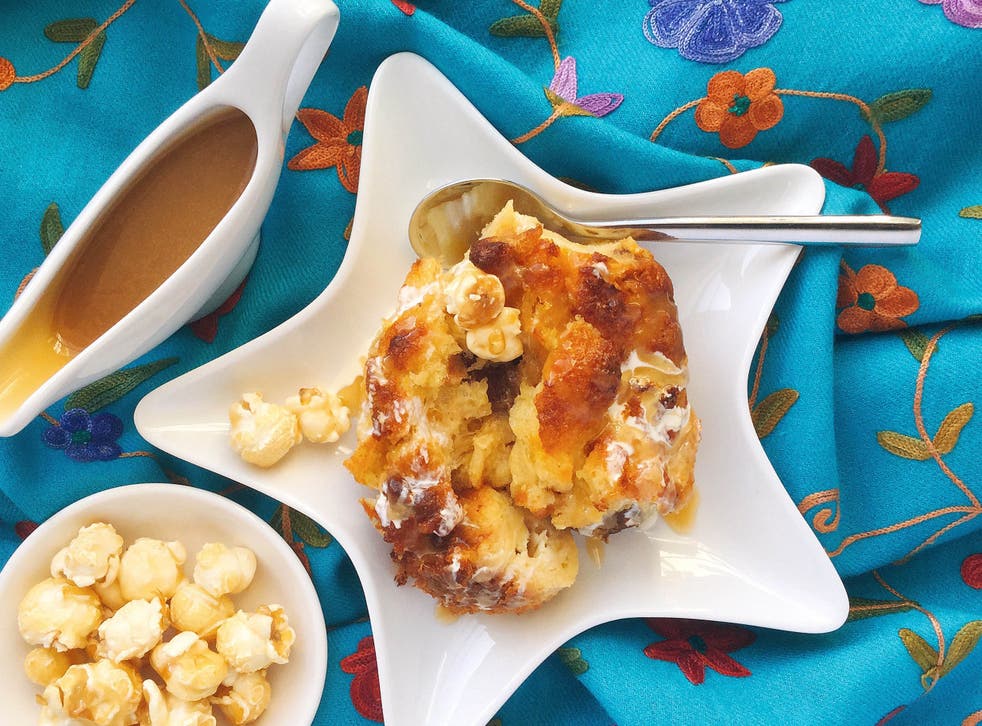 Salted caramel panettone bread and butter pudding
Serves 4-6
For the bread and butter pudding
50g butter, cut into small pieces
275ml whole milk
60ml double cream
50g caster sugar
Grated zest of 1 large orange
3 free range eggs
500g salted caramel panettone
50g dates, chopped
1 tbsp caster sugar
For the caramel sauce
270g hard caramel sweets
270g double cream
To serve
200ml double cream
Small bag caramel popcorn
Pre-heat your oven to 180C/350F/gas 4. Grease a 25 x 15cm baking dish with a small amount of the butter and put to one side. Pour the milk and double cream into a large bowl, stir in the sugar and half of the orange peel then whisk in the eggs, one by one.
Slice the panettone into thick slices and arrange half in the base of the baking dish, sprinkle over the chopped dates, remaining butter pieces and pour over half of the custard, pressing the panettone down into the custard. Cover with the remaining panettone slices and custard. Leave for 10-15 minutes to give the panettone time to soak up the custard. Sprinkle over the remaining orange zest and a tablespoon caster sugar, and bake in the oven for 30-40 minutes.
Meanwhile, make the caramel sauce. Put the caramel sweets into a heavy duty blender or spice mill and process to turn them into a rough powder. In a medium saucepan, heat the double cream on a low heat until it just starts to bubble – don't let it boil. Turn off the heat and tip in the crushed caramel sweets and stir until they have dissolved completely. Sauce done – that's how easy it is!
When the bread and butter pudding is cooked, leave to cool very slightly then serve with the caramel sauce, a drizzle of cream and top with caramel popcorn.
Follow Beverley @thelittlechelseakitchen
Join our new commenting forum
Join thought-provoking conversations, follow other Independent readers and see their replies