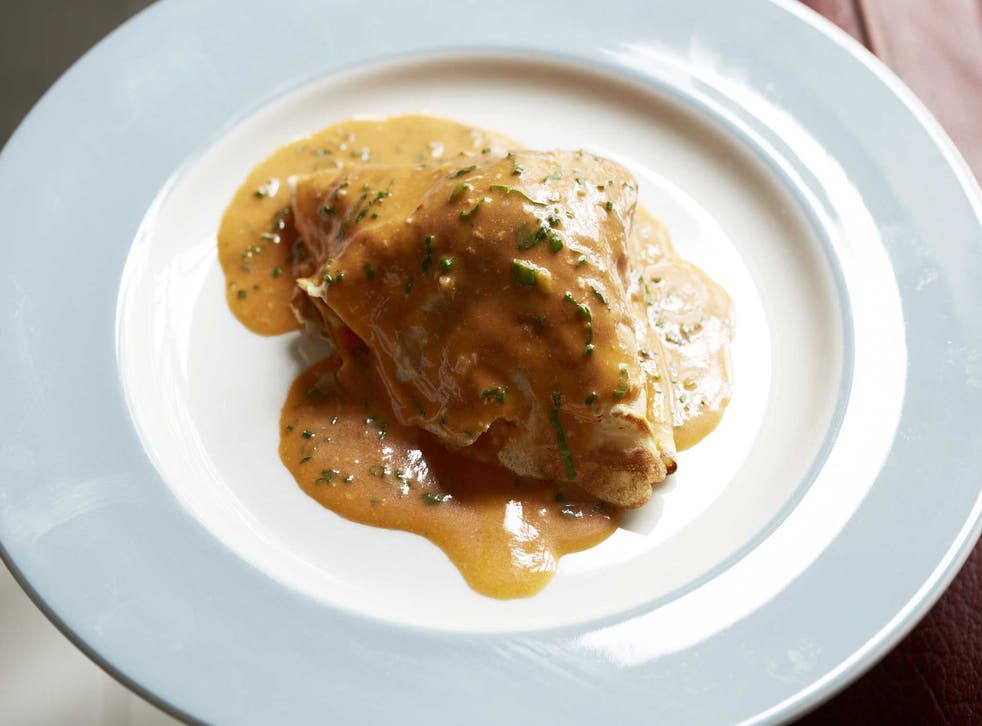 Seafood pancakes
These are great, old-fashioned, establishment pancakes, the type of thing you would get at the Savoy Grill or a big banquet. I remember making these when I was in Nice, aged 20 and competing in a cookery-competition final. It was a big, grand banquet at the Negresco and the smell filled the room as the waiters silver-served the pancakes from large oval dishes.
You can use all sorts of seafood, or just prawns if your budget is a bit tight – but buy with the shells on so you can make the rich sauce.
Pancake batter
12 raw large prawns with the shells on
100g freshly picked white crab
Any other shellfish like scampi, mussels, etc
For the sauce
2 shallots, peeled and roughly chopped
1 clove of garlic, peeled and roughly chopped
5 black peppercorns
10 fennel seeds
A couple of good knobs of butter
1tsp flour
1tsp tomato purée
A good pinch of saffron
100ml white wine
200ml fish stock
350ml double cream
A few sprigs of tarragon, chopped
Salt and freshly ground black pepper
Bring a pan of salted water to the boil and cook the prawns for 1 minute, then drain in a colander and refresh in cold water. Carefully remove the heads and peel the tails, leaving the meat as intact as possible. Crush or chop the shells a little and place the tails in the fridge – they're perfect for a bisque.
Melt the knob of butter in a heavy-based saucepan and gently fry the shells with the shallots, garlic, peppercorns and fennel seeds for 3-4 minutes, stirring regularly.
Add the flour, tomato purée and saffron, stir well then gradually add the white wine and fish stock. Bring to the boil and simmer very gently for 20 minutes, then add the cream; season and continue to simmer very gently for another 10 minutes.
Blend about one-fifth of the shells with some of the liquid in a blender until smooth, then return to the pan and simmer for a few more minutes. Strain the sauce through a fine-meshed sieve into a clean pan.
The sauce should be quite thick and of a coating consistency; if not, continue simmering for a few minutes until it thickens.
Cook the pancakes as above.
Add the prawns, crab and any other shellfish you are using to the sauce, with the tarragon, and simmer for a minute or so.
To serve, lay the pancakes on to warmed plates, spoon the filling and sauce into the centre and fold the pancakes over into a triangle – or leave them halved then pour any extra sauce over.
Join our new commenting forum
Join thought-provoking conversations, follow other Independent readers and see their replies