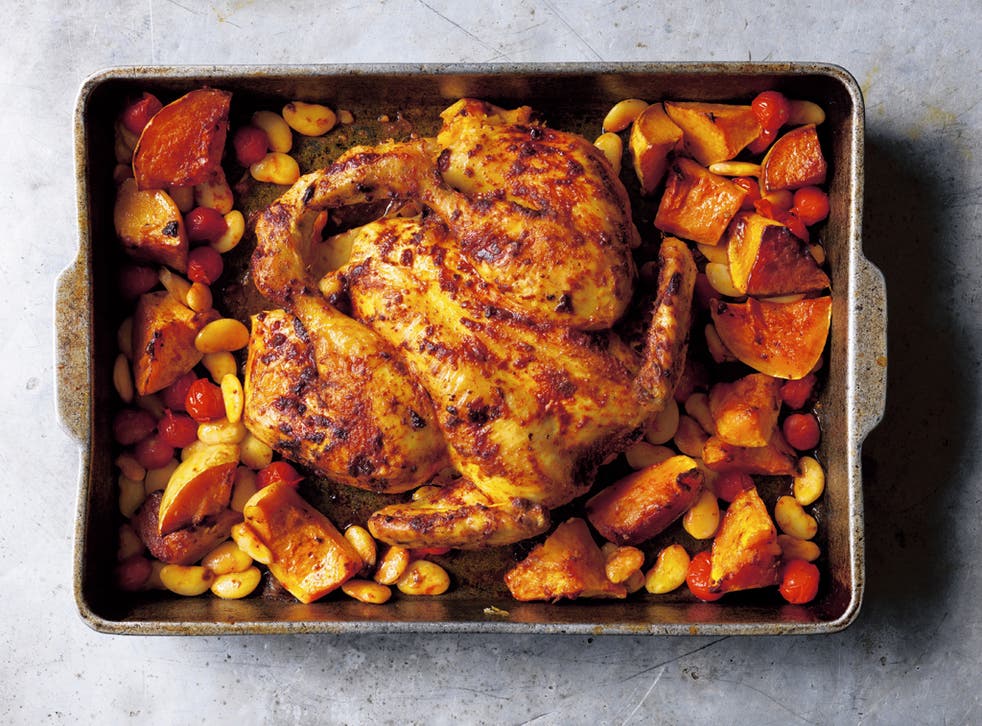 Slow-roasted paprika chicken
Ingredients to serve 4
Maria Elia
Friday 25 November 2011 01:00 Comments
1 whole 1 -2kg chicken
2 garlic cloves
Sea salt and black pepper
2 tablespoons smoked paprika – picante or dolce
Good glug of olive oil
Half a butternut squash, about 1kg
1 x 400g tin of cooked butter beans, or any other cooked white beans
200g cherry vine tomatoes, or plum vine tomatoes
Handful of Greek basil or Italian basil, roughly chopped
Preheat the oven to 180C/gas mark 4. You need to spatchcock the chicken for this recipe. Calm down, it's not as scary as it sounds! First find your kitchen scissors. Remove the wing tips from the chicken. Place the chicken on a board, breast side down, and then cut along either side of the backbone to remove. Turn the chicken over and then, using the palm of your hand, press down on the chicken to make it flat. There you have it, a "spatchcock chicken"!
Place the garlic in a pestle and mortar with the salt and crush to a paste. Then add the smoked paprika and enough olive oil to make a runny paste.
Give the butternut squash a wash and cut into large chunks, leaving the skin on. Lay in a roasting tin, sprinkle with sea salt and a drizzle of olive oil.
Massage most of the smoked paprika paste over the breast side of the chicken, getting right into the leg joints, then rub a little on the bone side. Place on top of the squash, breast side down. Leave to marinate in the refrigerator for at least four hours or overnight.
Place the roasting tin in the oven. After 30 minutes turn the chicken over so the breast side is up, and baste with the juices. Lower the oven to 160C/gas mark 3 and cook for a further 1 hours, basting every 30 minutes. Remove the chicken from the roasting tin, cover with foil and leave to rest for 10 minutes.
Add the drained beans and tomatoes to the roasting tin and warm through while the chicken rests. Once warm, gently smash the beans with a potato masher or fork, keeping them fairly chunky. Season with sea salt and pepper, toss with the basil and pile on to a large plate. Top with the squash.
Cut the chicken in half or into quarters, depending on how hungry you and your guests are, and serve drizzled with those yummy smoky paprika chicken juices.
Taken from 'Full of Flavour' by Maria Elia (Kyle Books, £19.99. Photograph by Jonathan Gregson
Register for free to continue reading
Registration is a free and easy way to support our truly independent journalism
By registering, you will also enjoy limited access to Premium articles, exclusive newsletters, commenting, and virtual events with our leading journalists
Already have an account? sign in
Join our new commenting forum
Join thought-provoking conversations, follow other Independent readers and see their replies