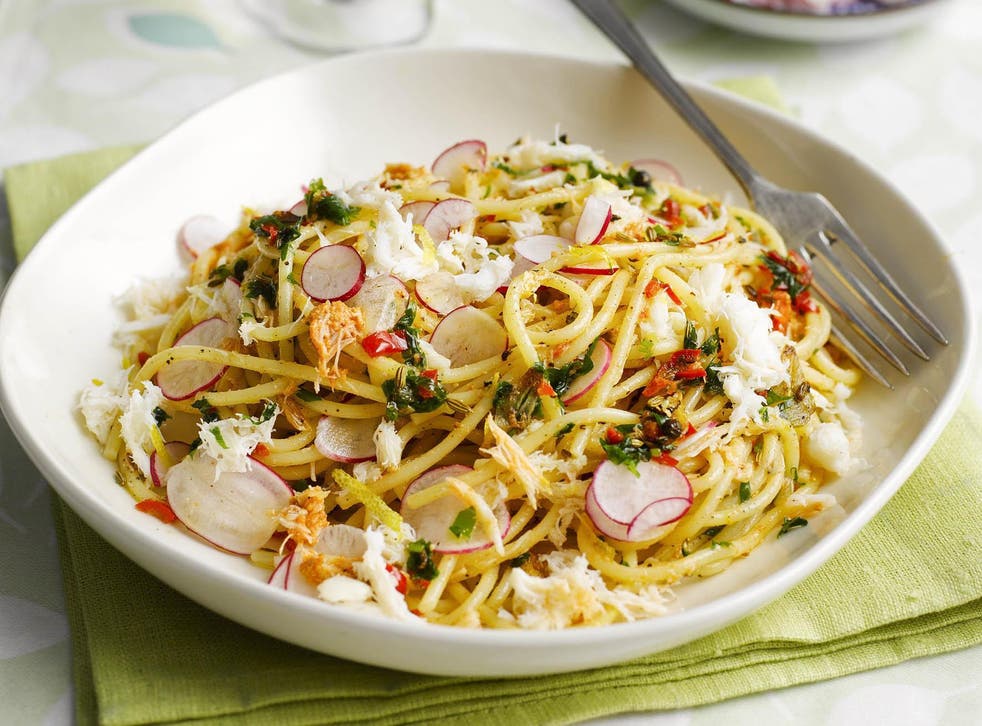 How to make spaghetti with crab, lemon, chilli, parsley and radish shavings
Citrus brings out the briney crabmeat and brightens the flavour of the pasta 
Spaghetti with crab, lemon, chilli, parsley and radish shavings
This is a really simple and quick dish to make but looks and tastes beautifully fresh, and that delicate picante bite from the chilli and radish gives it a nice edge! Reduce the amount of chilli and it works really well for the whole family. Who doesn't love spaghetti?
Prep: 5 minutes
Cook: 15 to 20 minutes
Serves 4
500g dried spaghetti
5 tbsp extra virgin olive oil
4 garlic cloves, sliced
1 tsp fennel seeds
1 large red chilli, deseeded and finely chopped
150g white crabmeat
50g brown crabmeat
2 lemons, zested and juiced
1 large bunch of parsley, shredded
Sea salt and black pepper
50g French breakfast radishes very thinly sliced
Bring a large pan of salted water to the boil. Cook the spaghetti according to the packet's instructions.
While you are waiting for the spaghetti to cook, in a large frying pan, heat the olive oil, add the garlic, fennel seeds and cook over a medium heat until the garlic starts to turn golden brown.
Remove from the heat and add the chilli, crab, lemon zest, juice and parsley.
Once the pasta is cooked drain thoroughly and then add to the pan with the crab sauce, season with sea salt and plenty of black pepper, mixing well. Divide between 4 warm bowls, sprinkle over the radishes and serve at once.
Recipe from loveradish.co.uk
Join our new commenting forum
Join thought-provoking conversations, follow other Independent readers and see their replies