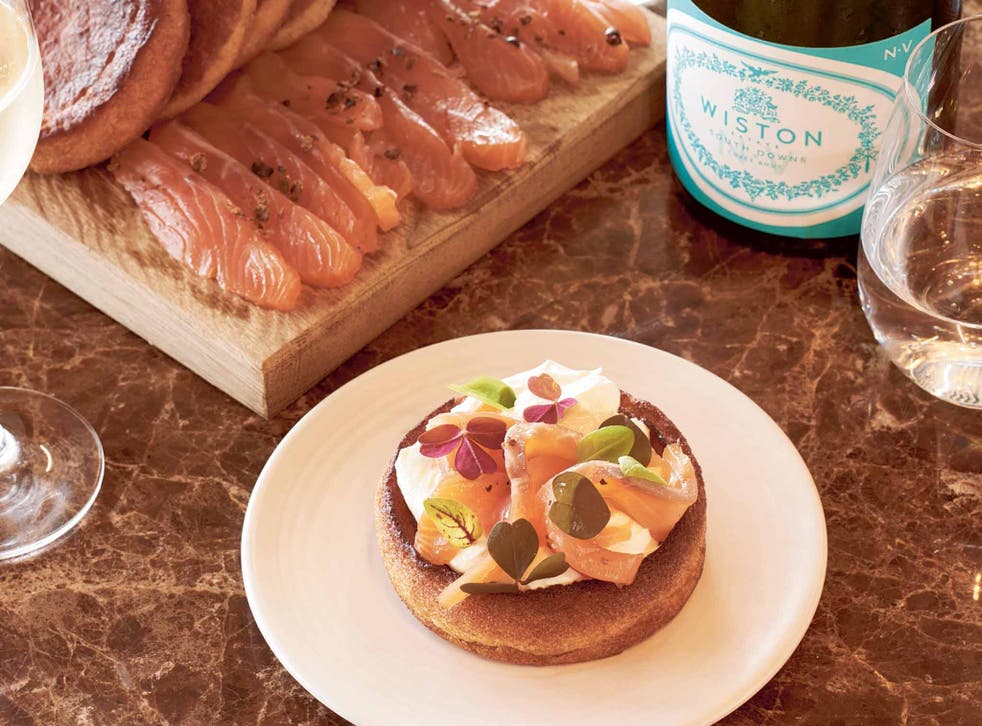 Stevie Parle's Christmas Eve recipes: Miso sticky toffee pudding; quick fish stew; drop scones
​The perfect set-up for the big day? A light yet rich fish dinner, says Stevie Parle. (Oh, and a sticky toffee pudding, to get you in the mood…)
Christmas eve is my favourite meal of the year. Don't get me wrong, I like Christmas dinner, but it is restrictive for a cook: it's sort of boring and nobody wants to eat anything new. But Christmas Eve is another matter; you can cook whatever you like.
Though the temptation is to do another roast, I think it's nice to cook a bit of fish, and a fish stew has the benefit of being both light and rich, hearty but elegant too, and almost impossible to mess up. You can put what you like in a fish stew, depending on what's looking good and what your budget is; you can make a simple one with just fresh cod and mussels, or a posh one with lobster, langoustines, razor clams and turbot.
We often have smoked salmon kicking around at Christmas, and it makes a great starter with the small drop scones I've made here with rye and spelt. A little ground juniper adds a lovely perfume, while crème fraîche is, of course, a winner, making a lovely simple starter.
While you might keep the starter and main on the light side, no one really wants a light dessert, even on Christmas Eve, so this sweet yet savoury and slightly salty sticky toffee pudding is a real hit. Miso caramel is going to be the new salted caramel. You heard it here first.
This is a simple meal that can seem humble or extravagant; for the latter, add some oysters with lemon and have with the drop scones, or have caviar on the smoked salmon and lobster in your stew. Nothing can be done to embellish the pudding, except, of course, ice cream; ice cream makes everything better.
Stevie Parle is chef/owner of Dock Kitchen, Rotorino and Craft London (stevieparle.com, @stevieparle)
Warm einkorn drop scones with smoked salmon and crème fraîche
I serve pancakes with duck parfait and pickled damsons at my new place, Craft London; people are going a bit crazy for them. Here they come with smoked salmon, but a pâté or dab of caviar wouldn't go amiss. Open a few oysters and add some other cured fish for a bigger spread. Einkorn is an old wheat variety with more flavour than standard bleached white. Most supermarkets sell Doves Farm einkorn; use another ancient grain flour, such as spelt, if you don't have any.
Preparation: 10 mins
Cooking: 15 mins
Serves 6
For the pancakes
100g einkorn flour
100g plain flour
2 tsp bicarbonate of soda
1 tsp salt
100g melted butter
2 tbsp malted barley or honey
3 eggs
300ml buttermilk
To serve
150ml crème fraîche
200g smoked salmon
1 tbsp juniper berries, crushed with a pestle and mortar
For the drop scones, put all the dry ingredients in a bowl and whisk to break up any lumps (I'm over sieving stuff). Add the wet ingredients and whisk to a thick batter. Spoon 2 tbsp-sized discs on to a heavy, lightly buttered, pre-warmed frying pan to make small thick pancakes, turning them when the top seems a little dry and bubbly; they take about 5 minutes all together. Serve topped with a smooch of crème fraîche, a slice of smoked salmon and a sprinkle of juniper. k
Quick fish stew
The trick to this dish is having everything ready in little bowls by the stove so you can move fast once you're going. Get your fishmonger to cut the fish up for you. Add langoustines, lobster or crab if you're feeling flash.
Preparation: 10 mins
Cooking: 10 mins
Serves 6
4 tbsp olive oil
4 garlic cloves, sliced
2 tins tomatoes, rinsed of the thick red stuff they put on them
½ bottle good but cheap dry white wine
2 tsp paprika
300g monkfish in 6 pieces
300g cod in 6 pieces
300g sea bass in 6 pieces
2 tins chickpeas, well washed
200g clams
200g mussels
½ bunch parsley
Olive oil, to serve
Have a look at all the fish and make sure it's dry and clean. Wash the clams and mussels well under running water for a few minutes, discarding any that stay open once they're under the tap – they'll be dead and may be a bit poisonous.
Heat a wide, heavy saucepan and add the oil. Fry the garlic, then, just as it turns a little brown, add the tomatoes, followed by the white wine and paprika. Cook for about two minutes over a high heat then add the monkfish, cod and sea bass and the chickpeas, season with salt and pepper then cook for 2 minutes over a medium heat. Add the shellfish, and leave to bubble away until the shells are all open. Discard any that are not. Add the chopped parsley and another glug of olive oil. Serve straight away with a loaf of good bread and maybe a green salad.
Miso sticky toffee pudding
The original of this recipe, from Queen Delia, was one of the first things I ever cooked on my own. I must have been about eight.
Preparation: 15 mins
Cooking: 50 mins
Serves 6-8
180g stoned dates, chopped
50ml strong espresso
Seeds vanilla pod
1 level tsp bicarbonate of soda
75g butter
150g caster sugar
2 large eggs, beaten
175g self-raising flour
For the sauce
25g hazelnuts
180g soft brown sugar
100g butter
6 tbsp double cream
2 tbsp miso
To serve
Pouring cream
Preheat the oven to 180C. Grease a 30cm square tin or 8 dariole moulds/ramekins.
Soak the dates in 150ml of boiling water. Add the coffee, vanilla and bicarb. Set aside.
Cream the butter and sugar together in a large mixing bowl, ideally with an electric mixer (or with a lot of effort – the fluffier you get this mixture, the lighter your cake will be). Add the eggs a little at a time. Fold in the flour then the date mixture, including the water. Don't worry that it's very liquid at this point – it's supposed to be. Pour into the tin or ramekins. Bake until a skewer comes out clean – this should take 25 minutes (for the ramekins) to 40 minutes (for the tin).
Preheat your grill. To make the sauce, heat all the ingredients in a pan and give them a little boil to come together. Cut the cake into slices and remove on to another tin or put the individual cakes on another tray and pour over the toffee sauce; grill until bubbly and starting to get crunchy. Don't worry if you get a few black bits, they're delicious. Serve warm with cream.
Register for free to continue reading
Registration is a free and easy way to support our truly independent journalism
By registering, you will also enjoy limited access to Premium articles, exclusive newsletters, commenting, and virtual events with our leading journalists
Already have an account? sign in
Register for free to continue reading
Registration is a free and easy way to support our truly independent journalism
By registering, you will also enjoy limited access to Premium articles, exclusive newsletters, commenting, and virtual events with our leading journalists
Already have an account? sign in
Join our new commenting forum
Join thought-provoking conversations, follow other Independent readers and see their replies