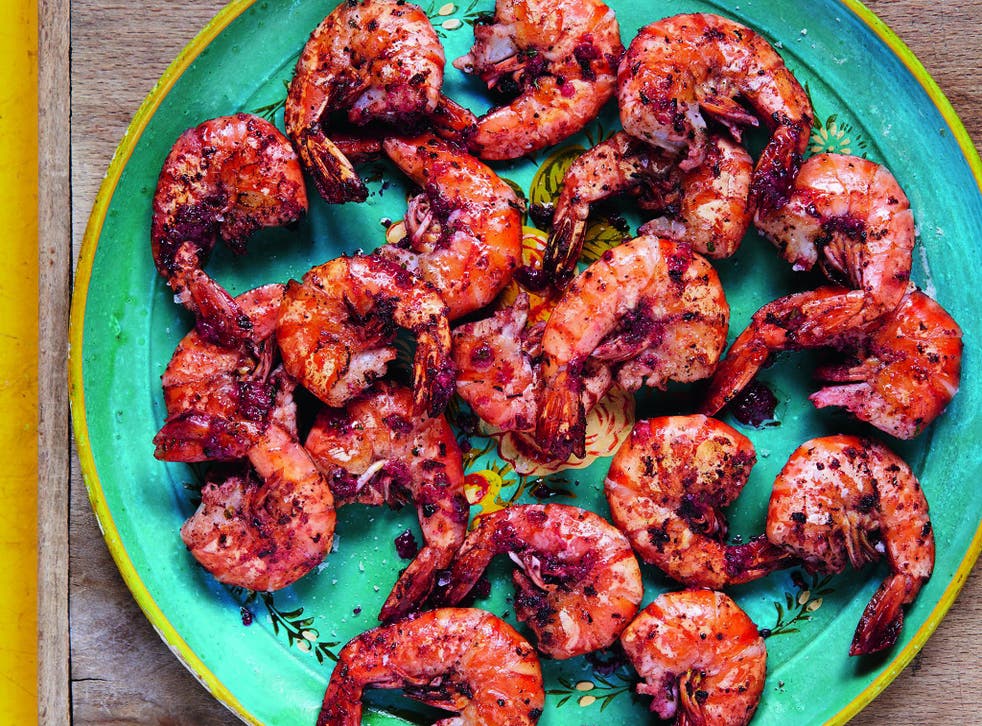 Hibiscus cookbook recipes: From okra and mango salad to hibiscus and sumac prawns
By infusing Nigerian dishes with British food and adding in modern twists, Lope Ariyo hopes to bring West African food into the mainstream
Hibiscus and sumac prawns
My friend, Tokunbo, makes the best suya prawns you could ever imagine, but not wanting to include too many suya recipes, I used hibiscus and sumac for my version. Sumac is used more in North Africa than West Africa but the flavour of it pairs so well with hibiscus as they both have zesty undertones.
Prep time: 5 mins
Cooking time: 10 mins
Serves 4
2 tbsp coconut oil, melted, plus extra for frying
2 tbsp freshly squeezed lemon juice
1 tsp crushed chilli flakes 1 tsp onion granules
1 tsp ground ginger
1 tsp ground coriander
1 tbsp fine-cut dried hibiscus petals
1 tbsp sumac
1 tsp dried tarragon
1 shallot, finely sliced 500g raw king prawns salt and black pepper
In a small bowl, mix the melted coconut oil, lemon juice, chilli flakes, onion granules, ginger, coriander, hibiscus, sumac and tarragon to form a marinade for the prawns. Add salt and pepper to taste, then coat the prawns evenly with the hibiscus and sumac mix.
Melt the extra coconut oil in a small frying pan over a medium heat and add the shallot. Fry for roughly 3 minutes until the shallot starts to soften. Shake any excess marinade from the prawns before adding to the pan. Cook for roughly 4 minutes, stirring constantly, until cooked through. Plate the prawns and serve immediately.
Okra and mango salad
At my boarding school in Nigeria, at the weekend we would go to the local swimming pool or track for sports before an afternoon siesta and a serving of fresh papaya or mango picked from the trees on campus. We never ate them in a fancy way – we weren't given knives to cut the fruit into cubes. Instead, we would cup them in our hands, peel the skins back with our teeth and bite into the flesh. This salad reminds me of those times and is filled with some of my favourite leaves and vegetables to be found in Nigeria, one of which is atama. Here, it's easiest to find in an African or Caribbean shop or online. However, with its distinctly liquorice flavour, tarragon makes the perfect substitute.
Prep time: 10 mins
Cooking time: 5 mins
Serves 4
2 tsp coconut oil 350g okra, chopped
1 small red onion, finely chopped
1 tbsp atama or tarragon, chopped
2 small mangoes or papayas
For the dressing
6 tbsp coconut nectar or honey
2 tbsp freshly squeezed lemon juice
2 tsp crushed chilli flakes
First, make the dressing by whisking together the coconut nectar or honey, lemon juice and chilli flakes in a small bowl.
In a frying pan, heat the coconut oil over a medium–high heat until it melts and fry the okra for roughly 3 minutes. The okra should still have a slight crunch to it – if heated for too long, it will become soggy. Add the dressing, making sure the okra is evenly coated before setting aside to cool.
Put the onion and atama or tarragon leaves in a large bowl and toss thoroughly. If using mango, remove the skin using a y-peeler, then cut the cheeks off,
making sure to avoid the stone. Trim any extra flesh off the stone, then cut all the flesh into slices. If using papaya, cut it in half lengthways and deseed, then scoop out the flesh in chunks.
When you're ready to serve, evenly distribute the onion mix between four plates and top with the fruit and okra. Drizzle the juices from frying the okra on top of the salad and dig in.
Hibiscus drizzle puff puff
Prep time: 25 mins, plus proving time
Cooking time: 45 mins
Makes 12-16
480g plain flour, plus extra for dusting
​150g golden caster sugar
3 tbsp fine-cut dried hibiscus flowers
1 tsp ground nutmeg
2 tsp fast-action dried yeast 340ml rice milk or almond milk, warmed
1 tsp vanilla extract groundnut oil, for frying moringa tea or any herbal green tea, to serve (optional)
Sift the flour into a large bowl and add 100g of the sugar, 1 tablespoon of the hibiscus, the nutmeg and the yeast. Create a well in the centre of the bowl and add the rice milk and vanilla extract. Using a hand mixer, with a dough-hook attachment, mix the batter until well incorporated – the dough should look almost like a thick pancake batter. Let the dough sit, covered with a tea towel and in a warm place, for about 30 minutes, or until slightly thickened.
Line a colander with kitchen paper, then fill a medium saucepan with oil, two- thirds of the way full, and place over a medium–high heat. To test that the oil is hot enough, drop a teaspoonful of the batter into the oil and it should sizzle and rise to the top almost straight away.
Dust your hands with flour, scoop an ice-cream scoopful of the batter and roll it into a ball between your palms. Repeat to make 4 balls, then carefully drop them into the hot oil. The balls should sink then rise straight to the top. It's important to not overcrowd the pan, so only fry 4 balls at a time. After roughly 3 minutes, once the balls of puff puff are floating at the top of the oil and you notice the sides under the oil start to brown up, flip the balls over and cook for a further 3 minutes. While they are cooking, continue scooping and rolling the next batch.
Use a slotted spoon to take the balls of puff puff out of the oil and transfer to the lined colander. Let drain and cool down for a few minutes. Continue until all the dough is used up. While the puff puff cools, put 1 tablespoon of the hibiscus petals, the remaining caster sugar and 100ml water in a small saucepan. Gently heat over a medium– low heat until the sugar dissolves and the water turns purple.
Cook for about 15 minutes until the syrup thickens, then leave to cool. Pierce a few small holes into the puff puff and then drizzle over the sweetened hibiscus syrup. Let soak for 5 minutes before sprinkling on the remaining tablespoon of hibiscus petals. Serve warm with moringa tea, if you like.
NOTES: To keep the puff puff warm before serving, preheat the oven to a very low heat before you start frying. Once they've been blotted on kitchen paper, put them on a baking tray and in the oven. The puff puff may end up with tiny 'legs', depending on how fast you work, but it's nothing to worry about. I also think it adds a bit of character.
Hibiscus by Lope Ariyo (HarperCollins) £18.99, is out now
Join our new commenting forum
Join thought-provoking conversations, follow other Independent readers and see their replies