Tom Kerridge's recipes: From cajun salmon to miso greens
Eating healthily does not mean bland food, small portions and constant hunger, thanks to Tom Kerridge's new book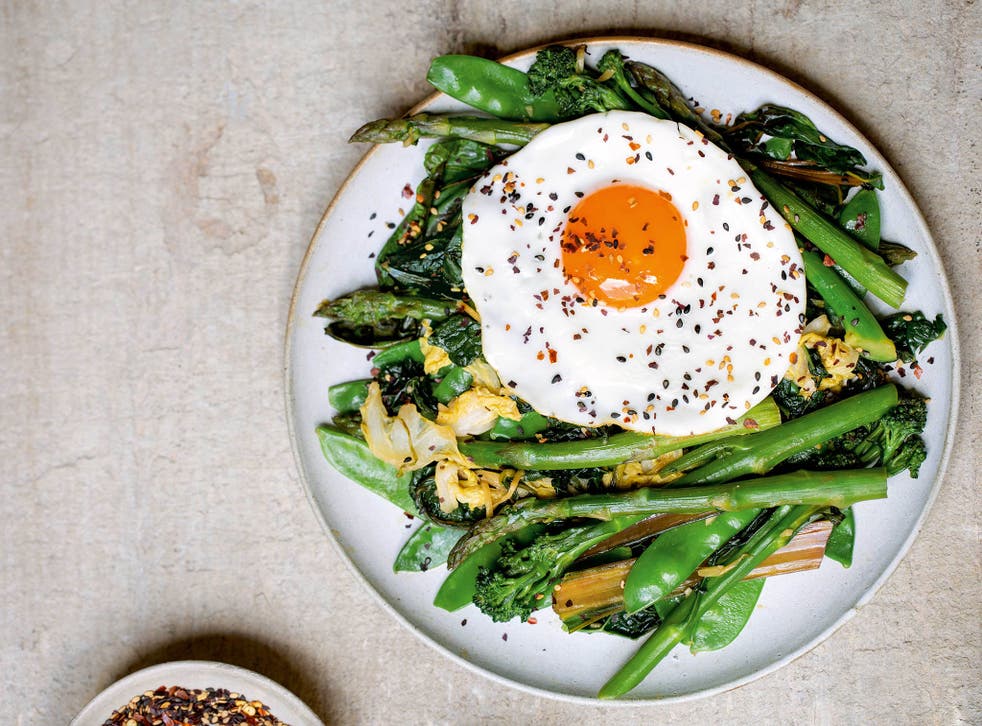 Miso stir-fried greens with fried egg
Super-delicious and quick to make, stir-fried greens are a perfect midweek meal when you want to feel like you've really done yourself some good. There are so many flavours going on here, it's hard to believe this dish is as healthy as it is.
Serves 2
3 tbsp white miso paste
2 tbsp soy sauce
1 tbsp mirin​
3-4 tbsp water
½ tsp vegetable oil
½ tsp sesame oil
3 garlic cloves, finely chopped
2.5cm piece fresh ginger, julienned
125g tenderstem broccoli
125g asparagus
125g mangetout
175g cavolo nero, ribs removed and roughly chopped (100g prepared weight)
100g Chinese leaf cabbage, thickly shredded
100g rainbow chard, roughly chopped into thirds
1-cal sunflower oil spray
2 large free-range eggs
1 tsp furikake (Japanese seasoning), to finish
In a small bowl, mix the miso paste, soy sauce and mirin with 2 tbsp water until smooth. Place a large non-stick wok over a high heat. When it is almost smoking, add the oils, garlic and ginger and stir-fry for 1-2 minutes, until the garlic is golden – don't let it burn.
Add the broccoli and asparagus with 1 tbsp water. Stir-fry for 1 minute, then toss in the mangetout and stir-fry for a further 1 minute. Add a splash more water if the pan looks like it's drying out.
Add the cavolo nero, cabbage and miso mixture and stir-fry for 1–2 minutes or until the cabbage is cooked and wilted. Add the chard and cook for another minute, then remove the wok from the heat.
Place a medium non-stick frying pan over a high heat. Add a few sprays of oil, crack the eggs into the pan and cook for 2-3 minutes.
Divide the greens between warmed plates and top each portion with a fried egg. Sprinkle with furikake to serve.
BONUS: Filled to the brim with vitamins, antioxidants and minerals, greens are particularly rich in nutrients that help reduce muscle aches after exercising.
Per serving:
276 cals
21g protein
11g fat
20g carbohydrate​
9g fibre
Cajun salmon
Using punchy flavours like Cajun seasoning helps to keep your cooking exciting, taking lower-calorie mealtimes to the next level.
Serves 4
4 skinless salmon fillets (120g each)​
250g (1 small head) broccoli
1-cal sunflower oil spray
Sea salt and freshly ground black pepper
For the Cajun seasoning
1 heaped tsp ground cumin
1 tsp garlic granules
½ tsp hot smoked paprika
½ tsp cayenne pepper
½ tsp dried oregano
½ tsp dried thyme
For the dirty rice
1 tsp olive oil
1 onion, finely diced
2 garlic cloves, sliced
1 red pepper, cored, deseeded and finely diced
1 tbsp tomato purée
1 tsp dried oregano
½ tsp dried thyme
200ml fresh chicken stock
400g tin black eye beans
500g cooked brown and wild rice (freshly cooked and drained or 2 pouches)
4 spring onions, finely sliced
To serve
1 lime, cut into wedges
Preheat the oven to 200°C/Fan 180°C/Gas 6.
For the Cajun seasoning, mix the ingredients together in a small bowl with 1 tsp flaky sea salt. Pat each salmon fillet dry with kitchen paper and then sprinkle with the seasoning on all sides. Leave to marinate while you prepare the broccoli and dirty rice.
Line a baking tray with a silicone mat (or spray with oil). Cut the broccoli into bite-sized florets, season with salt and pepper and spread out on the tray. Cook on a high shelf in the oven for 12 minutes or until the broccoli is lightly charred and cooked through.
Finding food on the front line of climate change

Show all 17
Meanwhile, for the dirty rice, heat the oil in a large sauté pan over a medium heat. When hot, add the onion and cook for 4-5 minutes until softened. Add the garlic and cook for 2 minutes, then add the red pepper and tomato purée and stir well. Add the oregano, thyme and stock and bring to a simmer.
Drain the black eye beans and add to the pan with the rice. Cook for another 5 minutes. Season well with salt and pepper and stir through the spring onions.
Heat a medium non-stick frying pan over a medium heat. Spray the salmon fillets a few times with oil then place in the pan. Cook for 2–3 minutes on each side or until lightly charred and cooked through.
Spoon the rice into 4 shallow bowls or containers and add the broccoli and salmon. Serve at once, with lime wedges. Or cool then seal and keep in the fridge. Eat within 2 days, either cold or reheated.
Per serving:
41g protein 
17g fat
552 cals 
55g carbs 
9g fibre
Chocolate chia puddings
Chia seeds are a great way of thickening and enriching a dish. Dark chocolate adds a sophisticated note, while shop-bought custard ensures this deliciously rich and creamy pudding is quick and easy to make.
Serves 4
500g light custard 
100ml whole milk
1 vanilla pod, split and seeds scraped
30g good-quality cocoa powder
50g dark chocolate (70% cocoa solids), roughly chopped
1 tbsp granulated sweetener 
4 tbsp chia seeds
180g raspberries
Pour the custard and milk into a medium saucepan and add the vanilla pod and seeds, cocoa powder, dark chocolate and sweetener.
Place over a medium-low heat and heat slowly, whisking gently until the chocolate is completely melted – this will only take a couple of minutes. Remove from the heat and discard the vanilla pod.
Add the chia seeds to the chocolate mixture and whisk again until well combined.
Divide half the raspberries between 4 small jars or glasses (about 280ml capacity). Spoon the chia mixture into the glasses and place in the fridge for 2 hours to chill.
Pile the remaining raspberries on top of the puddings to serve.
Bonus: Chia seeds are full of healthy omega-3 fatty acids, protein and fibre – all of which help stave off hunger. And dark chocolate contains antioxidants which help you to recover after a workout.
Per serving:
301 cals
11g protein
33g carbs
13g fat
8g fibre
Lose Weight and Get Fit by Tom Kerridge (£22, Bloomsbury) is out now. Photography © Cristian Barnett
Register for free to continue reading
Registration is a free and easy way to support our truly independent journalism
By registering, you will also enjoy limited access to Premium articles, exclusive newsletters, commenting, and virtual events with our leading journalists
Already have an account? sign in
Register for free to continue reading
Registration is a free and easy way to support our truly independent journalism
By registering, you will also enjoy limited access to Premium articles, exclusive newsletters, commenting, and virtual events with our leading journalists
Already have an account? sign in
Join our new commenting forum
Join thought-provoking conversations, follow other Independent readers and see their replies