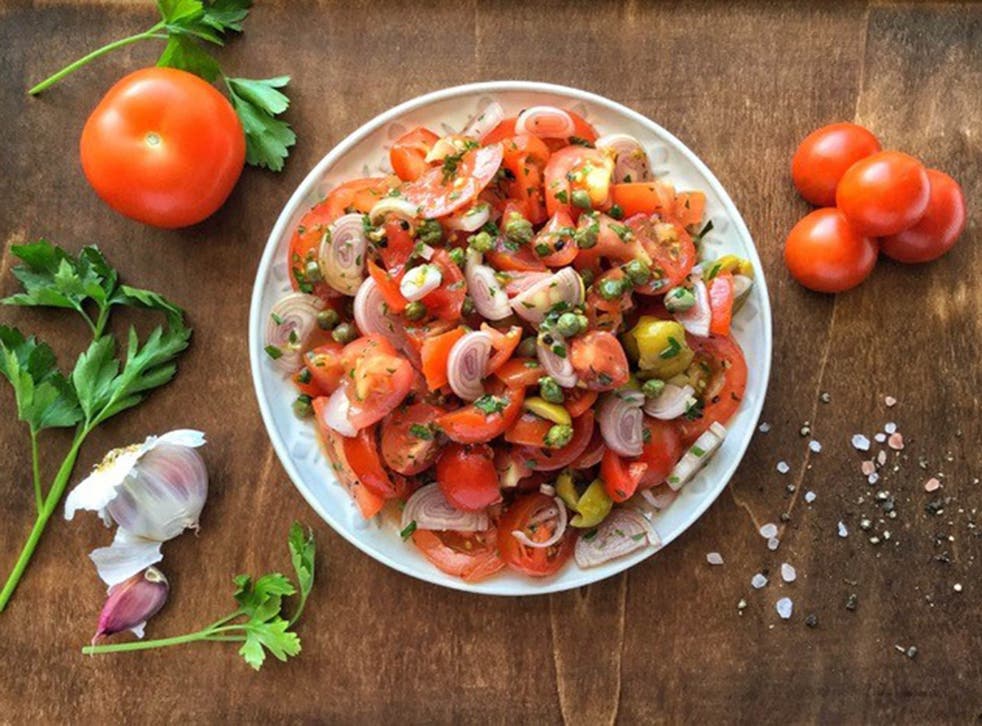 How to make tomato, caper and olive salad
Summer may officially be over, but you can bring a little sunshine back onto your plates with this beautifully bright tomato salad, inspired by the flavours of Spain.
This little salad boasts tons of freshness and a delicious explosion of tastes, thanks to the mix of tomatoes, capers and olives – and the punchy Spanish-style dressing.
Buy the best tomatoes you can, it will really make a difference to the overall flavour, and chop or slice them up however you want.
If your mix includes cherry tomatoes, you could leave some of the smaller ones whole for a different texture to the salad. To keep up the Mediterranean vibe, use Spanish olives if you can get them, but any olives will do.
This amount makes a lot of dressing (on purpose, it's so good!), so I dress the salad with half and serve the other half in a little jug on the table. Any remaining dressing can be covered and refrigerated and should keep well for three to five days.
Tomato, caper and olive salad with Spanish-style dressing
Serves 4
For the salad
1kg mixed tomatoes, your choice of varieties
1/2 teaspoon salt
3 banana shallots, very finely diced
50g capers
50g green Spanish olives, pitted and halved
Handful of flat-leaf parsley, divided, finely chopped
For the dressing
90ml extra virgin olive oil
60ml sherry vinegar
2 fat garlic cloves, minced
Freshly ground black pepper
Shake up the dressing ingredients in a sealable jar and refrigerate until needed.
Chop and slice up the tomatoes. Add the salt, then mix and leave to drain in a fine mesh sieve placed over a bowl for five to 10 minutes.
When drained, tip the tomatoes into a larger bowl, do not discard the juices. Add the shallots, capers, green olives and parsley and mix well.
Pour the reserved tomato juices into the dressing and give a little shake. Taste and adjust the seasoning if necessary. Pour half onto the salad and mix well to ensure everything is combined. Pour the rest into a small jug put on the table with the salad for your guests to add more if they like – and they will!
Serve with plenty of crusty bread to mop up the dressing.
Follow Beverley Hicks @littlechelseakitchen
Register for free to continue reading
Registration is a free and easy way to support our truly independent journalism
By registering, you will also enjoy limited access to Premium articles, exclusive newsletters, commenting, and virtual events with our leading journalists
Already have an account? sign in
Join our new commenting forum
Join thought-provoking conversations, follow other Independent readers and see their replies