Gaz Oakley's Vegan Christmas cookbook: from stuffed 'no turkey' to tofu benedict
Just because you're not eating anything to do with animals, doesn't mean you need to miss out on the same sort of dishes everyone else has. The king of vegan alternatives has the answer to almost everything here
Thursday 06 December 2018 13:37 Comments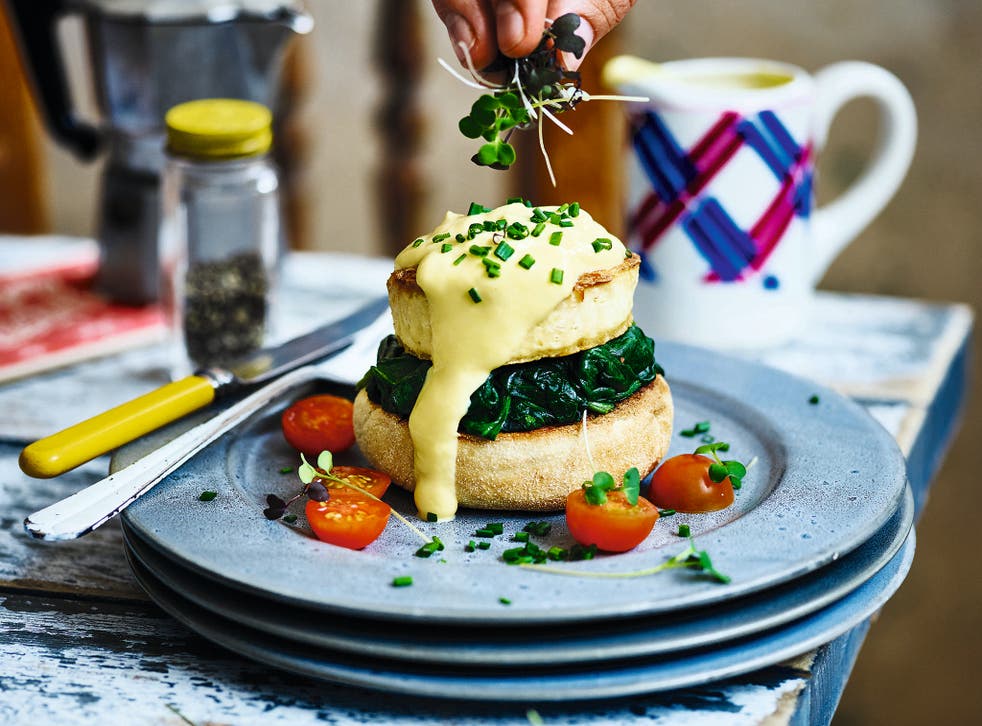 Tofu benedict
Wow your guests with this beautiful breakfast. The "hollandaise" is velvety and smooth, the perfect match for smoky tofu.
Serves 2
Cooks in: 35 minutes
Difficulty: 5/10
225g block firm smoked tofu, pressed to remove water
2tbsp rapeseed oil, for frying
Pinch of black salt (optional for an "eggy" flavour, or use sea salt)
Pinch of ground pepper
For the "hollandaise" sauce
120ml soy milk
3tbsp white wine vinegar
½tsp English mustard
Pinch of sea salt and pepper
120ml rapeseed oil
For the sauteed spinach
4 big handfuls of baby spinach
Pinch of sea salt and pepper
To serve
2 breakfast muffins or bagels
Small bunch of fresh chives, finely chopped
Pinch of cress
Handful of cherry tomatoes, halved
First up, make the "hollandaise" sauce. Pour the soy milk, vinegar, mustard and seasoning into a measuring jug and blend using an electric stick blender, until mixed well. Keep the blender running and slowly trickle in the oil until the sauce starts to thicken up. Once you've added all the oil it should be thick and creamy but still pourable. If your sauce is too thick stir in a few additional tablespoons of soy milk. Taste to check the seasoning.
Cover the sauce with cling film (plastic wrap) and refrigerate until you're ready to serve.
Cut the tofu into rounds using an 8cm cutter. Pat dry with kitchen paper then preheat a non-stick frying pan over a medium heat. Add the oil to the pan. Pan fry the tofu until golden on each side, about 3-4 minutes. Season with the black salt, if using, and pepper.
Remove the tofu from the pan and set aside. Turn the heat up high and add a touch more oil. When it starts to smoke add all the spinach (don't worry, it will wilt down quickly). Cook the spinach for 1 minute, stirring quickly. Season with a pinch of salt and pepper, then remove from the heat. Spinach contains lots of water, so I always press it with a clean kitchen towel to soak up any excess liquid.
Toast the muffins or bagels, if you like, then add the tofu slices and sautéed spinach. Scatter around the cherry tomato halves. Top with a dollop of the "hollandaise" sauce, sprinkle over some chopped chives, top with a pinch of cress and serve immediately.
Stuffed "no-turkey" wrapped in Gaz's streaky "bacon"
This is technical to make but so rewarding when you slice into it. I believe this recipe is powerful enough to help reduce the amount of people having meat on their dinner tables at Christmas – the flavours are incredible.
Serves 8
Cooks in: 120 minutes
Difficulty: 7/10
For the turkey
240ml soy or oat milk​
10g dried mushrooms
Olive oil, for frying
1 onion, finely chopped, sautéed until soft
3 garlic cloves, finely chopped, sautéed until soft
120ml white wine
50g tinned chickpeas, drained and rinsed
110g firm tofu, patted dry
3tbsp white miso paste
2tsp maple syrup
1tbsp dried tarragon
1tbsp dried thyme
2tsp dried rosemary
1tsp dried sage
1tsp cayenne pepper
2tsp sea salt
1tbsp cracked black pepper
300g vital wheat gluten
50g chickpea flour
2tbsp nutritional yeast
For the broth
960ml vegetable stock
480ml white wine
2 sprigs of fresh rosemary
2 sprigs of fresh thyme
1 onion, quartered
Handful of dried mushrooms
1 bay leaf
3 garlic cloves, peeled
Pinch of sea salt and pepper
For the rub
4tbsp mixed dried herbs
1tsp cayenne pepper
½tsp onion salt
For the stuffing
1 quantity sweet potato and chestnut stuffing (see below), skipping the final step
For the "bacon" wrapping
3tbsp cranberry and orange sauce (see below)
8 slices of streaky "bacon" (see below)
3tbsp maple syrup
First up, you will need to make the seitan "turkey": combine all the wet ingredients in a blender and blend until smooth. Mix the vital wheat gluten, chickpea flour and nutritional yeast together in a large mixing bowl or a stand mixer (with the dough hook attached), then add the wet ingredients and mix until it forms a dough.
Tip the dough onto a clean work surface and knead for at least 10 minutes by hand or do this in your mixer on medium speed. This is the most important part of the recipe – if you don't knead it properly you will be left with horrible spongy seitan. Be very firm.
Once kneaded, the dough should be quite firm and elastic. Use a rolling pin to bash and roll the dough into a rough rectangle about 1.25cm thick. Set the dough aside to rest for 10 minutes. Add the broth ingredients to a large roasting tray, around 40 x 28 x 8cm. Cut a piece of muslin slightly larger than the seitan dough rectangle.
Mix the rub ingredients together in a small bowl, then sprinkle it over the dough. Cover the seitan well in the spice mix as this stops it sticking. Place the dough spice-side down onto the muslin. Spoon the stuffing across the middle of the dough and roll it up around the stuffing, moulding the edges together. Wrap the dough in the muslin as tightly as possible. Twist the ends, then tie them tightly with cook's string. Make sure your dough is a nice cylindrical shape.
Place the "no-turkey" wrap into the roasting tray with the broth ingredients then cover the tray with foil. Place the tray into the oven for 2 hours. Turn the seitan over halfway through cooking and add additional stock if needed. Once cooked, use a slotted spoon to lift the "turkey" out of the broth and, when cool enough to handle, carefully remove the muslin. The "turkey" can now be wrapped in cling film and placed into the fridge until you're ready to serve it.
Reserve the broth liquid as it makes a great gravy. An hour before you want to serve, preheat your oven to 180C. I like to wrap the "turkey" in my "bacon" but you can bake it without if you prefer. Place the "turkey" into a baking tray, spoon over a couple of tablespoons of cranberry sauce to help the "bacon" stick, then neatly lay over the rashers. Secure it with string, if necessary. Brush with the maple syrup to glaze. Bake for 25 minutes, then slice and serve with all the trimmings.
Sweet potato and chestnut stuffing
Serves: 6
Cooks in: 55 minutes
Difficulty: 2/10
2tbsp rapeseed oil
1 leek, finely chopped
2 garlic cloves, crushed
1tbsp dried sage
2tsp dried rosemary
½tsp ground cinnamon
150g sweet potato, peeled, cubed and steamed
95g dried apricots, finely chopped
45g dried cranberries, finely chopped
50g breadcrumbs (gluten-free if necessary)
100g vacuum-packed chestnuts, chopped
200g canned chickpeas or butterbeans​
Zest of 1 lemon
First, preheat the oven to 180C and then line a medium-sized baking dish with greaseproof paper. Heat the oil in a large, non-stick frying pan over a medium heat. Add the leek, garlic, herbs, cinnamon and cooked sweet potato and sauté until the leek has softened and the potato has browned. Add all the remaining ingredients and toss until well combined.
Turn the heat off and, using an old-fashioned potato masher, lightly mash the mix. Break down any large chunks of sweet potato and the chickpeas/butterbeans. Spoon the mixture into the lined baking dish and press it in to compact the mixture. Place the dish onto a baking tray and slide it into the oven to bake for 35-40 minutes. Once it's cooked, allow the stuffing to cool before taking it out of the dish and peeling off the paper.
Cranberry and orange sauce
Makes 360g
300g fresh cranberries
1tsp grated fresh ginger
1 small cinnamon stick
1 braeburn apple, grated
200g caster sugar
240ml fresh orange juice
To sterilise your jars, place them in a large saucepan filled with cold water, place over a medium heat and bring to a simmer. Simmer for 3 minutes then turn off the heat. Carefully remove the jars from the water when you're ready to fill them. Heat all the ingredients in a heavy-based​ saucepan over a low heat with the lid on. Cook for 15 minutes, stirring often. Remove the jars from the hot water, spoon the sauce into the hot jars and seal. The sauce will keep for 4 weeks in the fridge.
Streaky "bacon"
Makes around: 20 rashers
Cooks in: 180 minutes
Difficulty: 7/10
240ml vegetable stock
120ml apple juice
10g dried mushrooms
2tbsp soy sauce
5tbsp maple syrup
1tbsp miso paste
4tbsp sweet smoked paprika
2tbsp liquid smoke
1 red onion, finely chopped and sautéed​
2 garlic cloves, finely chopped and sautéed
100g tinned chickpeas, drained
1tsp dried sage
½tsp fennel seeds
1tsp sea salt
1tsp black pepper
300g vital wheat gluten
4tbsp chickpea flour
3tbsp nutritional yeast
For the "streak"
80g firm tofu
120ml soy milk (or other non-dairy milk)
100g canned chickpeas, drained
1tsp onion salt
¼tsp garlic powder
1tsp dried tarragon
1tbsp white miso paste
1tsp white pepper
130g vital wheat gluten
2tbsp chickpea flour
1tbsp nutritional yeast
Place all the wet ingredients for the "bacon" into a food processor and blitz together. Combine all the dry ingredients for the "bacon" in a large mixing bowl, add the blitzed wet ingredients and mix together to form a dough, then tip the dough out onto a clean work surface.
Knead well for 12 minutes, either by hand or in an electric stand mixer with a dough hook attachment. It's really important that you knead the dough properly – if you don't your finished "bacon" will be soft and spongy. After 12 minutes of kneading, set the dough aside to rest at room temperature. Blitz together all the wet ingredients for the "streak". Combine all the dry ingredients for the "streak" in a large clean mixing bowl, add the blitzed wet ingredients and mix together to form a dough, then tip it out on to a clean work surface.
Knead by hand, or use a stand mixer, for 4-6 minutes. Roll and bash the "bacon" dough using a rolling pin until it's approximately A4-paper-sized. Do the same with the "streak" dough, then lay the streak dough on top of the "bacon" dough and cut the doughs in half. Place one half on top of the other and roll/ bash the doughs together until you have a rectangle about 4cm​ thick.
Generously sprinkle sea salt over the dough rectangle and set aside. Set a large saucepan of water over a medium heat to simmer. Wrap the dough tightly in greaseproof paper and then in cling film. Make sure it is well sealed, then lower the wrapped dough into the water to simmer for 2 hours, flipping over half way through cooking.
After 2 hours remove the "bacon" from the water and leave until cool enough to handle. Unwrap the "bacon", transfer to a plate and put it in the fridge to cool completely (about 4 hours). Once chilled, slice the "bacon" to the thickness of your choice. You can eat it cold or pan fry, grill or bake it until golden and crisp. It keeps in the fridge for around a week and can also be frozen for up to 3 months.
Tiramisu
I was so pleased when I veganised this Italian classic. It's the perfect festive dessert and even more showstopping when you serve it with a sparkler.
Serves: 6
Cooks in: 60 minutes 
Difficulty: 5/10 
For the sponge
250ml almond milk
1tbsp apple cider vinegar
1tsp vanilla bean paste
50g vegan spread
215g self-raising flour (or gluten-free flour)
230g unrefined caster sugar
Pinch sea salt
For the cream
2 x 400g tins coconut cream
170g vegan cream cheese
1tbsp cacao powder
3tbsp icing sugar
120ml good-quality coffee, brewed over ice
4tbsp rum, or to taste
Toppings
Grated dark chocolate
Coffee beans
Preheat your oven to 180C and line a 5cm deep 20 x 30cm baking tray with non-stick baking paper.
First up, the sponge. Put the almond milk, apple cider vinegar, vanilla paste and vegan spread into a small saucepan over a low heat. Measure the flour, sugar and salt into a large mixing bowl. When the spread has melted, pour the milk mixture into the dry ingredients and fold together. Scrape the batter into your lined baking tray and level out.
Place the tray into the oven to bake for 12-15 minutes, or until golden and springy to the touch, then turn out the sponge onto a wire rack to cool completely. Whisk the coconut cream, cream cheese, cacao powder and icing sugar together in a large mixing bowl until fully incorporated. Add a few tablespoons of coffee and rum, then taste. Adjust the flavours according to how you like it.
Cut 12 discs of sponge to fit into your serving glasses. Pop a sponge disc in the base of each glass, then a spoonful of cream, then another sponge disc. Drizzle in a little more coffee and spoon in another layer of cream. Top each tiramisu with chocolate shavings and a couple coffee beans. Eat straight away or chill in the fridge for up to one day.
'Vegan Christmas' by Gaz Oakley (Quadrille, £15) is out now. Photography © Simon Smith and Peter O'Sullivan
Register for free to continue reading
Registration is a free and easy way to support our truly independent journalism
By registering, you will also enjoy limited access to Premium articles, exclusive newsletters, commenting, and virtual events with our leading journalists
Already have an account? sign in
Join our new commenting forum
Join thought-provoking conversations, follow other Independent readers and see their replies