How to make vegan nasi goren in 40 minutes
Even traditional Asian dishes are not free from the grasps of veganism, here the egg and seafood are omitted for a animal-free version – bon appétit vegans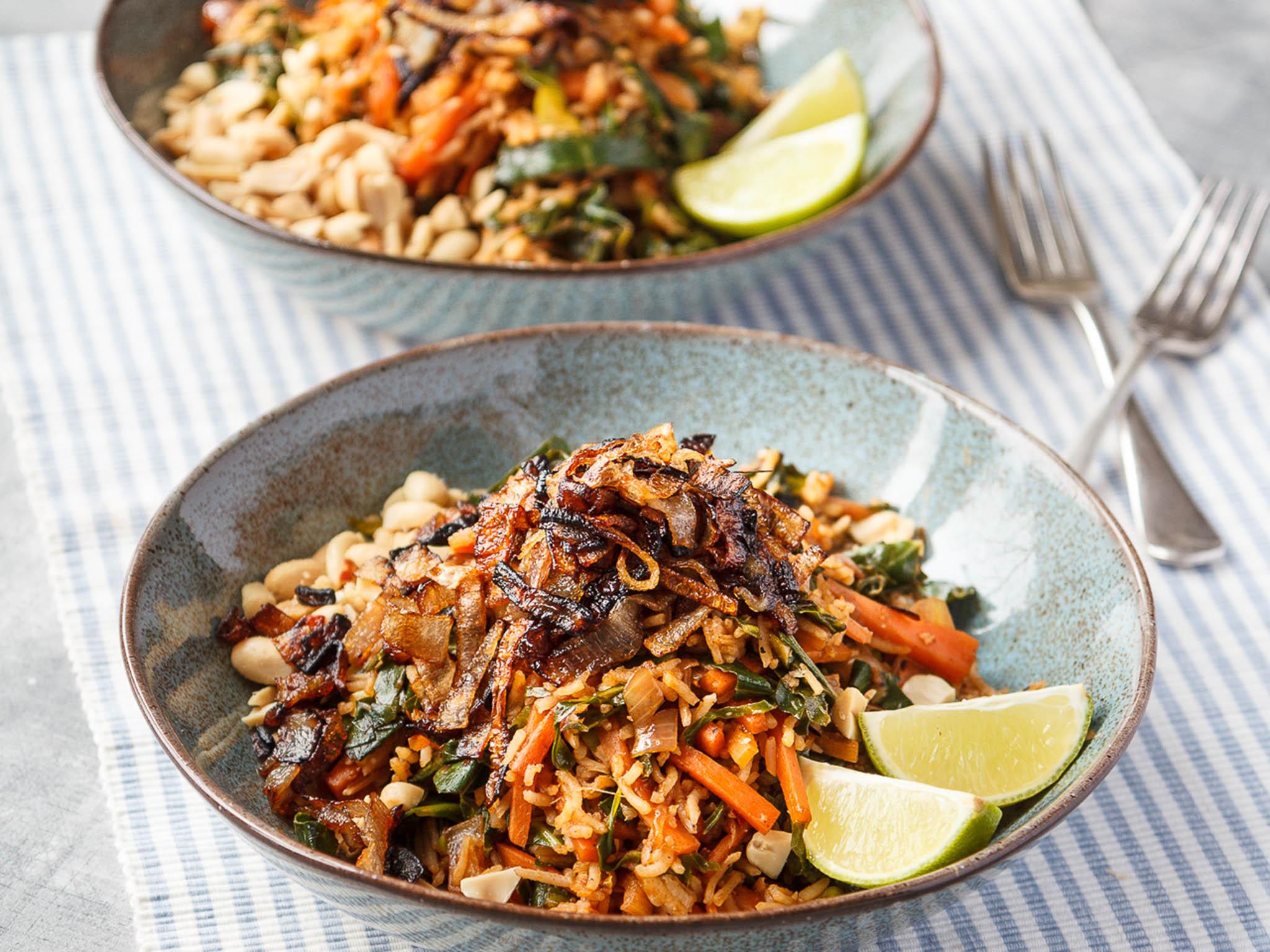 Vegan nasi goreng
Fried rice is the perfect speedy comfort food, great on a Friday night served with a couple of cold beers. Use your favourite chilli sauce here – try it with sriracha or sweet chilli sauce or an authentic Indonesian sambal oelek sauce, if you can find it.
Serves 2
Preparation time: 15mins
Cooking time: 25mins
6 tbsp vegetable oil
6 shallots, finely sliced
2 cloves garlic, sliced
3 shallots, sliced
2 carrots, cut into matchsticks
3cm fresh ginger, grated
250g spring greens, finely shredded
2 tbsp soy sauce
1 tbsp tomato ketchup
juice ½ lime, or more to taste
1-2 tsp chilli sauce, to taste, plus extra to serve
250g cooked basmati rice
To serve
50g peanuts, roughly chopped
Heat the vegetable oil in a wok over a medium high heat and add the shallots. Fry for a good 15 minutes, stirring frequently, until they are deep golden brown, turning the heat down a little if they start to catch at the edges. Scoop from the oil with a slotted spoon and drain on a plate lined with a few sheets of kitchen paper. They will crisp up as they cool.
Drain all but a tablespoon of oil from the wok. Set the wok back over the heat and add the garlic, stir-frying for a minute until lightly golden. Add the shallots, carrots and ginger and fry for a further three minutes until the carrots are just starting to soften. Add the spring greens and keep frying for another three minutes.
Stir through the soy sauce, ketchup, lime juice and chilli sauce, stirring well to mix through.
Tip in the rice, season to taste with a little salt and pepper and stir fry for a final 3 minutes until everything is piping hot.
To serve, spoon the nasi goreng into warmed bowls. Top each with the peanuts and crispy shallots. Serve immediately with extra chilli sauce.
Recipe from ukshallot.com
Join our commenting forum
Join thought-provoking conversations, follow other Independent readers and see their replies