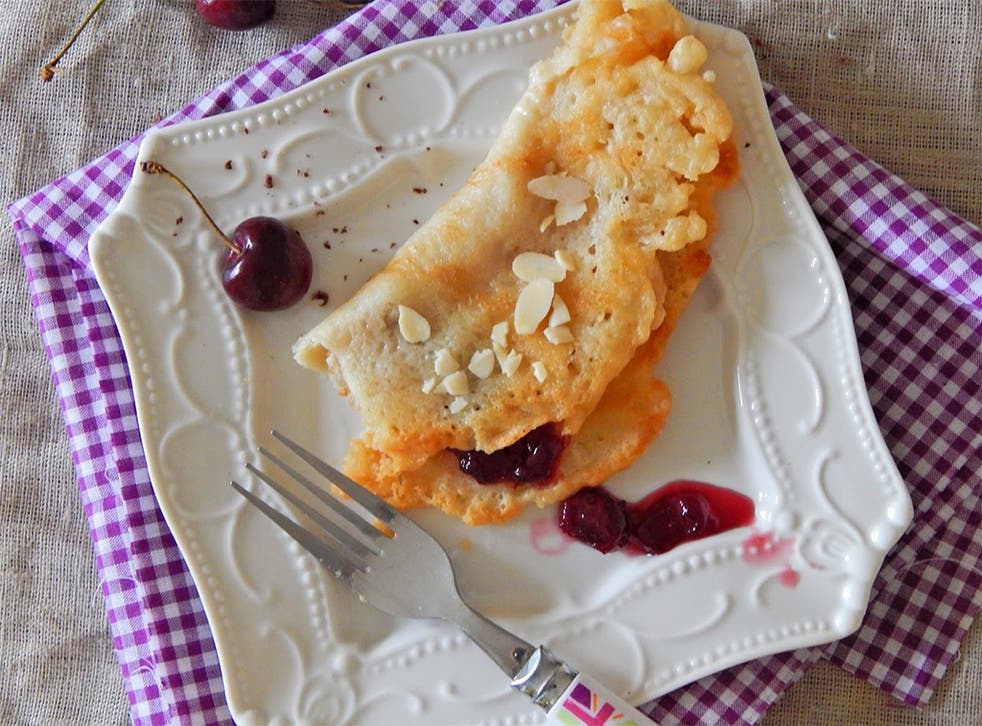 Vegan pancake recipe: cherry, chocolate and almond
Ingredients
For the pancakes:
200g plain flour
1 tsp vanilla extract
400ml almond milk
2 tsp sunflower oil
For the cherry, chocolate and almond compote:
200g cherries, stones removed
4 tbsp maple syrup
100g dark chocolate, grated
1/2 tsp almond extract
1 tbsp flaked almonds
4 tbsp sunflower oil for cooking
Method
1. In a bowl, whisk together the flour, vanilla extract, almond milk and sunflower oil until smooth. Refrigerate for a couple of hours, or overnight.
2. To make the compote, add the cherries and maple syrup to a pan and cook over a medium heat, stirring frequently for 4-5 minutes. Stir through the grated dark chocolate, almond extract and flaked almonds (reserving a few flaked almonds for sprinkling), and cook for a further minute. Set aside to cool slightly.
3. To make the pancakes, heat the sunflower oil in a frying/pancake pan. To test if the oil is hot enough, drop a teaspoon sized amount of the pancake batter into the pan, if it sizzles and starts to go golden, it's ready. For each pancake, add in about 2 tbsp of batter, flattening it out with the spoon. When the first side is golden after a minute or so, flip over and cook the other side.
4. To assemble, fill the pancake with the compote, fold over and sprinkle with a few flaked almonds. Serve immediately.
Katy Beskow is PETA's vegan bake off winner and blogs at "Little Miss Meat Free" 
Join our new commenting forum
Join thought-provoking conversations, follow other Independent readers and see their replies