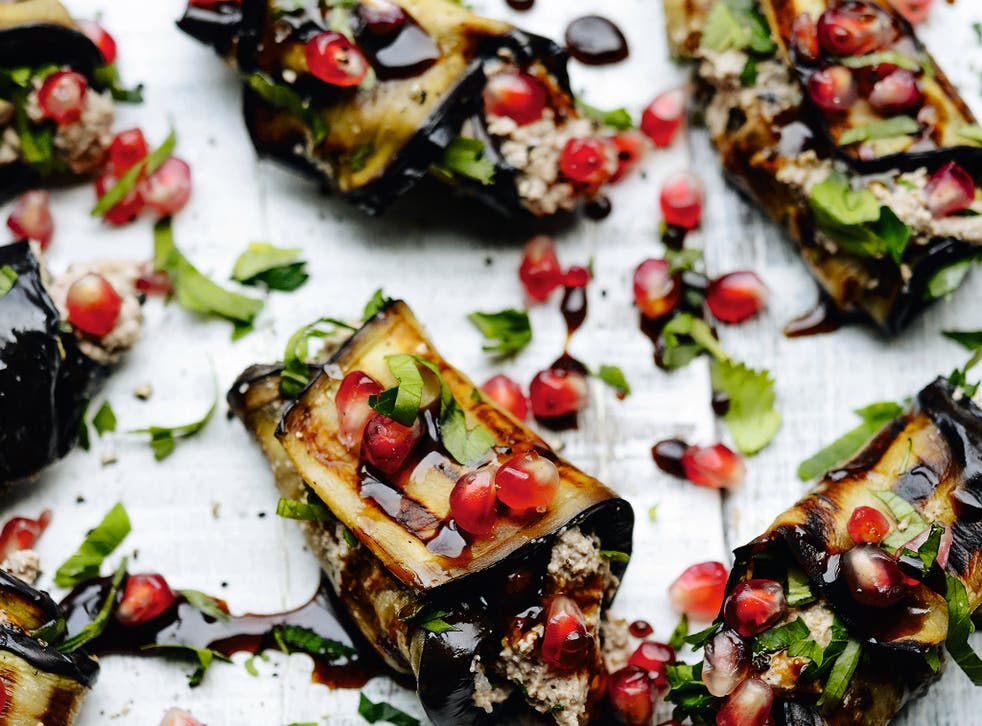 Charred cookbook: Vegetarian BBQ recipes from Georgian-style aubergine rolls to sweet potato and quinoa rosti
Fire and smoke don't always have to be about meat, says Genevieve Taylor. Her book brings grill power to vegetables, helping you to explore their flavour and versatility
Genevieve Taylor
Thursday 13 June 2019 13:38 Comments
Georgian-style walnut and herb aubergine rolls
These colourful rolls are great for a party, as you can assemble them ahead of time and serve them at room temperature, adding the garnishes just before serving.
Makes about 16, serving 4-6 as a snack or starter
200g walnuts
1 heaped tsp fenugreek seeds
1 heaped tsp coriander seeds
½ tsp chilli flakes
2 cloves of garlic, chopped
1-2 tbsp red wine vinegar, to taste
125ml boiling water
3 aubergines (eggplants), about 350g each
3-4 tbsp olive oil
1 large pomegranate, seeds picked
Small bunch of coriander (cilantro), chopped
Small bunch of flat-leaf parsley, chopped
3 tbsp pomegranate molasses, or to taste
Salt and freshly ground black pepper
Fire up the barbecue ready for direct grilling, or preheat a griddle pan on the hob.
To make the walnut filling, tip the nuts into a large dry frying pan and set over a high heat to toast for a few minutes. Tip into a food processor and blitz until coarsely ground. Add the fenugreek, coriander seeds and chilli to the same pan and toast for a few seconds until you can smell their aroma wafting up – it won't take long, as the pan will be hot. Put them into a spice mill or a pestle and mortar and grind. Add to the walnuts in the processor, along with the garlic, vinegar and boiling water. Whizz for a minute or so, until you have a smooth, spreadable paste. Season to taste with salt and pepper, then scoop into a bowl and set aside. You can also make the sauce traditionally by pounding everything in a large pestle and mortar, but be prepared to use a little elbow grease in order to form a paste.
Cut the aubergines lengthways into 5-7mm (¼ inch) slices. Brush them all over with the olive oil and season with a little salt and pepper. Spread them out over the grill bars or griddle and cook for around 12-15 minutes, turning them a few times, until completely soft and lightly charred. Cook in batches if necessary.
Once all the aubergines are cooked, spread each slice with a thin layer of walnut paste. Sprinkle over most of the pomegranate seeds and herbs, reserving a little of both to garnish. Roll up each slice and arrange on a large platter. Sprinkle over the rest of the pomegranate seeds and herbs and finish with a generous drizzle of pomegranate molasses.
Sweet potato and quinoa rosti with coconut cream dressing
Sweet potato has a lot less starch than regular potato, so these fritters are delicate little blighters. The flour helps to bind them together, but you will still get little straggly bits around the edges. Just don't scrimp on the oil when frying – crispy edges are surely the main point of a rosti!
Makes about 12-14, serving about 4 as a snack
100g quinoa
½ vegetable stock cube
500-600g sweet potatoes, peeled and grated (about 1 large)
Generous handful of coriander (cilantro), chopped
100g gram flour (chickpea flour)
75ml water
Salt and freshly ground black pepper
4 tbsp vegetable oil, for shallow frying
For the coconut dressing
250ml carton of coconut cream
30g fresh root ginger, finely grated
15g fresh turmeric root, finely grated, or 1 tsp ground turmeric
Juice of ½-1 lime, to taste
Salt, to taste
To garnish
1-2 bird's-eye chillies, thinly sliced
A little coriander, chopped
Tip the quinoa into a small pan and crumble in the stock cube. Pour over enough boiling water to cover the quinoa by 1cm (½ inch). Set over a high heat and simmer until just tender, about 12-15 minutes. Drain well and tip into a mixing bowl. Add the sweet potato, most of the coriander (reserving a little to garnish), the gram flour and water, and season generously with salt and pepper. Stir well to mix and set aside for 15 minutes for the flour to absorb the water.
Meanwhile, make the dressing by pouring the coconut cream into a mixing bowl and whisking until smooth. Add the ginger, turmeric and lime juice and whisk once more, seasoning with a little salt to taste. Set aside.
When you are ready to cook, set a large frying pan on the barbecue, or over a medium-high heat on the hob. Once the oil is hot, add spoonfuls of the rosti mix to the pan, pressing them down so they are around 1cm (½ inch) thick. Cook for about 2-3 minutes on each side, until crisp, then transfer to a plate lined with kitchen paper to keep warm while you cook the rest. Add extra oil to the pan if necessary. Sprinkle with the chilli and coriander and serve with the dressing alongside.
Barbecued carrot, ricotta and toasted pecans
I adore this salad and would eat the whole thing myself given half a chance – the combination of sweet charred carrots, creamy ricotta and crunchy nuts is quite simply addictive. If you've never grilled a carrot before, do it now.
They are an absolute revelation and show just how good fire-cooked vegetables can be.
Serves 4-6 as a side dish
1 x 500g bunch of carrots, preferably with the tops on
2 tbsp olive oil
1 tbsp cumin seeds, lightly crushed in a pestle and mortar
1 tsp soft dark-brown sugar
1 tsp dried chilli flakes, ideally chipotle chilli flakes
1 clove of garlic, crushed
250g ricotta
½ bunch of spring onions (scallions), thinly sliced
50g pecans, toasted and chopped
A small bunch of coriander (cilantro), chopped
Extra virgin olive oil, to drizzle
Salt and freshly ground black pepper
Trim the tops off the carrots and scrub under running water.
Slice in half lengthways, or into quarters if they are a little larger – you want them to be approximately finger-thickness.
Fill a pan with boiling water and add a little salt, then set over a high heat and bring back to the boil. Once boiling, add the carrots and blanch for 3 minutes. Drain well and tip into a mixing bowl. While they are still hot, add the olive oil, cumin, brown sugar, chilli flakes and garlic and stir well to mix. Cover and leave to marinate for a couple of hours at room temperature.
Once you are ready to cook, fire up your barbecue ready for direct grilling, or preheat a cast-iron griddle pan on the hob.
Lay the carrots on the grill bars or griddle and cook for 15-20 minutes, turning regularly, until they are nicely caramelised. If you are barbecuing, you can add a few smoking wood chunks or chips to up the smokiness. Use a brush to baste the carrots with any excess marinade from the bowl as you turn them.
Once soft and caramelised, scatter the carrots over a serving plate and dot with heaped teaspoons of ricotta. Sprinkle over the spring onions, chopped pecans and coriander. Finally, add a generous drizzle of olive oil and finish with a good grind of pepper. Serve while still warm.
Extracted from 'Charred' by Genevieve Taylor (Quadrille, £16.99). Photography Jason Ingram
Register for free to continue reading
Registration is a free and easy way to support our truly independent journalism
By registering, you will also enjoy limited access to Premium articles, exclusive newsletters, commenting, and virtual events with our leading journalists
Already have an account? sign in
Join our new commenting forum
Join thought-provoking conversations, follow other Independent readers and see their replies