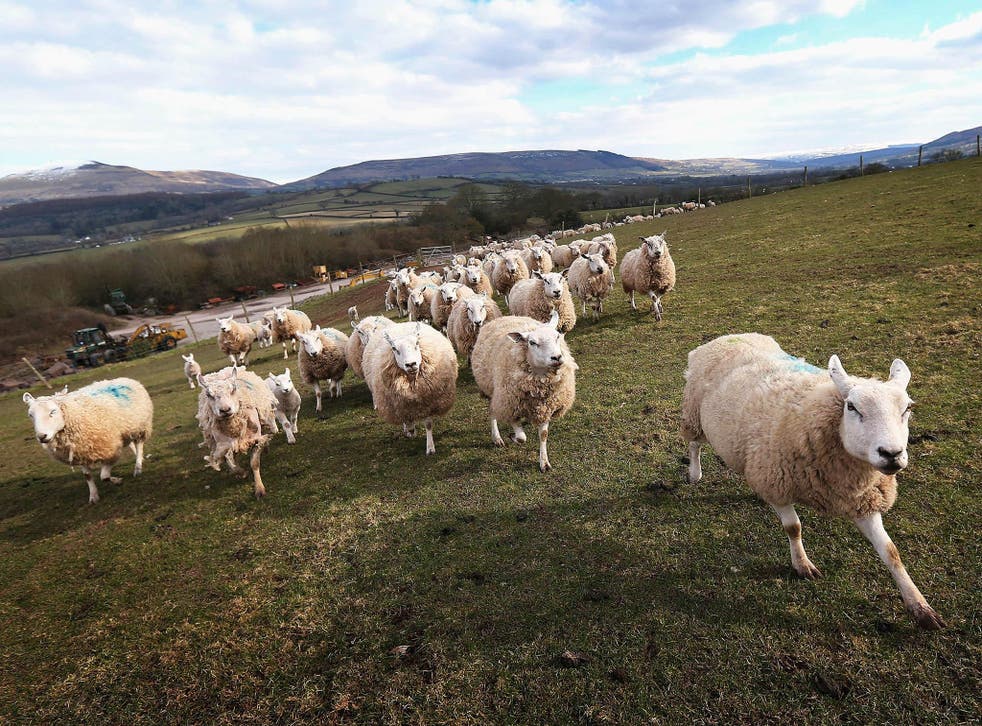 Welsh pride: Five amazing recipes from the country's best chefs
Raiding Wales's natural larder is the perfect way to cheer on seasonal food. From cockles to leeks and lamb, Tom Shingler gets some tips from its top chefs
If you like the sound of whipping up a feast fit for Tom Jones, serving lamb that would make Anthony Hopkins dance with joy or cooking fish so perfectly it would make Catherine Zeta-Jones swoon, then read on.
When it comes to food and drink, Wales is up there with the best. It's known the world over for the quality of its lamb – an impressive feat for such a small country – but its rugged coastlines, fertile farmland and wealth of dedicated producers means there's so much more on offer.
With St David's Day coming up, it's time to put Welsh produce in the spotlight, and what better way to prepare the country's fine ingredients than with recipes from its most celebrated chefs?
After spending the majority of his working life toiling away in Michelin-starred kitchens, Will Holland moved to the shores of Pembrokeshire to open Coast in Saundersfoot, an informal restaurant that takes the best of Welsh produce, prepares it in the simplest way possible and puts it on the plate.
​Menai oysters, Conwy mussels, lobster – Welsh seafood is held in seriously high regard by both home cooks and professional chefs. But cockles – particularly from the Gower peninsula – are known as the best in the UK, which is why Will only works with those caught locally. While you might think of pickled cockles as a slightly dubious bar snack from the darker times of Britain's culinary past, making them at home ensures a fresh, oceanic flavour combined with a zingy hit of vinegar. They are the perfect nibble to serve with an aperitif and, best of all, only require two ingredients to make:
2kg cockles, in the shell
​250ml of malt vinegar, of very good quality.
Wash the cockles thoroughly in plenty of running water. Really rumble them around to wash out all of the sand from the grooves of the shells. If any of the cockles are open, discard them. Preheat a large saucepan until it is hot. Add the cockles and 250ml of water to the pan and immediately cover with a lid. Cook over a high heat for 30 seconds –1 minute, or until all of the shells have opened.
Pour the contents of the pan into a colander, discarding the cooking liquor. Pick through the open cockle shells and place all of the cockle meat in a bowl. Wash the picked cockle meat in iced water to ensure they are completely grit-free, then place in a container and cover with the malt vinegar.
James Sommerin: Goat's cheese custard and asparagus
James Sommerin has been delighting the diners of Cardiff since 2014 at his eponymous restaurant, which finally won its first Michelin star last year. Before that, though, he enjoyed much success in Wales when he was head chef of The Crown at Whitebrook in Monmouthshire. Today, his restaurant offers incredible views of the Severn Estuary and is known for its Welsh produce-led food, full of playful tastes and textures.
Wales has become a bit of a cheese-making heavyweight over the past few decades, expanding on its traditional Caerphilly to include more modern varieties. Some of the best are made from goat's milk, which is exactly why James makes Ragstone – a goat's cheese from Hay-on-Wye – the focus of this beautiful starter. The cheese custard is accompanied by a sage foam (easy to make with a stick blender) and served with asparagus, morel mushrooms, hazelnuts and mixed leaves.
Goat's cheese custard
100g of Ragstone goat's cheese, or vegetarian goat's cheese
4 garlic cloves
​500ml of whipping cream
8 eggs
Sage foam
50g of sage, fresh
​100ml of milk
​50ml of whipping cream
20g of butter
Asparagus
12 white asparagus spears
12 asparagus spears
6 morels
​20ml of water
50g of butter
salt
To plate
100g of hazelnuts
60g of mixed leaves
Toast the hazelnuts in a pan until they are fragrant and light brown. Blend to crumbs and set aside​. To make the sage foam, boil the milk, cream and butter in a saucepan. Add the sage, remove from the heat and leave to infuse for 1 hour​.
Using a hand-held blender, blend the sage into the liquid until aerated. Pass through a fine sieve and keep ready to serve. To make the custard, boil a few cups of water. Separate and peel the garlic cloves and blanch in boiling water for 1 minute, 3 times, refreshing with cold water after each blanching. Bring the cream to the boil and add the goat's cheese and garlic. Remove from the heat, pour everything into a blender and pulse​. Separate 6 of the eggs. As the blender is going, add 6 egg yolks and the 2 whole eggs. Blend for 5 minutes and pass through a fine sieve.
Food and drink news

Show all 35
In 2-inch ramekins placed in a bamboo steamer, steam the custards at 86°C for 12-14 minutes until the custard is set (when you shake it, there should be a slight wobble in the centre). Once cooked, place in the fridge to rest. Place the water, butter and a pinch of salt together in a pan, bring to the boil and add the white asparagus. Three minutes later, add the green asparagus and morels, and simmer gently until tender. Drain, and then keep at room temperature until needed.
To serve, turn the cold custards out from the ramekins, arranging each on a plate with a scattering of hazelnuts. Place some asparagus over them with a handful of mixed leaves. Re-whisk the foam just before serving, and then place a spoonful on top. Slice the morels and use as a garnish.
Shaun Hill: Lamb shanks with braised chorizo and butter beans
If you want to talk about culinary legends, then Shaun Hill has to be up there. He's spent 50 years in the kitchen, earning and retaining Michelin stars all over the UK, and now spends his days working at the Michelin-starred Walnut Tree Inn in Abergavenny.
Lamb is easily Wales's most famous export and takes pride and place in many Sunday roasts across the UK. While shoulders, legs, steaks and chops are among our favourite cuts, Shaun pays homage to the shank, an incredible (and inexpensive) cut that becomes meltingly tender once cooked for several hours. Paired with flavourful chorizo and smooth, soft butter beans, this is a simple one-pot dish that is definitely more than the sum of its parts.
Lamb shanks
4 lamb shanks, from the shoulder
1 onion, chopped
1 carrot, chopped
1 stick of celery, chopped
2 garlic cloves, chopped
​400g of tinned chopped tomatoes
​400g of tinned butter beans, drained
50g of cooking chorizo, chopped
​250ml of red wine
2 tbsp of olive oil
salt
pepper
Warm the oil in a heavy pan or casserole dish then add the shanks and brown on all sides. Season with salt and pepper. Add the onion, carrots, celery and garlic and cook for 2-3 minutes then add the tomato, butter beans and chorizo.
Simmer for 5 minutes then add the wine and the same volume of water. Place a lid on the pot then turn down the heat to a slow simmer – or transfer to an oven at 150°C/gas mark 2 for 2 hours. Check every 30 minutes and add a little more liquid if needed. Serve with mashed or new potatoes and plenty of chopped parsley.
Bryn Williams: Skate wings with braised leeks and shrimp beurre noisette
Bryn Williams might have been born in north Wales, but it wasn't until he travelled to London to work with Marco Pierre White that he truly fell in love with professional cooking. After stints with Michel Roux Jr and Chris Galvin, he eventually became the owner of Odette's, a respected neighbourhood restaurant in the capital. He has always put Welsh produce at the fore of every dish he cooks. In 2015 he opened a second restaurant: Bryn Williams at Porth Eirias at Colwyn Bay in Conwy, north Wales, allowing him to return to his Welsh roots.
The Welsh coast is known as the home of incredible fish and seafood, and the skate wings Williams cooks at Porth Eirias testify to this. It's his expert treatment of the leek – Wales's national vegetable – that make this dish so impressive. Served whole, they are soft and tender from being braised in a foil parcel, while the lemon, capers and brown shrimp cut through the rich butter sauce.
Skate
4 skate wings
salt
freshly ground black pepper
Braised leeks
4 leeks
30g of butter
1 garlic clove, peeled
​100ml of vegetable stock
salt
freshly ground black pepper
Beurre noisette
1 lemon, peeled and cut into segments
25g of brown shrimp
10g of capers
​200g of butter
chopped flat-leaf parsley
salt
freshly ground black pepper
Preheat the oven to 180°C/gas mark 4. Begin with the braised leeks. Trim the tops and roots from the leeks to create a clean, solid middle section approximately 15cm long. Place the leeks next to each other on a large piece of foil and fold up the edges to form an open parcel.
Add the butter, garlic clove and some seasoning to the leeks, then pour over the vegetable stock. Bring the foil together to form a tight parcel, sealing in the leeks and liquid, then place on a baking tray and cook in the oven for 25-35 minutes, or until the leeks are completely tender. Place the butter in a small pan for the beurre noisette. Allow to melt over a medium-low heat until it turns light brown in colour and starts to smell of toasted nuts. Remove from the heat and leave to cool​. Prepare the skate wings by trimming the rounded edge by 5mm and trimming the cartilage down one side to give the wings neat edges. Each trimmed wing should weigh approximately 165g – if the wings are much larger, you may need to halve them for cooking.
Place a large frying pan over a medium heat. Once hot add the skate wings and cook for 2-3 minutes on each side, seasoning with salt and pepper as they cook. When ready to serve, roughly chop 6 segments of the lemon and stir into the cooled beurre noisette with the shrimp, capers, and some freshly chopped parsley. Season to taste and adjust as needed – add a little more lemon or parsley to balance the sauce if required.
Unwrap the braised leeks and add 1 leek (discarding the garlic and stock) to each plate. Add the cooked skate wings and spoon over the beurre noisette sauce to serve.
Bryan Webb: Breast of Madgett's farm duck with potato pancakes
Another born and bred Welshman, Bryan Webb has worked across France, Scotland, England and – of course – Wales, and after a round-the-world trip with his wife Susan he opened Tyddyn Llan in 2002. He won a Michelin star in 2010 thanks to his classical French techniques and championing of Welsh produce.
Duck is always a beautiful bird to cook with, and Bryan sources his from Madgett's Farm – a poultry producer in Chepstow, Monmouthshire. By taking the breasts from whole birds, using the legs to make confit and the carcasses to make an incredibly flavourful sauce, this recipe is a world away from a typical dinner. The potato pancakes provide a robust, starchy base for the delicious juices, and the apples lend a hit of fresh acidity to counteract the richness of the duck.
Roast duck
4 large ducks
2 Granny Smith apples
25g of butter
4 large shallots
1 large carrot
6 stalks of celery
1000ml of dry cider
​500ml of apple juice
1 sprig of fresh thyme
4 bay leaves
​500ml of chicken stock
​500ml of veal stock
25ml of Calvados
Potato pancakes
500g of potato
3 tbsp of milk
3 tbsp of single cream
3 tbsp of plain flour
3 eggs
4 egg whites
sunflower oil
salt
black pepper
Spinach
80g of unsalted butter
​200g of spinach leaves
Begin this roast duck recipe by preheating the oven to 220°C/gas mark 7. Bone out the ducks and trim the breasts, reserving the fat and legs. Chop the bones, place in a roasting tin and roast until golden brown. Meanwhile, peel the apples and cut into small dice, reserving the peel, core and trimmings. Melt the butter in a saucepan and cook the diced apple for a few minutes. Add the calvados then set aside.
Remove the roasted bones from the oven. Drain any fat from the tray into a large saucepan. Slice the shallots and chop the carrot and celery and add them to the pan. Cook until lightly browned, then drain off the fat. Add the bones and pour in the cider and apple juice. Bring to the boil, add the thyme, bay leaves and apple trimmings and boil for 5 minutes. Add the chicken and veal stocks plus just enough cold water to cover the solids. Bring to a gentle simmer, skim thoroughly then leave to simmer for 1 hour.
Drain the contents of the pan though a fine sieve into a clean saucepan and reduce to a slightly thick sauce. Add the cooked apple and pan juices and set aside. To make the potato pancakes, peel and quarter the potatoes then cook them in a pan of boiling salted water until tender. Drain, then while still hot put them though a blender to purée and set aside to cool. Do not over-blend to avoid the texture becoming gluey​.
Once the potatoes are completely cool, put them in a mixing bowl with the milk, cream and flour. Beat in the whole eggs one at a time. In a large clean bowl, whisk the egg whites until stiff peaks form then fold them into the batter.
Preheat the oven to 220°C/gas mark 7. Season the duck breasts. Place two breasts into a large frying pan skin-side down and cook until golden. Turn over and continue cooking for 1 minute, then transfer the duck to an oven tray. Drain off the fat from the frying pan and repeat with the other breasts. Roast the breasts for 10 minutes then leave to rest in a warm place for a further 10 minutes while you cook the pancakes and spinach.
To cook the pancakes, heat a blini pan with some sunflower oil until hot, then tip out the oil. Put a ladle of pancake mixture in the pan, leave on the heat for a few seconds, and then place in the oven (or under the grill) until the pancake is firm to the touch and lightly browned. Keep warm while you repeat with the remaining batter.
Just before serving, cook the spinach. Have ready a bowl with a sieve over it. Melt the butter in a large saucepan, add the spinach and stir over a moderate heat until the leaves have wilted. Season to taste then drain in the sieve. To serve, put two pancakes on each warmed serving plate and top with a spoonful of spinach. Carve the duck breasts and arrange them on top. Spoon over the sauce (reheated if necessary) and serve at once.
For more seasonal recipes, visit greatbritishchefs.com
Join our new commenting forum
Join thought-provoking conversations, follow other Independent readers and see their replies