Zaika: Recipes from turmeric pancakes to kachumber salad
Our recipe columnist's debut cookbook, 'Zaika', is all about vegan recipes from India, which she grew up eating before moving to England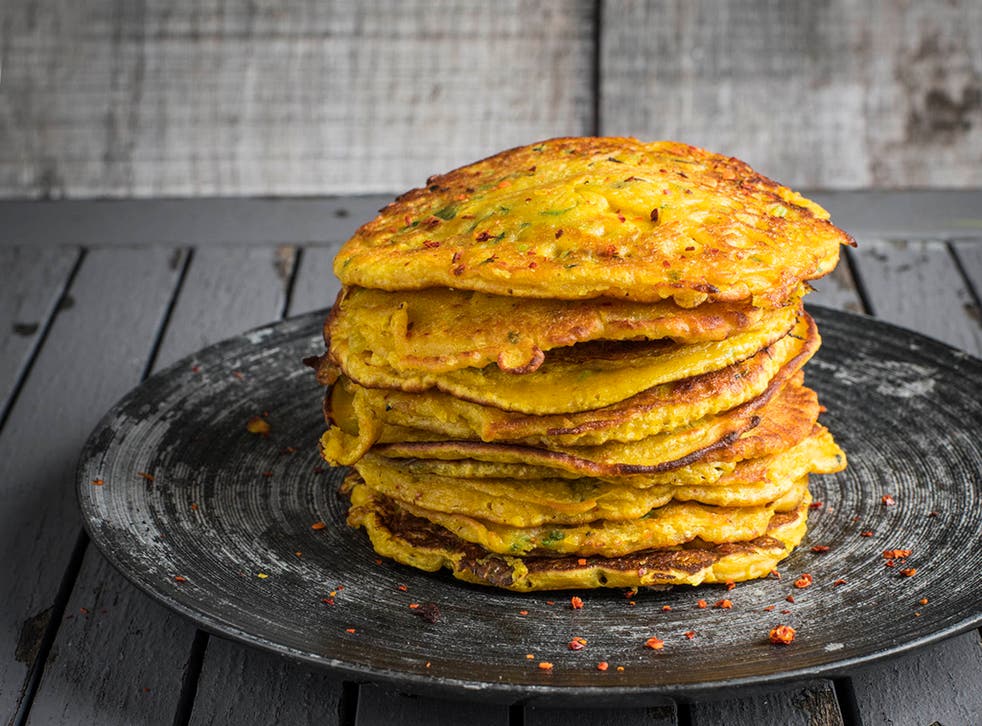 Gram flour turmeric pancakes
These pancakes have a silk-like texture and are much enjoyed by my family and my friends. I discovered this recipe while on my travels to Gujarat, but I have changed it slightly by using coconut milk yoghurt and adding different spices to change the flavours – you can add any spices you like, according to your taste. These are delicious served with some coconut milk yoghurt or your favourite chutney.
Time: 1 hour
Makes 8-10 pancakes
150g gram flour
½ tsp baking powder
1 tsp nigella seeds
½ tsp fennel seeds, crushed
1 tsp ground turmeric
1 tsp ground coriander
1 tsp Kashmiri red chilli powder
1 tsp salt
Handful of chopped fresh coriander
150g coconut milk yoghurt​
Sunflower oil, for frying
Coconut milk yoghurt or chutney, to serve
To make the batter, sift the flour and baking powder into a mixing bowl, then add all the spices, salt and fresh coriander and mix well.
In a separate bowl, whisk the yoghurt and 100ml​ water, then add to the spiced flour and slowly pour in another 50ml water, stirring to blend. Leave to rest for 20 minutes before making the pancakes.
Heat a non-stick pancake or small frying pan over a medium heat, then once the pan is hot, brush with oil evenly, then carefully pour in half a ladleful of the batter and immediately spread with the back of the spoon to form pancakes.
Brush oil on top and cook for 2-3 minutes on each side. Check if the pancake is fluffy and cooked on both sides. Repeat to cook the remaining pancakes. Serve with a dollop of coconut milk yoghurt or your choice of chutney.
Kachumber salad
This is one of the most common salads made in the homes and restaurants of Indian families. I think it goes really well with so many dishes because of its fresh flavour and vibrant colours.
Time: 10 minutes
Serves 3-4
½ small cucumber, deseeded and chopped into fine batons
1 small red onion, thinly sliced
40g white hard cabbage, shredded
½ green apple, cored and sliced
Seeds of ½ pomegranate
Juice of 1 lime
½ tsp salt
1 tsp chopped fresh coriander
Add all the ingredients to a serving bowl and toss everything together well. Eat immediately.
Posto boras – poppy seed cakes
Posto boras is a white poppy seed dish that is cooked in Bengali households. Also known as poppy seed cakes, these are small round bites that are mouth-wateringly​ delicious. You can serve these as a side dish with a main meal, but I love them as snacks.
Time: 50 minutes
Makes 8-10
100g white poppy seeds
4 green chillies, seeds in, chopped
1 small onion, chopped
1 tsp grated fresh root ginger
1 tsp salt
1 tsp cumin seeds
Mustard or rapeseed oil, for shallow-frying
Sliced shallots and mint and coriander chutney, to serve
Soak the poppy seeds in cold water for 30 minutes. Drain the poppy seeds, tip them into a blender and whiz to a paste. Add the paste to a bowl with the rest of the ingredients, except the oil.
Heat the oil in a frying pan over a medium heat. While the oil is heating, make 8-10 golf ball-sized balls from the poppy seed mixture and then flatten them.
Once the oil is hot, lower the temperature. Cook the boras, in batches, until golden and crispy on all sides.
Remove the boras with a slotted spoon and transfer to a plate lined with kitchen paper to drain the excess oil. Serve hot with sliced shallots and mint and coriander chutney.
'Zaika: Vegan recipes from India' by Romy Gill, published by Orion Books is out now. Photography by Del Sneddon
Join our new commenting forum
Join thought-provoking conversations, follow other Independent readers and see their replies